A former Fifa vice president said he fears for his life and claims he can prove a link between football's governing body and the Trinidad and Tobago national elections.
Jack Warner, who has always vehemently denied any wrongdoing, is the latest official to lift the lid on scandal, bribery and corruption at Fifa, speaking out in a televised interview on Wednesday night.
Chuck Blazer, 70, previously an executive committee member of the global footballing association, yesterday claimed in testimony to a US Judge that he and other high-ranking officials received corrupt payments from France and South Africa to secure hosting of the 1998 and 2010 competitions.
Blazer and Warner's statements come after 14 Fifa officials, including two vice presidents, were named in an indictment by the DoJ, which led to a series of arrests in Zurich, Switzerland, last week.
During yesterday's paid political broadcast, Warner, 72, said: "I will no longer keep secrets for them who actively seek to destroy the country."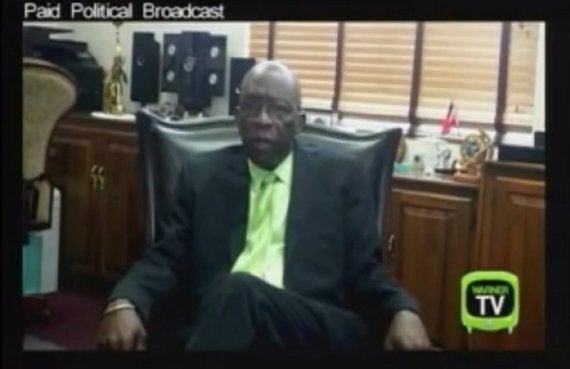 Speaking in his political broadcast on 'Warner TV', the former Fifa vice president said 'there is no turning back'
He added: "I reasonably actually fear for my life."
Warner said he has documents and cheques that link Fifa officials, including embattled president Sepp Blatter to the 2010 election in Trinidad and Tobago.
"I apologise for not disclosing my knowledge of these events before," Warner said.
He said he has compiled reams of documents and is delivering them to his attorneys, for them to disseminate as they see fit.
"Not even death will stop the avalanche that is coming," Warner said as his supporters cheered in celebration. "The die is cast. There can be no turning back. Let the chips fall where they fall."
Gary Lineker, who has been very vocal in his criticism of Fifa and its senior team, took to Twitter again to mock Warner in a pithy poem.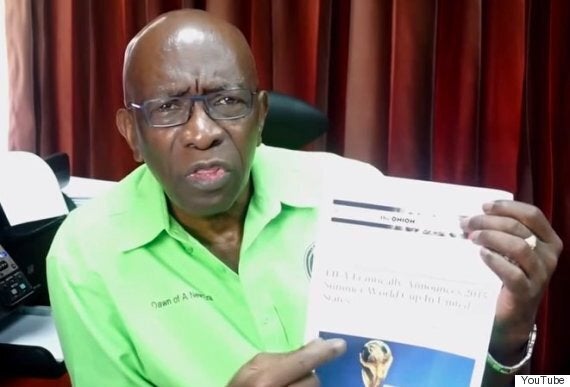 Jack Warner is pictured with a copy of an article published on satirical website, The Onion
Despite his fears, 30 minutes after the speech aired, Warner appeared at his Independent Liberal Party's rally held under a canopy on a residential street.
At least a couple of hundred people were present when Warner spoke, many of them having not seen the televised remarks.
While mopping sweat from his forehead, Warner told supporters that he will not hold back in his newfound plan to expose scandal.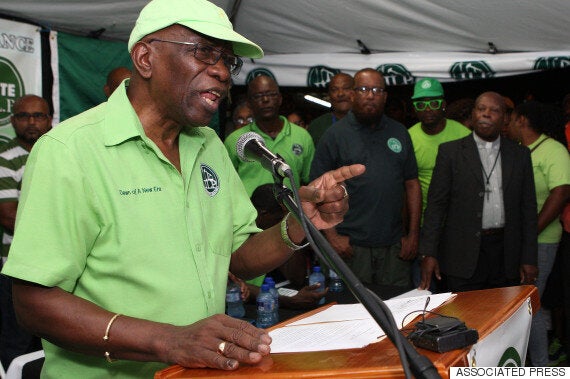 Jack Warner said he fears for his life and there is still an 'avalanche' of secrets to come
Blatter was re-elected to the post of president, despite international pressure for the 79-year-old to step down.
Article continues below slideshow: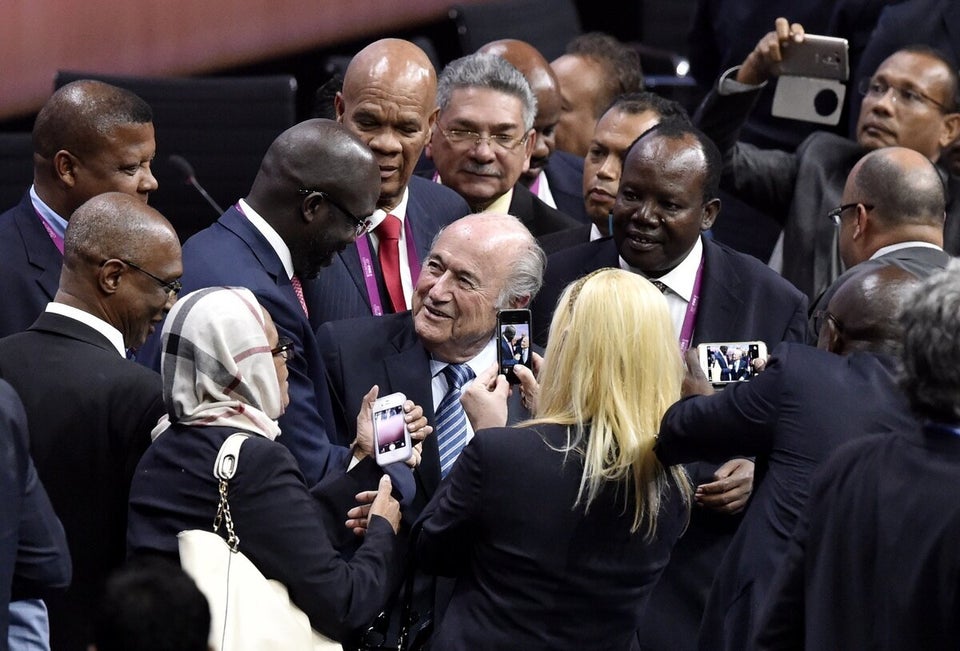 Sepp Blatter Wins
Warner also said that when he heard Blatter was stepping down, he wrote to him to urge his immediate departure from Fifa.
He said: "Blatter knows why he fell. And if anyone else knows, I do."
Twitter users reacted to the Warner's claims, and some were hilarious.
Others thought there was an ulterior motive.
On Wednesday Interpol issued a red notice for two former Fifa officials and four corporate executives for charges including "racketeering, conspiracy and corruption".
Warner was one of the six men on Interpol's 'wanted' list.
A few hours after the Interpol alert was issued, it was revealed that Blazer had told a US judge: "I and others on the Fifa executive committee agreed to accept bribes in conjunction with the selection of South Africa as the host nation for the 2010 World Cup."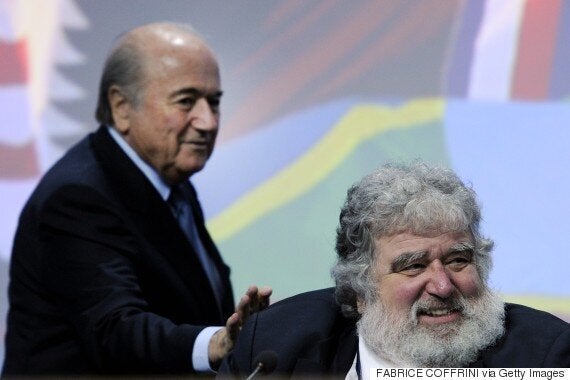 Blatter pictured with Blazer in 2011
Blazer added: "I agreed with other persons in or around 1992 to facilitate the acceptance of a bribe in conjunction with the selection of the host nation for the 1998 World Cup."
The former executive has been working with the US Department of Justice to expose other Fifa officials suspected of corruption. He also admitted to accepting bribes for broadcast rights to several Gold Cups.
Blazer had previously pled guilty to charges racketeering, money laundering, wire fraud and income tax evasion and faced up to 20 years in jail before agreeing to aid the DoJ investigation.
Popular in the Community