Mr Modi spoke to Bangladesh's Prime Minister Sheikh Hasina during a two-day visit to the country, and said that it was "heartening" that she was clear about her opposition to terrorism in spite of her gender.
He said it was "heartening that the prime minister of Bangladesh, despite being a woman, is openly saying that she has zero tolerance for terrorism", ABC reported.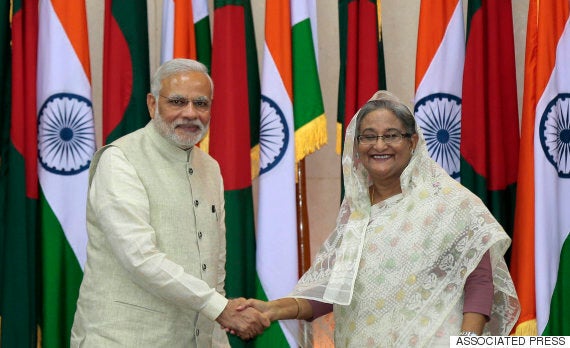 Modi met Bangladesh's Prime Minister Hasina at the weekend
His comments, made in Hindi at a public event this weekend, caused outrage in India and around the world for appearing to suggest that women were less brave and capable than men.
Many women tweeted ironic praise for themselves for succeeding in every day tasks like driving and eating, with the hashtag #DespiteBeingAWoman. The Twitter storm meant the phrase was trending on Twitter in India for much of the day on Monday.
Others highlighted successful women, some in traditionally male roles and jobs:
Some tweeters were more angry and offended, feeling that Modi was suggesting that women were tolerant of terrorism:
One added that he had forgotten the prevalence of strong females in the stories of Hinduism, one of India's major religions:
Strange how Mr. Modi forget the role and place of Sarasvati, Lakshmi, Parvati, Durga and Kali in Hinduism and said #DespiteBeingAWoman .....

— Riz Pirzada (@RizPirzada) June 9, 2015
But not everyone read the remark as an insult.
One blogger claimed that Modi's remark was not sexist at all, but that he was recognising the achievement of Bangladesh's Prime Minister Hasina in fighting terrorism and leading a country where women have been historically oppressed. Rahul Kapoor wrote:
"The point is that when PM Modi said #DespiteBeingAwoman this is what he meant that you and I know that women have been oppressed for decades in India and its neighboring countries like Pskistan [sic] and Bangladesh and yet that oppression and hostile environment could not break their resolve and courage. Something which Sheikh Hasina signifies."
Politicians from Mr Modi's Bharatiya Janata Party, have been criticised in the past for using sexist language, but Modi has also spoken about issues like education for girls and the problem of female foeticide in India.