Sir Alan Reid led a press conference on Tuesday in which it was claimed that the royal family could expect an annual cut of between £1 million and £1.5 million if profits from the Crown Estate north of the border were kept by Scotland under a new devolution settlement.
Both the UK Government and Scottish administration in Holyrood categorically denied the claims.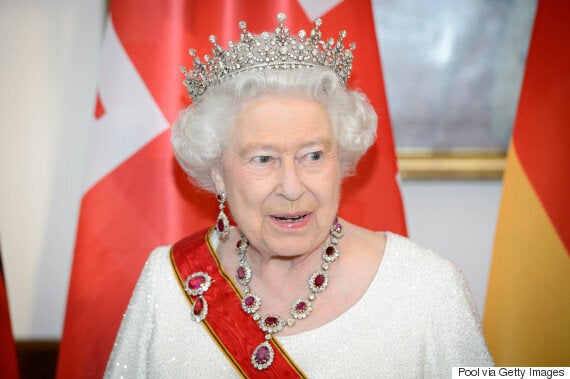 The Queen pictured on a state visit to Germany on Wednesday
But in a fresh statement today, Sir Alan said the briefing was "never intended to be a criticism of Scotland or of the First Minister, or to suggest that the First Minister had cast doubt on the continued funding of the monarchy".
"As we made clear at the briefing, Scotland contributes in many ways to the Treasury's consolidated fund – out of which the Sovereign Grant is paid," he said.
"We said explicitly that to imply Scotland would not pay for the monarchy was simply wrong and we accept unreservedly the assurances of the Scottish Government that the Sovereign Grant will not be cut as a result of devolution of the Crown Estate."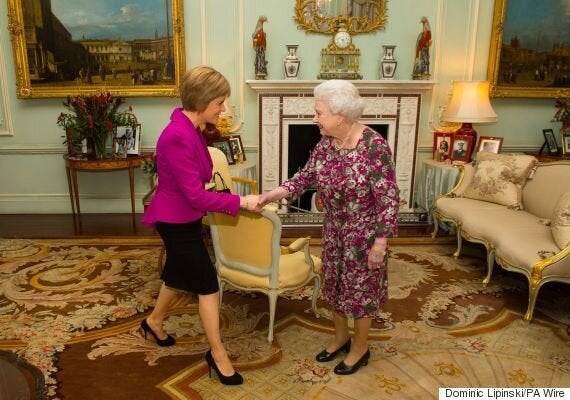 Stugeon meets the Queen one month after becoming First Minister
Nicola Sturgeon hit back at the allegations aggressively on Wednesday, pulling up Channel 4 journalist Cathy Newman for reporting the claims, saying they had "no basis in fact".
She was backed by a spokesperson from HM Treasury, who insisted the sovereign grant, the amount of money paid by the Government to the monarch (around 15% of revenue from The Queen's estates), would not be "adversely affected" by any devolution plans.
Despite the Palace saying it had never claimed Scotland would not pay the monarchy, several national newspapers carried the claims in their Wednesday editions.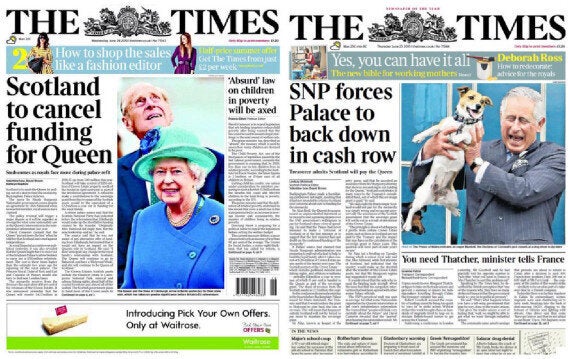 Oh, what a difference a day makes. Left, Wednesday's front page claim, right, Thursday's climbdown
A royal aide said yesterday that negotiations were continuing between Westminster and Holyrood over financing, and Scotland would continue to make contributions to the British monarchy, even if the profits from Crown assets were not returned south of the border.
He said: "I think the proposal, although it's not definite yet, is for the transfer of assets from April 1 2016. So the Crown Estate assets under management, in UK terms, would drop at that point."
He said any drop in funding from Scotland would not have any impact on the number of royal engagements in - or the monarchy's relationship with - Scotland, where the Queen spends much of her summer in Balmoral. The Prince of Wales is also in Scotland this week, having arrived by royal train.
Related