Barack Obama took time out during an event honouring LGBT Pride Month to teach a heckler some manners, and left no one in doubt what is expected when you're in "my house".
The president was speaking at the White House on Wednesday when an LGBT activist interrupted him to protest against his administration's policies on deportation of undocumented immigrants.
"Not one more deportation!" Jennicet Gutiérrez, a transgender woman, shouted.
Obama had no time for Gutiérrez, telling her, "no, no, no, no...", before continuing, "listen, you're in my house".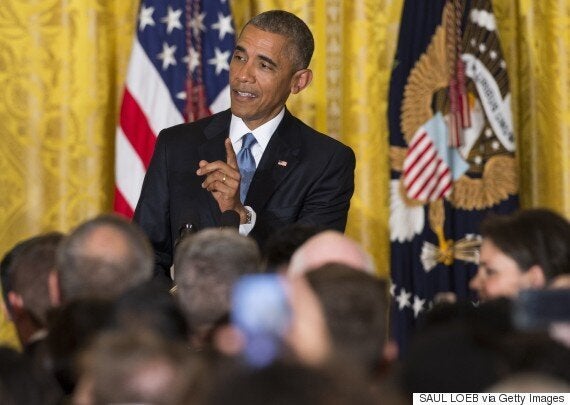 President Barack Obama responds to heckler Jennicet Gutiérrez after she interrupted him during a LGBT Pride Month event
When Gutiérrez continued to try and get the president's attention, he said, "It's not, you know, respectful, when you get invited to somebodies..."
The crowd cheered as Obama shut Gutiérrez down, telling her: "You're not going to get a good response from me by interrupting me like this."
Gutiérrez was booed by the crowd, before Obama continued: "I'm sorry... no, no, no... shame on you. You shouldn't be doing this."
The crowd began chanting "Obama", before the president turned to his security detail and asked if Gutiérrez could be removed from the venue.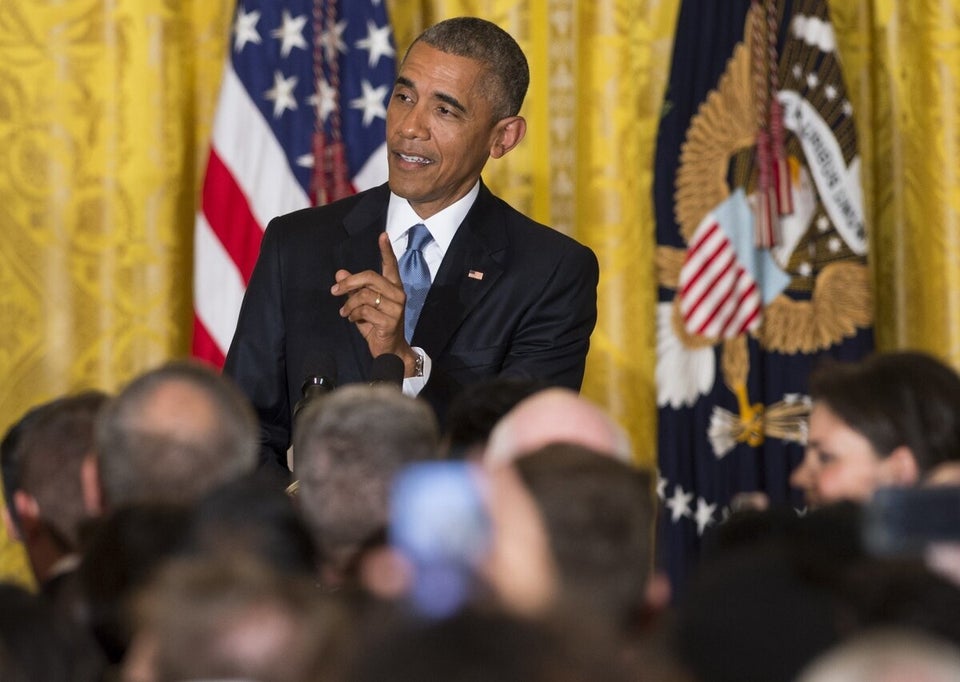 President Obama shuts down heckler
Obama told Gutiérrez: "You can either stay and be quite, or we will escort you out." After pausing for a moment, the president then gave the order: "Can we have this person removed please."
Later he reportedly said: "As a general rule I'm just fine with a couple of hecklers, but not when I'm up in the house," before receiving a jovial pat on the back from Vice President Joe Biden.
Gutiérrez, 29, came to the US from Mexico when she was 15. She is in the process of getting a green card through her sister, but is currently undocumented.
The president was interrupted by transgender woman Jennicet Gutiérrez
At Wednesday's event, Gutiérrez said she intended to deliver a letter bringing the abuse of undocumented LGBT immigrants to Obama's attention.
Before the event started she said: "The letter is asking to release our communities from detention centers and to stop deportation."
The Williams Institute estimated in 2013 that there were 267,000 adult undocumented immigrants in the US who identified as LGBT.
The Department of Homeland Security recognises LGBT individuals as a "special vulnerability," which officers are instructed to consider when making decisions on detention and deportation.
But LGBT people are nevertheless detained, despite the risk of abuse in holding facilities. Immigration and Customs Enforcement holds about 75 transgender immigrants each night, most of them transgender women seeking asylum, according to report by Fusion published in November. The report found that many transgender women are housed with men, and one in five said they had been sexually assaulted.
Representatives Raúl M. Grijalva , Michael Honda, and 33 other House Democrats, signed a letter this week asking Department of Homeland Security Secretary Jeh Johnson to improve treatment of LGBT people by Immigration and Customs Enforcement agents.
Honda said in a statement: "The alarming rates of sexual assaults of non-heterosexual detainees should be a wakeup call for ICE.
"Even more dire is the fact ICE continues to detain transgender women in men's detention facilities. ICE has the power to determine suitable alternatives to detain LGBT persons, but instead they continue to ignore safer alternatives. Our letter calls on ICE to use the power they have to create a safer and more humane alternative that will treat LGBT individuals with respect and dignity."
Obama briefly addressed immigration in his remarks at Wednesday's event, saying: "Those of us who know freedom and opportunity thanks to the toil and blood of those who came before us, we have an extra responsibility to extend freedom to those who are still marginalised."
He went on to mention "immigrants who deserve a pathway to be able to, to get right with the law," among other groups.
After the event, Gutierrez said in a statement that she was disappointed by Obama's response.
She said: "I am outraged at the lack of leadership that Obama demonstrated.
"He had no concern for the way that LGBTQ detainees are suffering. As a transwoman, the misgendering and the physical and sexual abuse -- these are serious crimes that we face in detention centers. How can that be ignored?"
Obama's slapdown is reminiscent of Jed Bartlet's dismissal of a heckler in political drama, West Wing.