A grandmother who is the star of a benefits documentary in which she showcases her homegrown cannabis crop, was in a police cell while the programme aired - but later taunted officers by posting a picture of a few buds "they left" behind.
On Thursday, Michelle X appeared on Channel 5's 37 Years on the Dole, where she showed viewers around her two-bedroom Oxford home, including a grow room where she was cultivating around 40 cannabis plants.
Shortly before the show aired, the multiple sclerosis sufferer, who receives £20,000 a year in benefits, was raided by police who arrested her along with her partner Albert Bloom. As the programme aired the two were in police custody.
Watch a teaser to the episode here.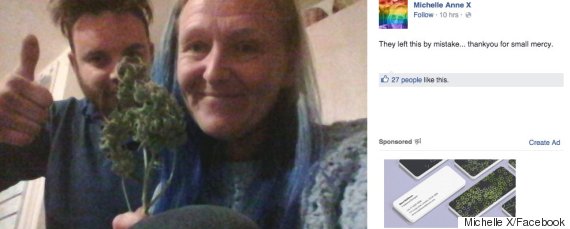 Michelle X holds up a small branch from a cannabis plant as her partner Albert Bloom gives the thumbs up, following the police raid on their Oxford home
Mr Bloom, 34, wrote about the couple's arrest on his Facebook page, while Miss X shared a picture of her holding a small branch from a cannabis plant, which had a few buds attached, on hers. She captioned the photo: "They left this by mistake... thankyou for small mercy". Mr Bloom can be seen in the background of the picture giving a thumbs up.
In his Facebook post, Mr Bloom writes: "Just got home from the police station. All our equipment has been taken. We have nothing left. No lights, no pots air pumps tents fans filters it has all been taken."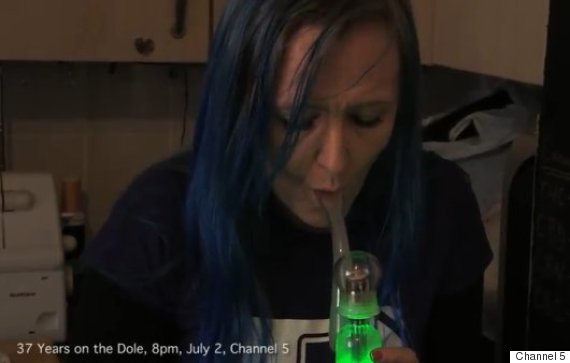 Miss X takes a hit from a cannabis bong during the documentary, 37 Years on the Dole
Mr Bloom goes on to ask his Facebook friends and the wider cannabis community for any "basic equipment until we can purchase new equipment we would be forever grateful".
He adds: "I hope you all managed to see Channel 5 at 8pm. We didn't, lol, we was in a cell. Big love to you all. Time for a joint from weed they didn't get."
One of Mr Bloom's friends replied that he had a "basic 600 watt" lamp the couple could use.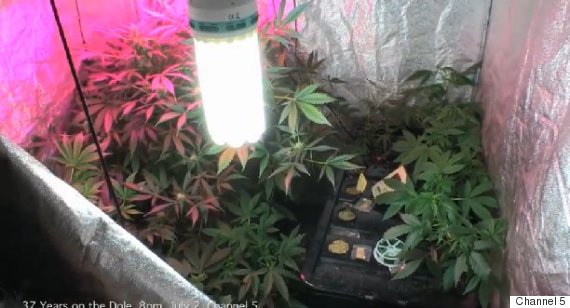 A still from the documentary showing some of the cannabis plants growing in Miss X's home
In a further post on Friday Mr Bloom blamed Channel 5 for the arrests saying the company "promised total security and confidence".
He wrote: "What happened last night was the doing of a certain TV channel. This information is gospel and came from the people in HiViz jackets last night whilst I was being transported to the station."
Mr Bloom continued: "If any TV crew or media people contact you with regards to your disability and would like to film you, tell them to pull the other one. Confidentiality forms don't mean shit apparently."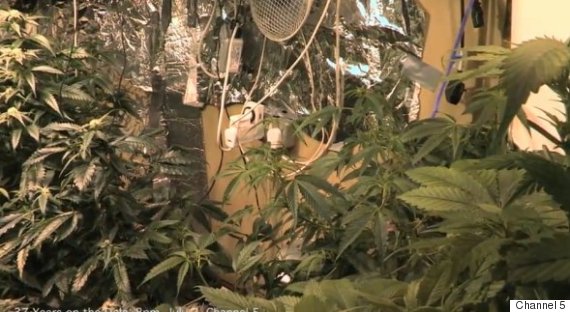 Police said they seized almost 40 plants "believed to be cannabis", 20 jars of what is "believed to be cannabis

and various suspected drugs paraphernalia were seized" during their raid
Channel 5 could not be reached for comment.
During the documentary Miss X, who changed her surname after her marriage ended, said she had "no choice to grow my own medicine, because then I know what I'm being given and what I'm taking".
The 48-year-old, who was diagnosed with MS in 1988, said she had almost 50 cannabis plants.
According to Mail Online Miss X had 28 cannabis plants and £1,000 worth of cannabis-growing equipment seized from her property by police in March 2013.
Thames Valley Police confirmed officers had arrested Miss X and Mr Bloom yesterday on suspicion of producing a controlled Class B drug.
A spokesperson said approximately 40 plants "believed to be cannabis", 20 jars of what is "believed to be cannabis and various suspected drugs paraphernalia were seized".
The couple were bailed until August 20.
'37 Years on the Dole' Michelle X proudly show off her #cannabis farm #breakthetaboohttp://t.co/oVqUDifqI8pic.twitter.com/akGZDDcO09

— Cannabis Law Reform (@CLEARUK) July 3, 2015
Michelle Anne X is a Cannabis Warrior - Getting the message that cannabis is medicine out. (Thanks for wearing... http://t.co/EoTW37GrQM

— Clark French (@Clarkfrenchuk) July 1, 2015