Paul Rudd had 'Good Morning Britain' hosts Ben Shephard and Susanna Reid giggling like school-children on today's (7 July) show, after an accidental innuendo struck the programme once again.
SEE ALSO:
The Hollywood star was appearing on the ITV breakfast show to discuss his role in new film 'Ant-Man', when Ben introduced him to a Lego version of his superhero character.
When Paul admitted he wasn't aware he had been immortalised in Lego form, Ben handed him the small figure, saying: "There you go, have a play with yourself."
The innocent comment drew a raised eyebrow from Paul, who joked: "I beg your pardon? This is morning television."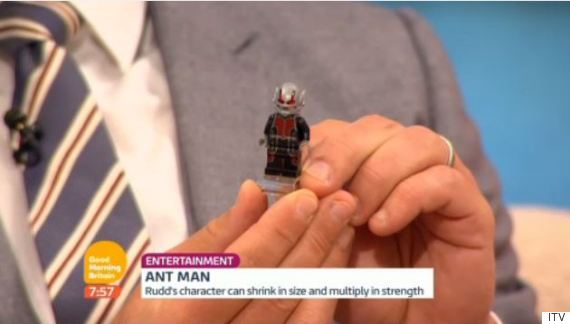 Paul Rudd's 'Ant-Man' character had been immortalised in Lego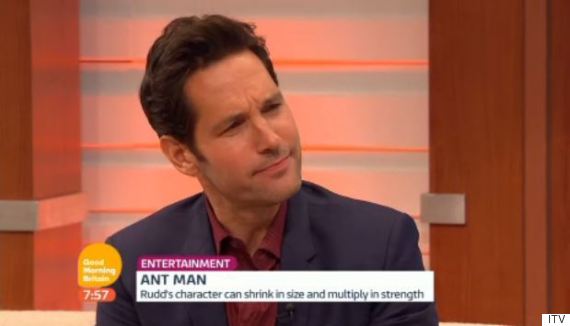 Paul questioned what Ben had said
Ben soon realised his double entendre and immediately started laughing, covering his face in embarrassment.
"I... I didn't... It's Lego!" he stuttered, trying to explain himself.
"No it's fine. I'll just sit here in the corner playing with myself," Paul insisted.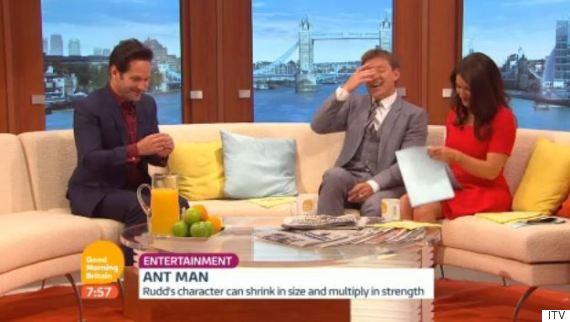 Ben and Susanna couldn't contain their laughter
Ben then joked that it is usually Susanna who lets innuendo slip on the show.
"That was a Susanna Reid-ism!" he said.
"But this time it was nothing to do with me!" she joked.
Susanna once famously asked Downton Abbey's Dan Stevens if he had to "beat off" other actors to land his role 'The Guest', causing him to break down laughing.
It also isn't the first time Paul has caused hilarity in an interview while promoting 'Ant-Man', 'farting' his way through one recent junket.
LIKE US ON FACEBOOK | FOLLOW US ON TWITTER