A man has been arrested after two people were killed in a shooting in southern Germany.
Police said a woman was gunned down in the town of Tiefenthal, near Ansbach, at about 11.30am (0930 GMT) and a man on a bicycle was fatally shot as the man fled in his car, the Associated Press reports.
The suspect also reportedly shot at a pedestrian and the driver of another vehicle as he drove away in his locally-registered Mercedes.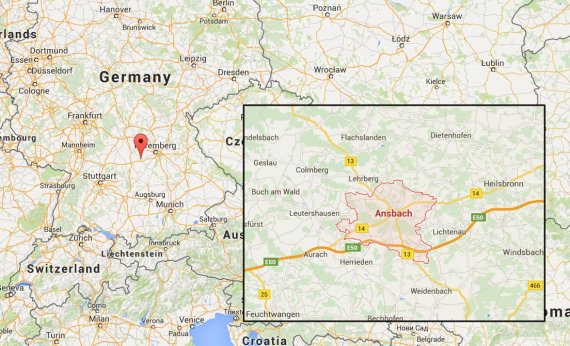 Two killed in shooting in Germany
He was apprehended a short time later, police spokeswoman Simone Wiesenberg told n-tv television.
The local Nuernberger Zeitung newspaper reported the man was tackled by workers at a gas station in Bad Windsheim, about 35 kilometers (20 miles) from the scene of the shootings, after threatening them with a gun.
They tied him up and called police, the paper reported.
Local media reported that a man with a gun targeted passers-by from a silver Mercedes.
Local reports state that a man has been arrested and there is no indication it is terror related.
#BREAKING German police say 'killing spree' shooter detained

— Agence France-Presse (@AFP) July 10, 2015
Google Translation of German police statement on Ansbach shooting. No mention of terrorism. http://t.co/syqflxk6cB pic.twitter.com/Z8tKK1dpL5

— Matthew Bennett (@matthewbennett) July 10, 2015
Initial reports indicated that German police pursued the suspect who had fled by car.
BREAKING: German police say man, woman killed in shooting in Bavaria; authorities seeking suspect who fled by car

— The Associated Press (@AP) July 10, 2015
Earlier this morning, a police statement from Bavarian Police [translated from German] said: "In connection with a homicide this morning (07/10/2015), the Ansbacher Police are searching for a volatile vehicle. The driver is armed."
maj: le tireur de #Ansbach a été arrêté dans cette station service pic.twitter.com/NkBmOnPsDf

— Usain (@Hyperconnard) July 10, 2015
ALSO ON THE HUFFINGTON POST UK:

Cameron And Merkel Listen To Queen's Call For European Unity

The Queen Wasn't Impressed With This Gift From The German President

The Moment A German Learner Driver Fails To Spot That Massive British Army Tank In Front Of Her