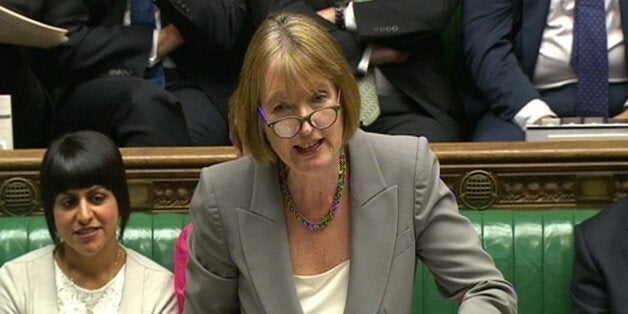 Nearly 50 Labour MPs defied Harriet Harman to vote against the Tory welfare bill, slamming its cuts to child tax credits and child poverty targets.
Leftwinger Jeremy Corbyn was the only leadership contender to defy his party whip and vote against the legislation, which aims to slash £12bn from welfare bills by cutting Employment and Support Allowance and reducing the benefit cap to £20,000 outside London.
During the debate, leftwinger John McDonnell, an ally of Mr Corbyn, declared: "I would swim through vomit to vote against this bill. And listening to some of the nauseating speeches in support of it, I might have to."
The bill passed its first serious Parliamentary hurdle with a government majority of 184, as 124 MPs of all parties voted against the bill's second reading, including all 56 SNP MPs. But 184 Labour MPs abstained.
The SNP's Pete Wishart instantly urged the Speaker of the Commons to change the seating arrangements of the chamber to reflect which party was now the 'official Opposition'.
Ms Harman had urged her party not to fall into George Osborne's trap of being seen to oppose public opinion on welfare reform.
But after a fractious few hours of Parliamentary drama, a string of MPs lined up to say how they could not in conscience abstain on the legislation.
The Labour rebels included a mixture of veteran backbenchers and 2015 intake MPs, from newly-elected Richard Burgon and Tulip Siddiq to older hands like Iain Wright and Kelvin Hopkins.
Mr Wright, who chairs the Business Select Committee, explained why he voted against the bill.
All the Labour contenders for the Mayor of London race, apart from Gareth Thomas, voted against the bill.
The Shadow Health Secretary, who revealed he had told the Shadow Cabinet last week he found the bill 'unsupportable', also warned that if he became leader he would order colleagues to vote against the bill's third reading this autumn.
Mr Burnham ridiculed Ms Harman last week, declaring that as a father of three children he would fall foul of 'George and Harriet's two-child test'.
Within minutes of the rebellion, he posted on Facebook that 'I'm firing the starting gun on Labour's opposition to this Bill."
"If I am elected leader in September, I am determined that Labour will fight this regressive Bill word by word, line by line.
"I am clear that if the Government do not make major changes to protect working families, children and the disabled, then, under my Leadership, Labour will oppose this Bill with everything we've got when it comes back before MPs later this year."
However, Mr Burnham's critics within the party attacked him for both undermining the acting leader by briefing on private talks at Shadow Cabinet and for not following through his rhetoric to vote against the bill at second reading.
A spokesman for Ms Harman said: "This won't come as a big surprise, Harriet was clear in her position - that Labour should abstain - and the majority of Labour MPs backed that. However we always knew there wold be a certain number of people who took a different view."
A Labour source told The Huffington Post UK that Ms Harman was "happy that the Shadow ministerial line held".
"There were very similar numbers of Labour rebels in other welfare votes, including a couple of years ago under Ed M and even in the very first months of Tony Blair's government," the source said.
But Iain Duncan Smith pounced on the size of the Labour rebellion to declare: "It's clear that Labour are still the same old anti-worker party – just offering more welfare, more borrowing and more taxes."
Chief Secretary to the Treasury, Greg Hands, was merciless in making fun of Labour's troubles.
The row began eight days ago when Ms Harman said that while she opposed key elements of the Tory plans, Labour could not be seen to be opposing the benefits cap or limiting benefits to two children families.
Both Yvette Cooper and Mr Burnham instantly said that they wanted a 'reasoned amendment' to the bill, seeking to protect tax credits, and the Labour leader faced a backlash among backbenchers.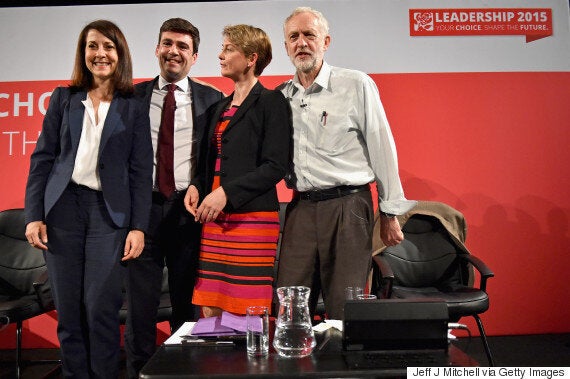 Liz Kendall, Andy Burnham, Yvette Cooper and Jeremy Corbyn
Only Liz Kendall gave Ms Harman her strong backing during a stormy meeting of the Parliamentary Labour Party last week.
Former shadow minister Helen Goodman, who vowed that upto 40 MPs would vote against the bill, then piled the pressure on the leadership by tabling a 'wrecking' amendment of her own.
In a bid to reduce any Labour rebellion, Ms Harman finally tabled her own amendment late last week but still insisted that if it failed then her party should abstain.
During the heated debate today, a string of Labour MPs made impassioned speeches on the bill.
Ms Goodman said: "I've been in this House for 10 years, I've never voted against my party's whip... But I think there are so many issues in this bill which are deeply concerning that I cannot avoid going into the no lobby tonight."
At the start of the debate, Iain Duncan Smith told Mr Corbyn that he wished him well in the Labour contest, joking that the leftwinger should know that being Leader of the Opposition was not all 'it's cracked up to be'.
Earlier today, George Osborne urged Labour MPs to support the Government to help the cause of welfare reform.