Sepp Blatter did not flinch as money was thrown in his face during his first official press conference since announcing he is stepping down as Fifa president.
The 79-year-old sat motionless when the press conference was interrupted by comedian Lee Nelson today.
The British comic, real name Simon Brodkin, approaches Blatter, placing a wad of cash on his desk saying: "This is for North Korea 2026."
Blatter can be heard calling and gesturing for his security.
When Nelson is escorted away by security staff, he looks at Blatter and says: "Here we go, Sepp," before throwing more cash in the air. The comedian then adds: "It's all there."
Looking angered by the incident, the outgoing president rose from his seat, only to return a few seconds later.
Article continues below pictures: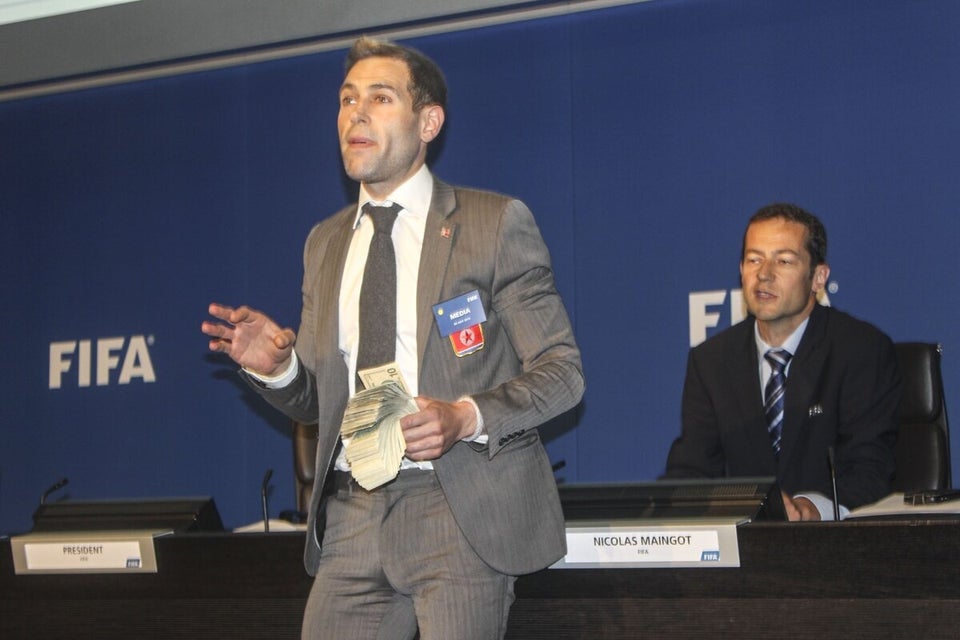 Switzerland Soccer FIFA Blatter Protest
Blatter addresses the press conference, saying: "We have to clean here first, otherwise I will not be able to speak to you, ladies and gentleman, when we speak about football. This has nothing to do with football."
Pictures show Nelson being driven away in a police van from the Fifa headquarters in Zurich following the incident.
This is not the first time that Nelson has made headlines by gatecrashing events.
In 2014, the comedian attempted to mix with the England World Cup squad at Luton Airport before he was removed by police.
Nelson's latest prank follows Blatter's announcement last month that he would be resigning amid claims of bribery and corruption within his organisation.
Blatter's announcement came just four days after he was re-elected as Fifa president for a fifth consecutive term and followed a number of arrests of Fifa officials in Zurich by the Federal Bureau of Investigation.
The reaction so far has been predominantly laudatory for Nelson's actions:
Some are convinced that the cash has secured the bid for North Korea:
While others pointed towards a career change for Blatter: