The English Defence League have said if you want 'a multicultural society then fuck off to London' after being challenged on their anti-Islam views ahead of a protest they are staging in Lincoln on Saturday opposing its first mosque.
A spat erupted on Wednesday after the Lincolnshire branch of the EDL posted a story about their upcoming protest, which featured in The Lincolnite that day, on their Facebook page. Above the post, someone who administers the page wrote, "ha, ha, that was me giving that interview".
Englishman Steve May took offence at the post telling the EDL, "how dare you pretend to be defending me".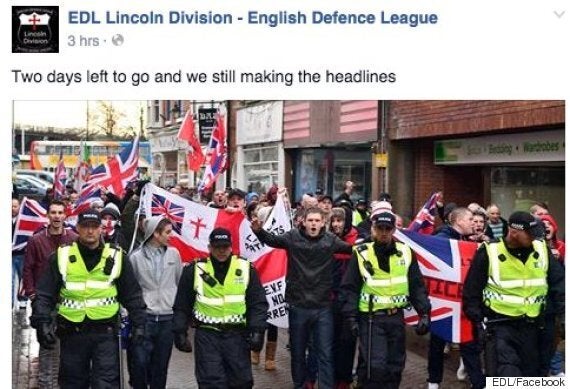 The English Defence League - Lincolnshire Division have been involved in a Facebook spat after being challenge about their Lincoln mosque protest this Saturday
On Facebook Mr May wrote: "If it wasn't Islam you shower (sic) would be attacking Jews, Blacks, Gays or anybody that can read or write with a modicum of intelligence.
"Perhaps it would be better if you travelled a bit more and meet different people and cultures. Then you'd realise that you mongrel English are no different to anybody else. No more special and no more intelligent."
EDL Lincolnshire Division responded to Mr May telling him "what a load of bollocks that's just come out of your mouth".
Its post went on to read: "All the cultures you have just mentioned are in the EDL. What you don't realise is that Lincolnshire is slowly being islamised by the the council that's in. How nany (sic) muslims do you have living next to you, proberly (sic) none and that's how we want to keep it. You want a multicultural society then fuckoff to London."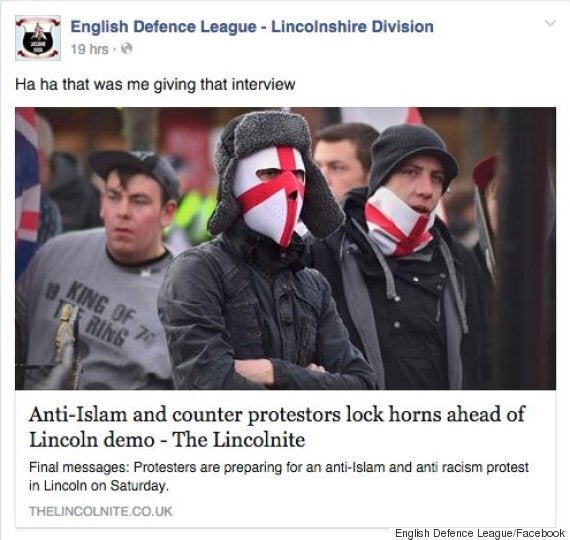 The article about the protest that sparked the debate after being posted on EDL's Facebook page
The comment did nothing to reassure Mr May who took it upon himself to educate the EDL.
At first he told the league he had no idea "who or what" his neighbour's religion was, before asking the league if it knew who their neighbours were. He then questioned the relevance of the remark.
Mr May went on: "As a matter of fact a few doors down are Chinese and a few more doors down muslim and quite a lot of Poles, not that any of that is important."
He explained that there had been a mosque of sorts in Lincoln for many years, without issue, before launching into a wider explanation of race and religion.
"I dare say the same people thousands of years ago had the same problem with the christianization of Britain yet no-one says 'christians out!'. The English, the same as any other race, are a mish mash of races. Christianity is a mish mash of religions. The English language isn't really English. English is mostly German, French, Latin, Hindi, Arabic and all sorts of other languages with a little bit of old Celtic thrown in too.
"I take it, from your use or misuse of the English language, that perhaps English is not your first language. Might I suggest a little course in multiculturalism too? It may benefit your English language skills." He ended the exchange with a wink emoticon.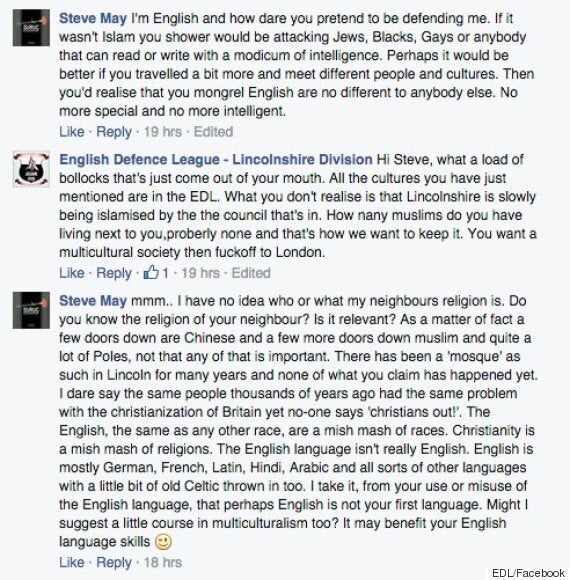 The Facebook spat between Steve May and the EDL
It's not the first time The EDl's views have been challenged online this month, and just like ta previous time they did not win the exchange. EDL member Wayne Knight threatened to delete his 12-year-old niece on Facebook after she shamed him on Facebook over his anti-Islam views.
In the Linclnite article Mr May had taken offence at, a spokesman for the EDL explained that the upcoming march was about "awareness", and went on to say: "It's about looking at other places where mosques have been built and seeing what comes with them like extremism and grooming gangs." Construction work began in April on the Lincoln mosque which is on the corner of Dixon Street and Boulham Park Road and was approved by the Lincoln Council in November 2012.
The EDL held a similar protest in Sheffield earlier this month. However, It was a demonstration against the city becoming known as a "paedophile's paradise". The group were angry at the police's response to "criminal activities of organised Islamist gangs operating there". In March it was revealed that police ignored reports that more than 200 girls were potential victims of sexual exploitation in Sheffield, mainly between 2007 and 2010. EDL protests have also been held recently in Halifax, Walthamstow, and Rotherham.
In The Lincolnite article the EDL spokesman said the Lincoln protest "is going to be the most peaceful protest ever" in the city and called for troublemakers to stay away. However, just like when the group protested in Sheffield, a counter-protest is planned. Lincoln Against Racism and Fascism Group are to hold a demonstration at the same time and are calling on people to 'unite against hatred'.
Cllr Ric Metcalfe, Leader of City of Lincoln Council, told The Lincolnite of Saturdays' EDL protest: "Lincoln is a very tolerant place and we fully support the rights of the Muslim community to have a place of worship, like any other religious group, and not to feel threatened by those who object to this.
"This march has the potential to cause disruption to the normal weekend activity in the city centre but we are working with the police to ensure that appropriate resources are available to minimise any impact to residents, businesses, shoppers and visitors."
Lincoln police have said they were planning a robust response to the rally on Thursday, but said they had no information to suggest the protest would not go ahead peacefully.
Related