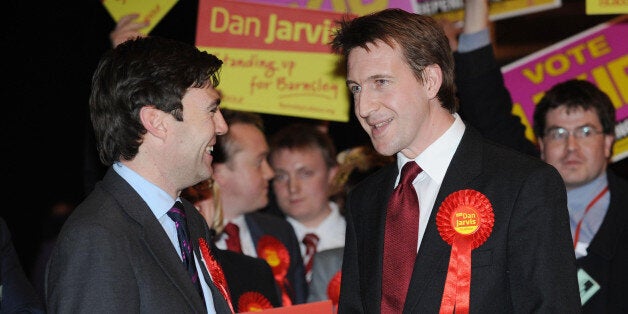 Dan Jarvis has urged Labour to stop being 'panicky' about a Jeremy Corbyn leadership and instead focus on choosing Andy Burnham as the candidate who can unite the party.
The Shadow Foreign Office Minister, a former Paratrooper who was himself a strong contender to run for leader until he ruled himself out in May, said that Mr Burnham had the competence and compassion needed to reconnect with the public.
Corbyn supporter Ken Livingstone told BBC News that Tony Blair was "very lucky" to have won three elections, mainly because "the Tory party was having a psychiatric breakdown".
Mr Blair and other leading modernisers this week warned of Labour heading back to the 1980s if Mr Corbyn was elected, but Mr Jarvis pointed out there was still a long way to go until the ballot closed in September.
The Barnsley East MP said: "This leadership election has turned into something of a political marathon, and there are some who are getting a bit panicky about who might end up winning.
"I've met hundreds of our members this year in every corner of the country. They are sensible, decent people – they are our best resource; and one that we've not made enough of over the years.
"I believe they will come to the same conclusion that I have reached. That the person best placed to unite our movement and our party, and to lead us back to victory, is Andy."
Mr Jarvis was urged by many in the party to run for leader in the immediate aftermath of the general election defeat but insisted his two children were too young for him to make the commitment.
The ex-soldier, who served in Iraq and Afghanistan, famously faced down a mugger who demanded his wallet at King's Cross station this year with the words 'that's not going to happen'.
In his blog, Mr Jarvis told how he first met Mr Burnham in 2010 when both 'our lives had been touched by cancer', a reference to his first wife's death from the disease and to Mr Burnham's wife discovering she had a breast cancer gene.
"First impressions count, and the first time I heard Andy Burnham speak was at an event in Weymouth just before the 2010 General Election," he writes.
"It had been a tough time for both of us, as our lives had been touched by cancer. That night, he spoke with real passion and emotion – it was a brilliant, rousing speech, which provoked a long standing ovation."
Mr Jarvis highlighted a new IpsosMori poll showing that Mr Burnham was the public's choice for Prime Minister when compared to the three other Labour leadership rivals, Yvette Cooper, Liz Kendall and Mr Corbyn.
The poll also showed the Shadow Health Secretary was the only candidate without a negative rating in Scotland, while also having the highest endorsement out of all four candidates in every part of the country, ranked highest by Tory, UKIP and Lib Dem voters.
"This shows beyond doubt that Andy is the only candidate who can unite the Party, unite the country and win back the voters we lost to other parties at the last two elections," Mr Jarvis said.
"That's because he is competent, compassionate and, perhaps most importantly, knows how to speak to people in a language that they understand."
His remarks came as the Burnham camp today moved to play down claims that a senior supporter had sugggested Ms Kendall and Ms Cooper weren't strong enough for the 'challenge' of the next few years.
Ms Kendall accused Lord Falconer of 'dismissing the contribution' of women in the race and said his Times article - titled "Women In Labour leadership race 'not up to challenge'" - was a 'gross insult'.
A spokesperson for the Burnham campaign hit back saying Lord Falconer's article had been misunderstood: "It's clearly not what Charlie was saying and it's not our headline."
"It was not about gender it was about the best candidate, as yesterdays MORI poll underlined.'"