Police have launched an urgent appeal for witnesses after shocking CCTV images revealed the moment a gang of up to 12 men attacked a man.
The footage, released by police on Monday, shows a 29-year-old man apprehended by the group in a "brutal" assault near London'sTower Bridge on Sunday 31 May at approximately 10pm.
A group of Asian youths dressed in hooded tops, jackets and tracksuit bottoms punched and kicked the victim for almost 60 seconds, leaving him with severe cuts and bruises.
Police Constable Oliver Gent released the images on Monday, encouraging witnesses to the incident to come forward.
"A group of young men carried out a vicious, cowardly and unprovoked attack on a lone male minding his own business," PC Gent said.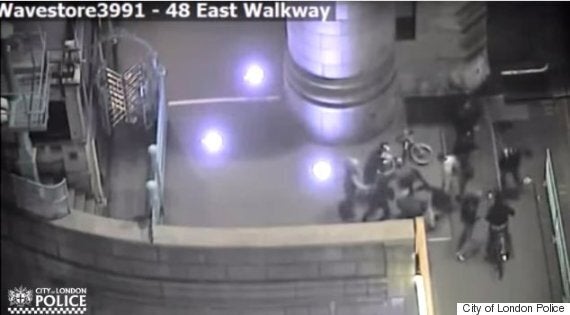 Caught on camera: The gang attack their victim
"The victim suffered several blows to the head and body and was lucky to walk away with only cuts and bruises.
"It is paramount that we catch those responsible as the group's next victim might end up with very serious injuries.
"If you were on Tower Bridge during the time of the attack or recognise any of these men from the CCTV footage, please contact us."
Anyone with information about the incident is encouraged to call police on 020 7601 2222, or Crimestoppers on 0800 555 111.