NEW YORK -- The sidestepping of climate change by Republican presidential candidates has been marked in recent months with many either dismissing the science or rejecting calls for action. Whether it's a staunch denial or simply a shrug when asked who is to blame, the issue does not play with conservative voters and as such is dismissed by those hoping to court their vote.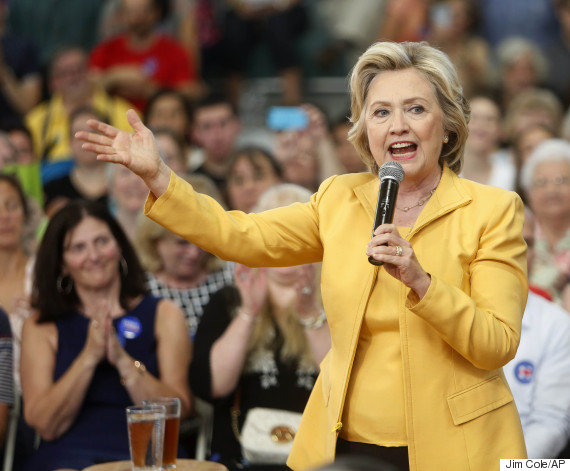 Democratic presidential candidate Hillary Rodham Clinton speaks during a campaign stop, Tuesday, July 28, 2015, in Nashua, New Hampshire
Global warming does, however, resonate with Democratic supporters in the US, handing the Party a clear demarcation from their political rivals. On Monday, frontrunner Hillary Clinton announced the opening gambit of her climate change policy in an address in Des Moines. Her plan, should she be elected to the White House, is to install a half-billion solar panels by the end of her first term and to run every home in America on renewable energy a decade after her inauguration.
Clinton believes she can increase renewable energy to 33 percent by 2027, far more than the 20 percent called for by President Obama by 2030. It's a hugely ambitious plan considering the US currently only produces 7 percent of its energy from renewables, and the demand for energy is going up not down.
"I personally believe climate change is a challenge of such magnitude and urgency that we need a president who will set ambitious goals," Clinton told reporters after her speech.
The move could also ingratiate Clinton with Liberal donors such as environmentalist Tom Steyer, who has publically pledged only to support candidates who promise to generate half the country's clean energy by 2030. The other Democratic candidates have also latched on to climate change as a vote-winner, with former governor Martin O'Malley and Senator Bernie Sanders promising decisive action on climate change should they win election.
On Sunday night, a video was posted on Clinton's website that mocked Republicans for denying the science of global warming, while sneering at the conspiratorial mindset of the presidential candidates.
SEE ALSO: