Alexander Litvinenko told his father "Daddy, Putin has poisoned me" before he died, the inquiry into the Russian spy's killing has heard.
Walter Litvinenko told how his son was struggling to speak when he visited him in hospital after he drank tea laced with polonium-210 in London in November 2006.
Police concluded that he drank fatal dose during a meeting with Russian nationals Dmitri Kovtun and Andrei Lugovoi at a hotel in central London.
He was said to have told his father: "Daddy, Putin has poisoned me."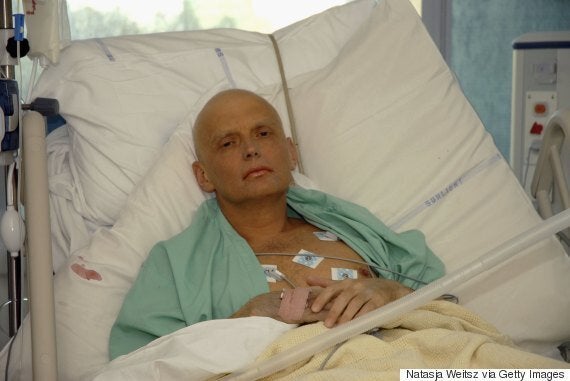 Litvinenko on his death bed
After his son's death, Mr Litvinenko senior told police: "He said Putin was a man with a perverted mind, a very dangerous man," adding that his son had also said: "Daddy, be careful."
But later he publicly said he regretted blaming Mr Putin and the Russian government for his son's death and even called him a "traitor" for working with British intelligence.
He told Russia Today in 2012: "If only I had known that my son had worked for British intelligence I would not have talked about his death. He could easily have been shot as a double agent. Traitors should be shot."
British authorities later decided that Mr Kovtun and Mr Lugovoi should be prosecuted for murder but Russia refused to extradite them.
At the inquiry, it was revealed Mr Kovtun would not give evidence via video-link after he withdrew at the 11th hour.
Inquiry chairman Sir Robert Owen said: "This unhappy sequence of events drives me to the conclusion either that Mr Kovtun never in truth intended to give evidence and that this has been a charade.
"Alternatively, if he has at some stage been genuine in his expressed intention to give evidence, obstacles have been put in the way of his doing so."