Former English Defence League Leader Tommy Robinson has complained prison authorities endangered his life after he was placed on a "wing full of Muslims" where a bounty was put on his head.
Robinson, whose real name is Stephen Yaxley-Lennon, was recalled to HMP Peterborough on July 14. It is understood he breached conditions relating to his release after being jailed in January 2014 for conspiring with others to obtain a mortgage by misrepresentation from Abbey and Halifax.
He told the Huffington Post UK that he is the "biggest trophy for any Muslim in the system wanting to make a name for themselves", and warned prison authorities of the danger he was in on arrival, something he said he has done repeatedly on arrival at jails across the UK.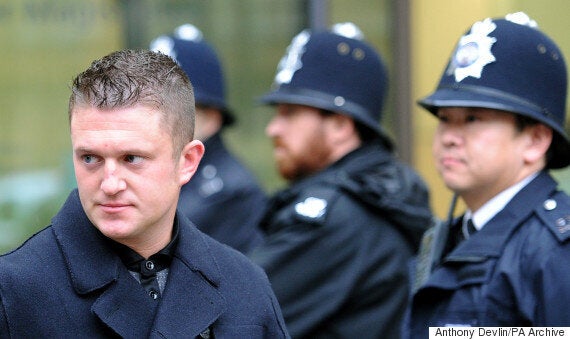 Tommy Robinson, seen above leaving court in October 2013, has accused prison authorities of putting his life in danger after being placed on a "wing full of Muslims"
The risk, this time he claims, was evident from his arrival. Prisoners jeered and Robinson said he was told, "You're dead mate... that the word had gone around last night".
The 32-year-old said while on the landing of the induction wing two days later another inmate, "with his hand over his mouth, because no one wants to be seen talking to me", warned him of a bounty on his head.
He was told a mixture of boiling water and sugar "which rips off your face" was to be thrown over him, and that a mobile phone, an ounce of synthetic cannabis Spice and £500 was "put up" as payment.
"The guy said "the amount that's been put up, to be honest, mate, a non-Muslim would do it"."
Robinson claims that he was told a teenage murderer and another man, believed to be Somalian, had accepted the job. He said he was on the same wing as Mohammed Hussain, 22, Fahim Khan, 20, and brothers Javed and Rubel Miah, aged 21 and 19, who were this month sentenced to life for knifing Isaac Stone to death, and later identified one of the men as being involved in the plot against him.
Having seen the Somalian behind a door where hot-water was available, Robinson said he decided not to "give them a chance". When he saw him exit the room with a blue cup in his hand Robinson said he knocked it away, then "whack".
A report of the incident can be seen online in a guards report from the prison on July 16. A prison officers' reports states that he "witnessed what appeared to be a fight as punches were being exchanged".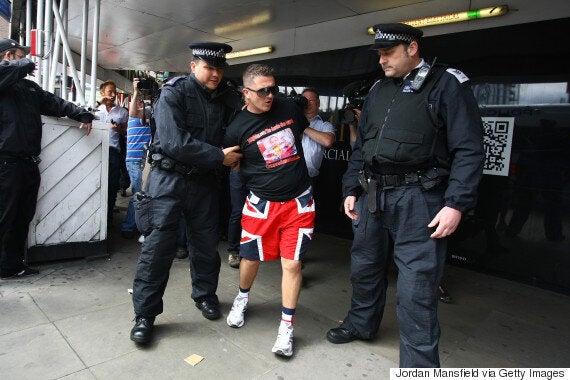 Robinson is arrested by police outside Aldgate East Tube station on June 29, 2013, in London
Sodexo, who look after HMP Peterborough, said they were unable to comment on Robinson's time behind bars, saying: "We do not comment on individual prisoners. The safety and security of prisoners, staff and visitors at HMP Peterborough is our highest priority. On arrival all prisoners are screened in reception and then housed in the induction wing until they are assessed and moved to the appropriate accommodation block."
However, sources confirmed that the fight Robinson was involved in took place in the induction wing shortly after his arrival and that he was then moved to a segregation and care unit for his own safety.
Upon release last Friday Robinson complained that authorities had put him in harms way, tweeting "I'm in no doubt they meant to put my life at risk".
News of the fight spread across Twitter, but reports weren't entirely accurate. In a tweet referring to the fight, one supporter included a picture of Robinson with bruises and abrasions to his face. A comment accompanying the picture said: "How sick is nasty Britain". Another member soon pointed out that the picture was not recent.
A few days before Robinson's release it was reported that he was facing the prospect of spending a further two and a half years in jail, as it was thought he was unable to pay a £125,000 proceeds of crime order. However, since then his supporters have started a fund to try and repay his mother who is said to have re-mortgaged her home to pay the remaining £18,000 he owed.
A call for donations reads: "If that had not been settled Tommy could have spent a further two and a half years in jail. We Tom's supporters and friends believe that the least we can do is attempt to reimburse his mother some of the money she paid."
A letter Robinson posted to twitter stating his release date, from offender manager Helen Bean, warned him to be cautious about his behaviour.
It reads: "As we discussed during supervision many times, I wanted to take this opportunity to remind you of your own personal safety, the safety of your family and also personal accountability of what you say and do."
But since his release Robinson's twitter account has contained several tweets expressing strong opinions about Muslims and crime.
Robinson on Thursday said he was free to "say what I want" and argued that he should not be censored when threats are regularly made against his life without "anything been done about it".
Before Robinson was recalled to jail he was involved in a twitter-spat which resulted in threats being made against him and his family. He has since tweeted at Bedfordshire Police asking them if they have made any arrests "for the people who jumped me on cctv or the Twitter threats to kill my wife & kids".
Dozens of threats made against Robinson before his prison recall have also been detailed online.
Earlier this month Bedfordshire police told Luton on Sunday that they were investigating threats made against Robinson from a Twitter user calling himself AbdullaHersea.
Robinson reportedly approached police after the man threatened to handcuff his children and behead him in their presence.
According to the newspaper the threat came after an online exchange between the pair on June 26. AbdullaHersea is said to have replied, "you won't see your children tomorrow".
Robinson, along with Kevin Carroll, left the EDL in October 2013, saying they could no longer keep the "extremist elements at bay", and in a move that confused many, he joined forces with counter-terrorism think-tank the Quilliam Foundation.
At the time he said: "I have been considering this move for a long time because I recognise that, though street demonstrations have brought us to this point, they are no longer productive. I acknowledge the dangers of far-right extremism and the ongoing need to counter Islamist ideology not with violence but with better, democratic ideas."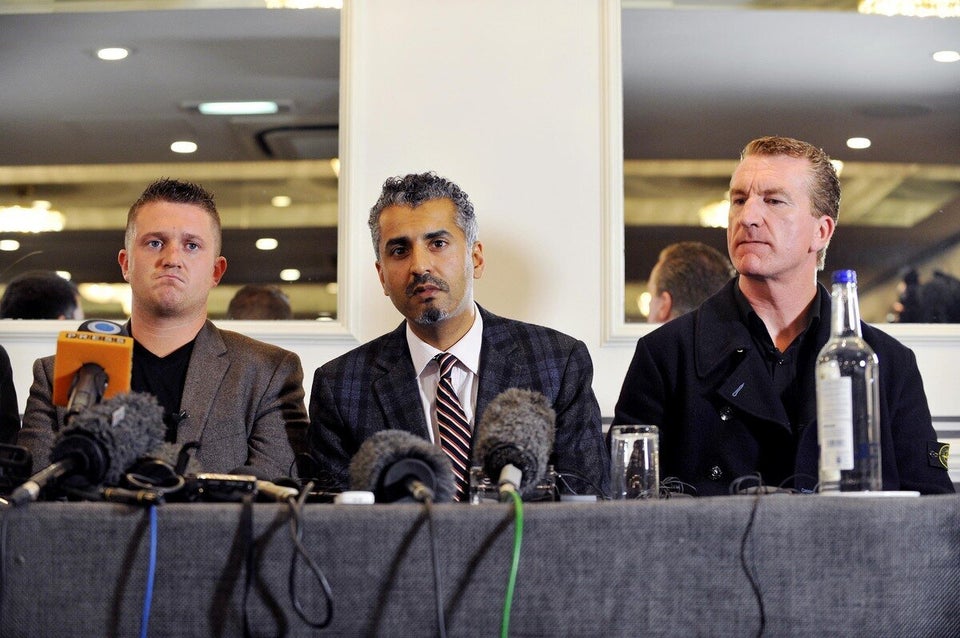 Former EDL leader Tommy Robinson
Quilliam Chairman and Co-Founder Maajid Nawaz said of the union: "As well as being a very positive change for the United Kingdom, this is a very proud moment for Quilliam.
"This represents not a change but a continuation for us, as challenging extremism of all kinds forms the basis of our work. We have been able to show that Britain stands together against extremism regardless of political views and hope to continue supporting Tommy and Kevin in their journey to counter Islamism and neo-Nazi extremism."
The Quilliam Foundation has been approached for comment about its relationship with Robinson but is yet to reply.
Watch Robinson give an interview with the Sikh channel in April, in which he talks about the EDL's positive relationship with the community, below.
Popular in the Community