To be fair, he does say he would use a bow and arrow but still...
Cecil was killed by Walter Palmer, 55, from Minneapolis, a dentist who has now incurred the wrath of millions around the globe.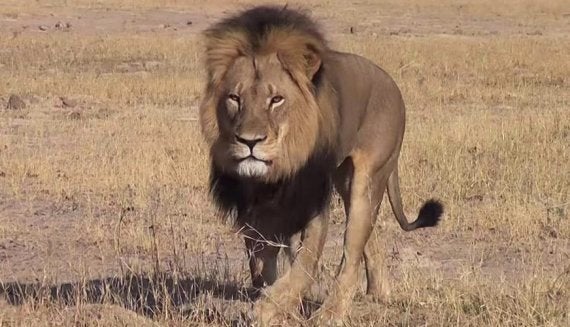 Cecil was being studied by Oxford University
"I will sell tickets for $50,000 to anyone who wants to come with me and track down fat, greedy, selfish, murderous businessmen like Dr Palmer in their natural habit.
"We would all take a bow and fire a few arrows into his limbs to render him incapable of movement.
"Then we'd calmly walk over, skin him alive, cut his head from his neck, and took a bunch of photos of us all grinning inanely at his quivering flesh."
The column even went as far as creating a mock-up of Palmer as a trophy himself.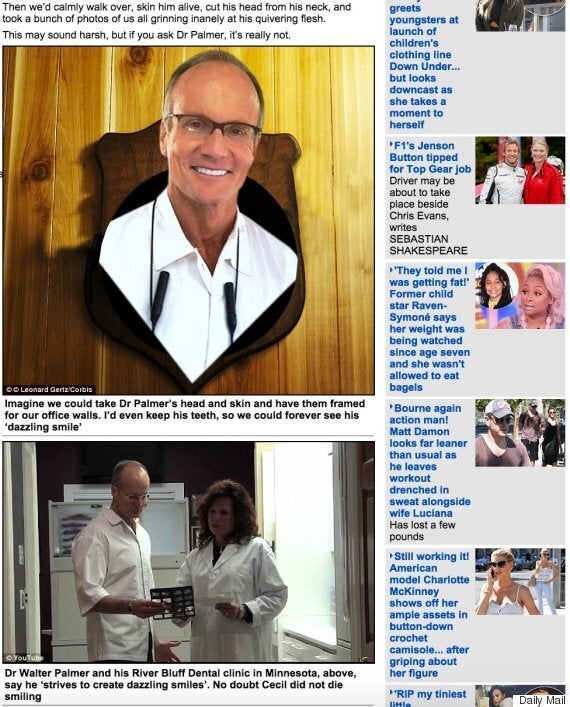 Palmer paid £35,000 for the hunt which he insists was legal. Cecil was shot with a crossbow before being skinning and beheaded when he was tracked down injured 40 hours later.
He said: "I hired several professional guides, and they secured all proper permits. To my knowledge, everything about this trip was legal and properly handled and conducted.
"I had no idea that the lion I took was a known, local favourite, was collared and part of a study until the end of the hunt. I relied on the expertise of my local professional guides to ensure a legal hunt."
Palmer, who has been convicted for poaching a bear in the US several years ago, said Zimbabwean authorities had yet to contact him about act, but said he would cooperate with investigators.
He said: "Again, I deeply regret that my pursuit of an activity I love and practice responsibly and legally resulted in the taking of this lion," the statement added.
MEP Catherine Bearder wrote: "Shooting of #CecilTheLion was senseless and cruel. Both US and EU must act to #bantrophyhunting."
Comedian Ricky Gervais, a prominent animal rights campaigner, wrote: "It's not for food. It's not the shooting, or tin cans would do. It must just be the thrill of killing. Mental."
After being identified as the killer, Palmer's Yelp page was besieged buy furious commenters. One person posted: "Nothing in this world would give me greater pleasure than to see your head mounted on a wall, your carcass defiled, degraded and paraded as you did to Cecil and near countless other animals."
Popular in the Community