The chaotic scenes of migrants desperately trying to get into Britain though the channel tunnel are being caused by a "global migration crisis," Theresa May has said.
It comes as a raft of security improvements around the tunnel were agreed including extra private security guards, French police reinforcements, additional fences and more CCTV surveillance.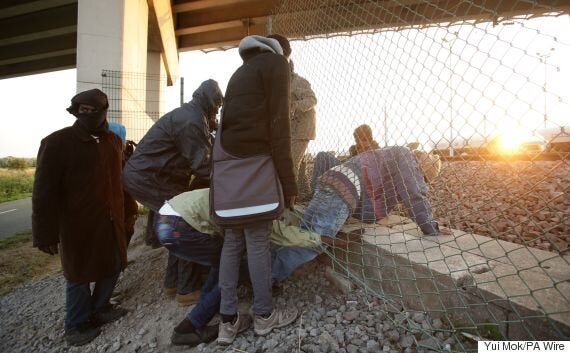 Migrants climb through a fence on to the tracks near the Eurotunnel site at Coquelles in Calais
"We are both clear: tackling this situation is the top priority for the UK and French governments. We are committed and determined to solve this, and to solve it together," Mrs May and Mr Cazeneuve wrote.
"What we are currently facing is a global migration crisis. This situation cannot be seen as an issue just for our two countries.
"It is a priority at both a European and international level. Many of those in Calais and attempting to cross the Channel have made their way there through Italy, Greece or other countries.
"That is why we are pushing other member states, and the whole of the EU, to address this problem at root."
They suggested that the long-term solution to the problem would be to persuade would-be migrants hoping for a better life in Europe that "our streets are not paved with gold".
The extra security measures were agreed following a phone conversation between David Cameron and President Francois Hollande on Friday, when the Prime Minister warned disruption at the French port town could go on all summer.
Labour have accused Mr Cameron of being slow to react to the chaos in Calais.
Acting leader Harriet Harman wrote to the PM urging him to demand compensation from France for hauliers, businesses and holidaymakers affected by the crisis. She said his action so far had been "devoid of any serious solution" and he should have been putting more pressure on Paris to get a grip on the situation.
"You have failed to initiate any diplomatic pressure on the French government to assess asylum claims and make sure proper immigration procedures are followed," she told the PM. "Instead you have chosen to inflame the situation with incendiary and divisive language, which will serve only to escalate the problem."
But a Downing Street spokesman said: "As the PM has said, playing a blame game is not going to offer a solution for anyone. What we are focused on is working closely with the French authorities and taking action to both boost security and reduce disruption for hauliers and businesses. We welcome the French police reinforcements, which have helped to strengthen security at Eurotunnel.
"We are already pursuing a comprehensive approach to tackling illegal migration into Europe; supporting rescue operations in the Med, disrupting trafficking gangs and working to stabilise the migrants' home countries."
"Significant" additional security measures agreed after talks between French and British officials which stretched late into the night following Mr Cameron's call to the president include:

:: A surge of extra private security guards, funded by the UK, to boost the existing 200-strong team and patrol the perimeter of the Eurotunnel site at Coquelles;

:: An increased presence of French police on the borders throughout the summer;

:: Additional fencing, funded by the UK, to be installed around as much of the Eurotunnel perimeter as required, with higher boundaries and extra layers where necessary and a large metal barrier to protect Eurotunnel platforms;

:: Extra CCTV, infra-red detectors and floodlighting to secure key segments of the perimeter fence.
The Downing Street spokesman said: "The Prime Minister is clear he wants to see more security and tougher action at the border, which is what the measures agreed with France overnight are all about. On top of that, we want to help those being affected by the disruption, including securing additional parking zones in Kent to reduce the impact on local residents and businesses.
"This is about a sustained focus on doing what is necessary to deal with this problem now and in the long run."
Options to relieve traffic back-ups on the M20 motorway under consideration by the Ministry of Defence and Department of Transport are understood to include the use of spare car parking space at Ebbsfleet railway station or the disused Marston airport, as well as increasing capacity on other ferry routes.
The M20 was reopened for normal traffic on Saturday evening after the last lorries being held under Operation Stack procedures were allowed through to the Channel Tunnel and ferry ports.
The operation had seen thousands of lorries parked on the coastbound carriageway for much of the last month.
Ms Harman quoted Freight Transport Association estimates that the crisis is costing hauliers £700,000 a day, while there are further costs for Kent businesses and residents and families trying to travel to the continent.
She told the PM: "It is wrong for UK businesses and families to face these costs given border security failures in France. Your discussions with the French government should therefore include a request for compensation backed up by any diplomatic pressure that may become necessary. Compensation should cover all losses."