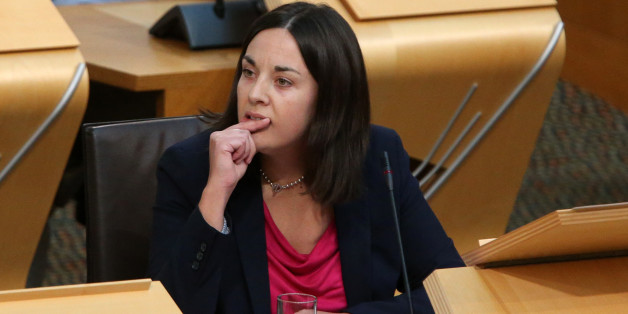 Andrew Milligan/PA Wire
Scottish Labour leadership hopeful Kezia Dugdale has called on the government to abolish Westminster's House of Lords, and instead replace it with a second legislative chamber - this time in Glasgow.
The Lothian MSP said she would campaign for an elected upper house north of the border, describing Glasgow as "the biggest city of a nation that has just reaffirmed its commitment to keeping our country together? A yes city."
But many were quick to point out that Glasgow was one of only four local authorities to back independence in last September's referendum.
They took to Twitter to blast Dugdale's idea, some criticising it as "crazy", others, too expensive.
Kezia Dugdale wants to abolish the House of Lords and replace it with a second chamber in Glasgow. The mind boggles @ScotTories

— Meghan Gallacher (@GallacherMeghan) August 3, 2015
Kezia Dugdale wanting new Lords for Glasgow

Desperate stuff, trying to get Labour reps in since they cant win democratically

RedTories

— Taylor (@dtaylor5633) August 3, 2015
Kezia Dugdale telling somebody how to do politics is like a taxi driver telling Neil Armstrong how to land on the moon. #SexySocialism

— Angry Salmond (@AngrySalmond) August 3, 2015
@danielrhamilton @kdugdalemsp How many over bicameral legislatures have the chambers in separate cities? Combined sites are less expensive.

— Tim Roll-Pickering (@timrollpickerin) August 3, 2015
Kezia Dugdale reminds me of one of those ppl you'd meet at Uni who was a terrifying mix of naivete and ambition far beyond ability.

— Hortense McGuffin (@perfecto_cheese) August 3, 2015
Kezia Dugdale wants new Lords in Glasgow! More travel and 2nd home expenses. Crazy http://t.co/Nd6CarEHvS

— Jim Caddis (@JimCaddis) August 3, 2015
@GdnScotland @keziadugdale simply wants to rub the nose of Yes voting Glasgow in it. No other reason.

— Cazziewaz (@cazziewaz) August 3, 2015
Dugdale, who was deputy to ex Scottish Labour leader Jim Murphy until his resignation in May, also criticised the frontrunner in the battle to succeed Ed Miliband.
Speaking to the Guardian, she hit out at Jeremy Corbyn, joining Tom Watson in attacks on the Islington MP for a history of meandering party discipline.
"Here's a guy that's broken the whip 500 times. So how can the leader of the party enforce discipline with that record?" she mused.
The 33-year-old made headlines on Monday with an attack on the Prime Minister for comments he made last week, describing migrants and refugees in Calais as a "swarm".
"When David Cameron described those people trying to enter the UK on the back of lorries heading for Dover as a "swarm", he got it badly wrong," she wrote in the Daily Record.
"Bees swarm over honey, people looking for sanctuary do not."
READ MORE: