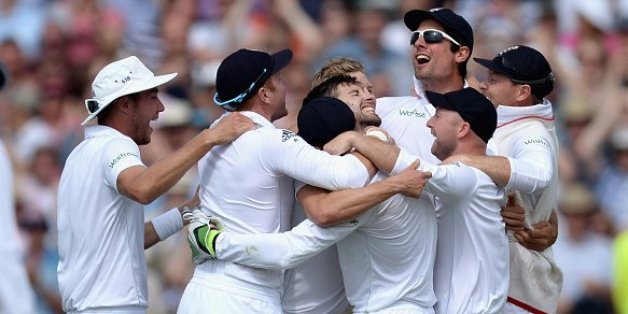 Getty
England won back the Ashes in their fourth test at Trent Bridge on Saturday morning.
The team now takes a 3-1 lead in the five Test series after winning by an innings and 78 runs.
The win was met with glee on Twitter with everyone from David Cameron to Piers Morgan tweeting their congratulations…
PM: Congratulations England on regaining Ashes. Thrilling victory. I'll never forget Botham in 81 & don't think I'll ever forget this either

— UK Prime Minister (@Number10gov) August 8, 2015
Congratulations to Alastair Cook and @englandcricket - proud to regain the #ashes"

— Harriet Harman (@HarrietHarman) August 8, 2015
ENGLAND WIN THE ASHES!

BUT...

I stole the urn last night. pic.twitter.com/bCuI1pnscV

— Greg James (@gregjames) August 8, 2015
A huge congratulations to @englandcricket on regaining the #ashes #TheUrnReturns https://t.co/8gnz3Wcx05

— England Rugby (@EnglandRugby) August 8, 2015
Small ones are more juicy #Ashes #GetIn pic.twitter.com/Lt1zPbqQqk

— Louise Mensch (@LouiseMensch) August 8, 2015
Congratulations Alastair Cook & the England team on a stunning Ashes win. Played with freedom & fearlessness. Great to watch.

— Piers Morgan (@piersmorgan) August 8, 2015
England captain Alastair Cook said that the victory was "beyond belief".
He said: "I didn't think we were quite ready to win the Ashes because I thought you needed players who were match-hardened, but the guys out there surprised me."
Australian captain Michael Clarke announced his Test retirement after the current Ashes series following Saturday's match.
He said: "I certainly don't want to jump ship and leave the boys now. I'll play the last Test, give it one last crack, but the time is right now."
SEE ALSO:
Australia lost their final three wickets in just 40 minutes, adding to the misery endured earlier in the week.
A record-breaking wicket haul by England bowler Stuart Broad on Thursday saw Australia all out for just 60 after just 18.3 overs - the shortest first innings in Test history.
English viewers, fans and pundits took the opportunity to troll pretty much the whole of Australia…