Alton Towers crash victim Leah Washington has appeared in her first TV interview describing her horrific accident on the Smiler rollercoaster and the "overwhelming" support she has received since.
The 18-year-old had her leg amputated after the accident, which also seriously injured four young people in June, when one coaster car slammed into another.
Speaking on ITV's This Morning, she it is still difficult to see footage and hear reports about the crash. "It's so hard... I don't like to watch it, it's quite scary and upsetting and brings back a lot of not nice memories."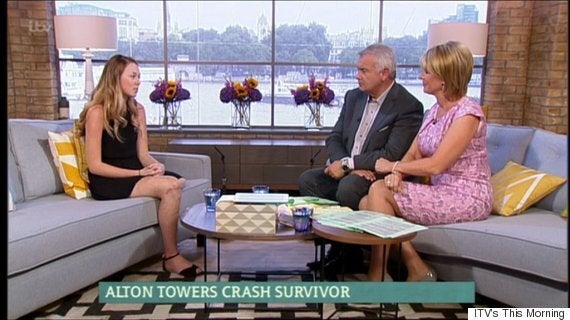 Washington on ITV's This Morning
She told hosts Eamonn Holmes and Ruth Langsford about the moment she got on the ride, with her boyfriend Joe Pugh:
"Because the weather was nice we went to Alton Towers and we came to Smiler which was one of the first main big rides. It was going to be my first time on it.
"We queued for an hour and a half, and then we got to the front and they put us on the front carriage - me and Joe got excited being at the front and we sat down and put safety bars down, sat for five or ten minutes and then had to get back off because there were technical difficulties… we waited for half an hour and then got back on."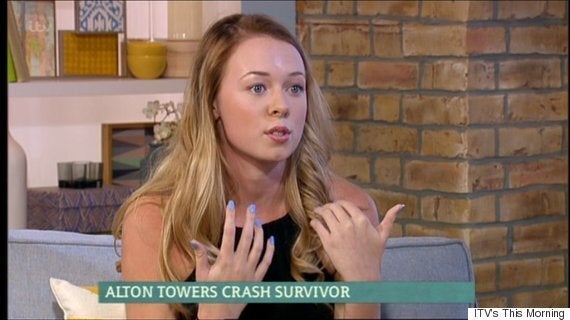 Washington told the story of the crash
She said she still wasn't worried about getting on the ride again: "Not really, because all rides break down at some point - even big ones in America break down - you don't expect anything bad to happen. You just think it'll get fixed and it'll be alright. So it set off and it seemed fine."
But then things began to go wrong again, she explained: "We got to the first hill and we got stuck at the top. Me and Joe [Pugh] were discussing 'this ain't right, we should be getting off' and they said over the tannoy that 'we're experiencing technical difficulties, bear with us' and then it just set back off without any warning."
"And it was fine, going round, loops and everything, and we just came round this corner and I saw the [empty] test cart and thought 'oh God, this ain't good'… and we just crashed into it."
After the crash happened, Washington said: "I remember looking at Joe and his finger was hanging off… and I can remember looking down at another person and he had a big cut of his forehead. So I was looking at my hands and asked Joe if I had any cuts on my face… but there was no pain."
Washington with her boyfriend Joe Pugh who was also on the ride
She added: "Then I couldn't feel my toes and I started to panic and I looked down at my legs and my left leg was pushed up - I tried to wiggle my toes and the sensation just wasn't there. Everyone near or around the ride were running and screaming and taking photos, which wasn't very nice. I was shocked. Me and Joe shouted [to them] to stop taking photos, it's rude."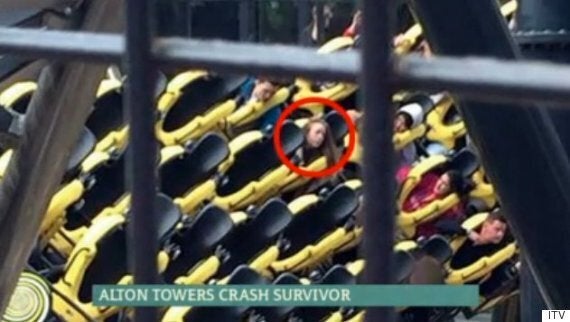 She said: "I think we were there for four hours… I had gas and air and a lot of medication - so I was passed out a bit but still with it. There was Tom and Dave [from the rescue team] were both looking after me and Joe and checking we were alright. I don't remember much. After I had gas and air I was out of it and every so often I can remember coming back and seeing things and hearing a lot of noise."
After being air-lifted to hospital Leah said, "I went for X rays and went straight into theatre and had an amputation straight away. The surgeon said he thought my leg was just going to come off in his hand it was that bad. They couldn't save it."
She added, "I can remember waking up and all my family were stood around me, and straight away the surgeon came and told me… I was crying and screaming saying 'don't tell me, don't tell me'… but I already had an idea what had happened."
Washington told This Morning that she found it "quite hard thinking about what's ahead" ... I've got a lot of physio to go through, my leg fitted and changed and trials and learning to walk again really. It's a lot of work. I haven't really come to terms with what's happened yet. It's a bit too soon. Too much has happened."
Leah ended the interview wishing to say thank you to those that have helped her during these two months. She said, "There are so many people I want to thank - air ambulance, Stoke hospital, all the well wishers - I've had so many cards from people I don't even know - it's been overwhelming".
Popular in the Community