Gordon Brown appeared to dismiss Jeremy Corbyn, the frontrunner to be the next Labour leader, when the former prime minister gave a speech that marked his first intervention in the contest.
Mr Brown delivered an address on "power for a purpose" in which it was expected he would criticise My Corbyn's economic and foreign policies.
But in a high-profile 50-minute speech in London, he did not mention Mr Corbyn - viewed as unelectable by many Labour MPs - and warned of the consequences of retreating to becoming a "party of protest".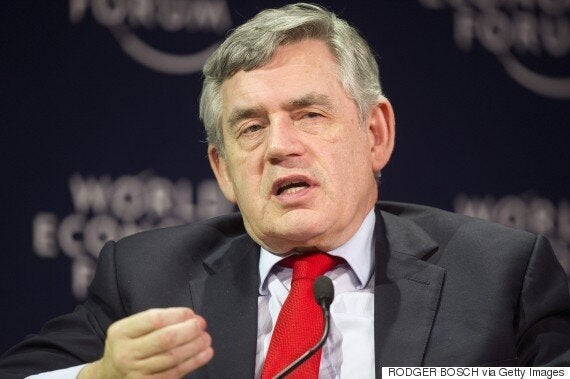 Gordon Brown dismissed Jeremy Corbyn indirectly with the speech
He acknowledged the party was "grieving" after its general election defeat, but said: "There is one thing worse than having broken hearts, it is powerlessness.
"Our hearts can be broken and yet it is worse to find out we are powerless to do anything about it. To see a wrong and not be able to right it, to see an injustice and not be able to correct it, to see suffering and be able to do nothing about it, to see pain and know you cannot heal it, to see good that needs to be done and change that needs to be made and not to be in a position to do it.
"When I know, and I argued, and I think you believe, that the only way that we can avert the pain and end the suffering is by securing in the future the election of a Labour government to deliver on our priorities.
"And when I see the opinion polls that say the one grouping in the party that is likely to get most votes is the one grouping that even its own supporters say is least likely to be able to form a government, then we have to look at the lessons of our history."
His speech came as Andy Burnham insisted that only he was capable of Mr Corbyn and preventing a damaging split within the party.
With more ballot papers set to be delivered in the coming days the shadow health secretary claimed only he could stop the left-winger and avert a period of 1980s-style infighting.
Mr Corbyn has hit back at claims he is anti-business by setting out plans to support entrepreneurs and small traders.
He told The Observer: "The current government seems to think 'pro-business' means giving a green light to corporate tax avoiders and private monopolies. I will stand up for small businesses, independent entrepreneurs, and the growing number of enterprises that want to cooperate and innovate for the public good.
"My Better Business plan will level the playing field between small businesses and their workers who are being made to wait in the queue behind the big corporate welfare lobby the Tories are funded by and obsessed with."
Two polls emerged over the weekend giving different verdicts on how likely Mr Corbyn is to become prime minister.
He added: "In the 80s, we started fighting each other and left the way clear for Margaret Thatcher to bulldoze her way through Labour communities.
"I'm not going to let that happen this time."
In an indication of the task facing whoever emerges as the winner of the leadership race on September 12, a ComRes study found the Opposition trailing the Tories by 11 points, with David Cameron's party on 40% and Labour on 29%.