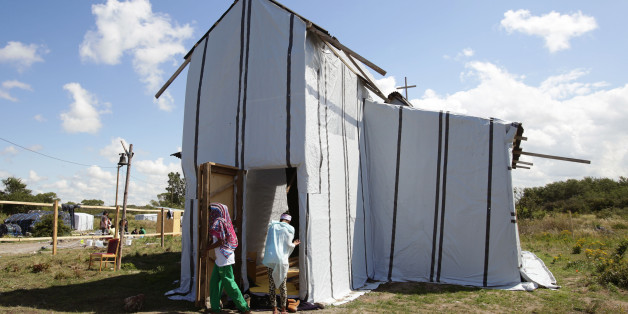 Yui Mok/PA Wire
A controversial decision to broadcast an episode of the BBC's Songs of Praise from a migrant camp in Calais known as the "jungle" has gone down surprisingly well, if social media is any judge.
The programme had attracted criticism for being political and wasting licence-fee payers money. The show also won some high-profile backers, with Harry Potter author JK Rowling attacking a critical Daily Express front page.
However after airing on Sunday evening, viewers took to Twitter to praise the show for its move, with viewers calling it "moving, "unbiased", "hard-hitting" and "humane".
SEE ALSO: Of course Songs of Praise should be broadcast from Calais
The programme saw presenter Sally Magnusson to a make shift Church set up by Ethiopian and Eritrean Christians, including a student called Nima, who said the congregation prayed to angel Gabriel to save their lives.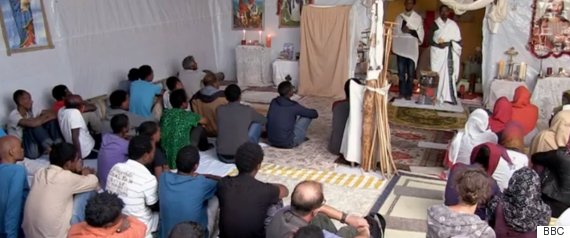 The programme was broadcast from a church in the Calais 'jungle'
Another migrant called Daniel, from Sudan, said he attempted to cross the Channel every night.
Headline said 'this is how the BBC spend your money'. Having now watched it my main reaction is 'glory be'. #SongsofPraise

August 16, 2015
That little church in the asylum-seekers' camp in Calais is heartbreaking. I respect the makers of #SongsOfPraise for that humane report.

— Sally Lewis (@Sallyapiacere) August 16, 2015
I can't remember the last time I watched #SongsofPraise, I can't remember it ever moving me to tears @BBC

— Kate Bottley (@revkatebottley) August 16, 2015
Well done #songsofpraise for showing the human side of migrants in #calais the hysteria abt this show has been shocking / unjustified

— Stand Up To Racism (@AntiRacismDay) August 16, 2015
Well done to #SongsofPraise for broadcasting from Calais and for humanising the refugees. Jesus would have been the first down there...

— Becky Dell (@beckylucydell) August 16, 2015
Hope @LouiseMensch, Richard Desmond, Farage & other rabble rousers saw #SongsofPraise.We're so blessed to live in UK pic.twitter.com/XTAiLtdDzm

— Tim Montgomerie ن (@montie) August 16, 2015
Aaqil Ahmed, the head of religion and ethics at the BBC, explained earlier that "the programme is looking at how people express their faith, it is not a political statement on the situation or a judgement on migration."
"Songs of Praise is simply reflecting the conversations going on in many churches and Christian households around the country," he wrote.
However not everyone greeted the programme with applause. Over at the Mail online anger abounded on the message boards, with "go away, you're not welcome", one of the most popular comments on the story.
Ironically, it seems that the best way to get downvoted on the article about #songsofpraise is to quote Bible verses pic.twitter.com/U8giUKu9hS

— Daily Mail Comments (@BestoftheMail) August 16, 2015