"£3 trillion debt. National riots. A UN airlift from No 10," shouts the headline, "Prime Minister Corbyn… and the 1,000 days that destroyed Britain".
The Mail On Sunday's fictitious account of a Britain under Prime Minister Jeremy Corbyn published over the weekend has left loyal Mail readers baffled, and the rest of us utterly amused.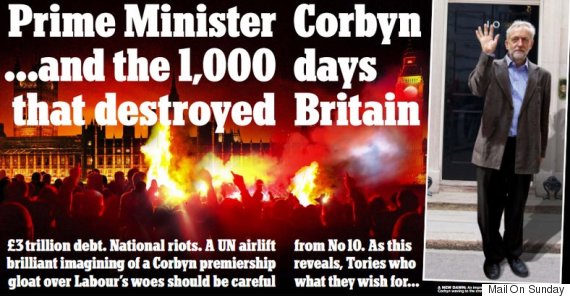 Described as a "brilliant imagining", the article is the work of fiction author David Thomas.
And fiction it really, really is.
Within hours of its publication, the article was already out dated. Its prediction One Direction would leave Britain to tour the US after Corbyn's election, and never return – seems really quite unlikely now.
Its claim that under Corbyn, Britain's national debt would double appears to ignore the fate of debt under the Coalition government.
According to Treasury estimates, UK debt will be £1.36 trillion this year, up from £760 billion in 2010.
But in this fictitious Corbyn-controlled Britain, not everything has "gone to the dogs…"

Property prices came down

Foreign football club owners sold up

Railways were renationalised

Corbyn and 'President Donald Trump' didn't agree with each other
Owen Jones, the prominent left-wing commentator, appeared particularly pleased with his inclusion – as PM Corbyn's chief of staff.
Morning Mum and Dad! Oh yeah you feature in a long dystopian Mail on Sunday fantasy about Jeremy Corbyn's premiership pic.twitter.com/gWjxReRU16

— Owen Jones (@OwenJones84) August 23, 2015
But rather than enjoy the article and its wild speculation, Mail Online readers condemned the lack of factual reporting. "If I wanted to read fiction, I'd buy a book," one reader wrote.
Another claimed: "The Tories are terrified and their obedient hack stooges in the media are churning out any old drivel in attempts to smear Corbyn."
Last week the Mail On Sunday ran a story about Corbyn's previous relationships and his preference for cold tinned beans.
@OwenJones84 Why does the mail always make me feel like I'm reading a paper from the 1930's?! It's like I've found it behind an old fire. 😖

— Lucy Mckeown (@Lucyferrr) August 23, 2015
@OwenJones84 in this dystopia vision of the future, The Mail pays it's tax in full. He horror, the horror.

— Michael Martin (@tfeditor1892) August 23, 2015
@OwenJones84 Have the Mail Group just given up on news altogether? This is bizarre, even by their lowly standards

— Mark Penman (@Pluma_Hombre) August 23, 2015
But for now, look out for the paperback version, no doubt coming to an independent, tax-paying bookstore near you.