Harvey Proctor, the former Tory MP who was interviewed by Scotland Yard detectives investigating claims he was involved in the murder and sexual abuse of children, has attacked the Metropolitan Police and called for the force's top police chiefs to resign.
Proctor was interviewed under caution on Monday by officers working on Operation Midland, which is investigating the historical allegations of a VIP paedophile ring.
The former MP said the allegations were a "homosexual witchhunt" which has "wrecked" his life.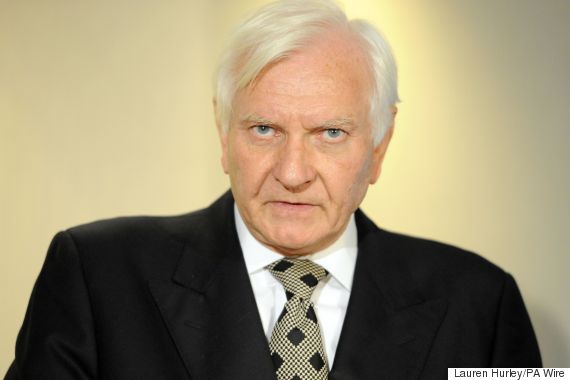 Harvey Proctor speaking at a press conference in London on Tuesday
It is the second time this year the 68-year-old has been interviewed by police. In March, the Proctor's home was searched by officers and he was questioned by detectives.
Proctor has vehemently denied any wrong-doing and during a press conference in London on Tuesday, the former Conservative politician called for the resignation of the Metropolitan Police's top officers.
Proctor directed a lot of his anger towards commissioner Sir Bernard Hogan-Howe and his deputy, Det Supt Kenny McDonald, who is heading up Operation Midland.
The former Tory MP said that both police chiefs should resign, and mocked Sir Bernard, saying soon the commissioner will soon be launching an inquiry into the "murder" of the princes in the Tower back in the 15th century.
Proctor: it won't be long until Bernard Hogan-Howe launches Op Plantagenet into the murder by Richard III of princes in the Tower of London

— Fiona Hamilton (@Fhamiltontimes) August 25, 2015
In a statement released at the press conference today, Proctor said: "What has become increasingly clear about police investigations into historical child sexual abuse is that it has been bungled in years gone by and is being bungled again now.
"The moment has come to ask ourselves if the police are up to the task of investigating the apparent complexities of such an enquiry?"
He added: "What is clear from the last few years of police activity driven by the media, fearful of the power of the intent and the odd MP here and there is that the overhaul of the police service up and down the country is now urgently required."
"I have grave and growing concerns about the police generally and more specifically Operation Midland." pic.twitter.com/Vk5wR0hhnj

— Daniel Sandford (@BBCDanielS) August 25, 2015
"Sir Bernard (Hogan-Howe) should resign for the sin of hypocrisy." pic.twitter.com/gca8hwbDwi

— Daniel Sandford (@BBCDanielS) August 25, 2015
"Det Supt Kenny McDonald..should resign or be sacked." pic.twitter.com/v06G7iN5SQ

— Daniel Sandford (@BBCDanielS) August 25, 2015
He said that he had been accused of being part of a child sex-ring with former prime minister Edward Heath and ex-Home Secretary Leon Brittan, the Independent reports.
His accuser, who is known only as "Nick" and is protected by legal anonymity, told police that the former politician was part of a group of men who abused him over a decade from 1975.
Proctor has also been accused of being responsible for the murders of two boys, and implicated in the death of a third.
SEE ALSO:
He said: "They amount to just about the worst allegations anyone can make against a person, including the multiple murder of children, their torture, grievous bodily harm, rape and sexual child abuse.
"I'm completely innocent of all these allegations.
"I'm a homosexual. I'm not a murderer or a paedophile. This whole catalogue of events has wrecked my life, " the Press Association Reports.
Proctor stood down in 1987 after he was convicted of gross indecency with males aged under 21, which was the homosexual age of consent at the time, but over 16, which is the current age of consent.
Proctor also called for victims of alleged historic sexual abuse to stop being referred to as "victims" and instead be called complainants.
He added: "The police involved in Operation Midland are in a cleft stick of their own making."
Proctor accused Sir Bernard of shedding "crocodile tears" when criticising the IPCC and Wiltshire Police for naming Heath as a suspect, the Telegraph reports.