[WARNING - some readers may find some images in this article disturbing]
Newspapers have been accused of overstepping the mark in using graphic photos of the killing of two journalists on live TV on their front pages, with two apparently showing the moment the gun was fired at a young woman.
Alison Parker and Adam Ward from US local TV station WDBJ7 were killed by their former colleague Vester Lee Flanagan II, who appeared on TV as Bryce Williams, in the middle of the broadcast in Virginia on Wednesday.
The Sun and the Daily Star both used an image, taken from footage filmed by the killer, that showed the moment the gun went off.
As debate raged online over whether it was appropriate to show the videos, BBC News took the unusual decision not to show some of the front pages in its nightly newspaper review, due to their graphic nature.
Thursday's UK front pages drew accusations of "big errors of judgement" by another BBC journalist.
Some people incorrectly believed that the image on the front of The Sun and Daily Star had been doctored with a photoshopped "orange puff" on the killer's gun.
But some newspapers including the Daily Express, Metro and the Guardian avoided scenes from the disturbing footage and chose to use pictures of Parker and Ward smiling on their front pages.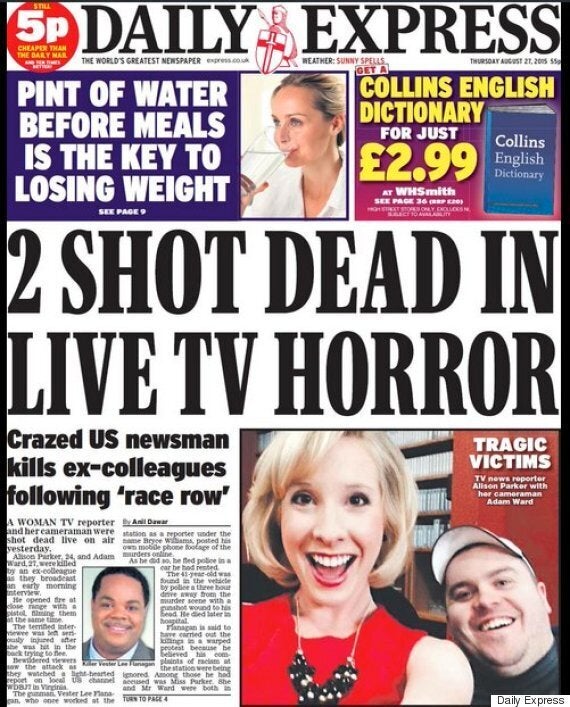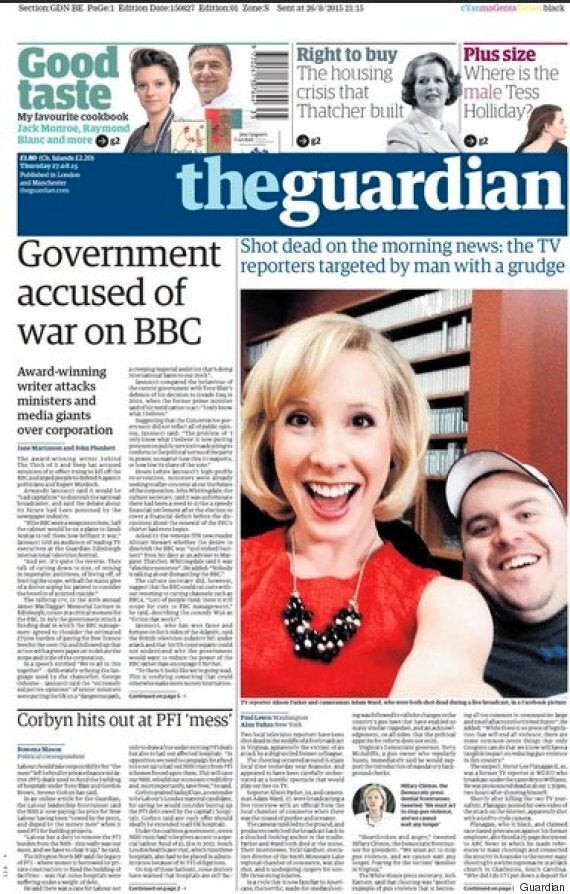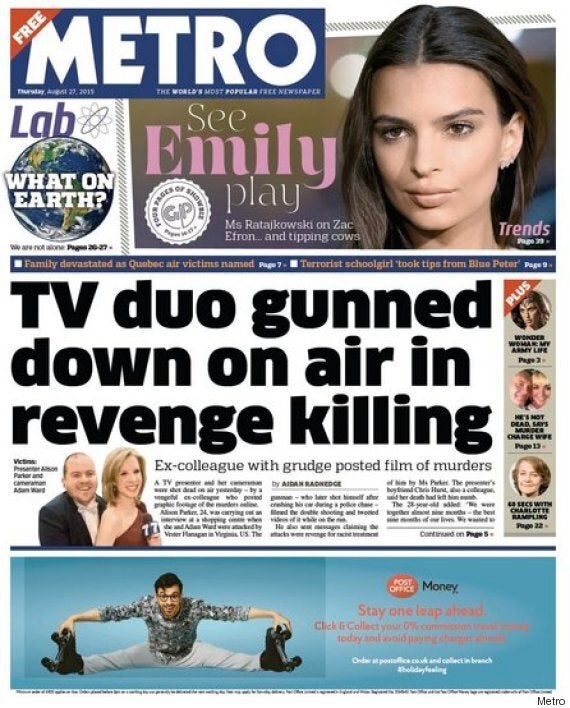 The Telegraph and The Daily Mail used still images from one of the gun man's videos, though not of the shooting itself, but rather a picture showing Parker's shocked reaction as she catches sight of Williams.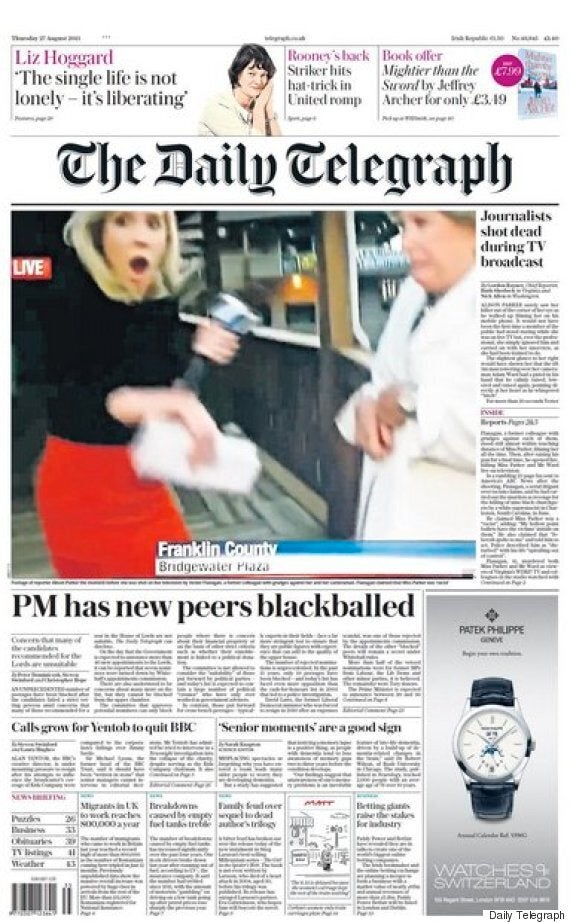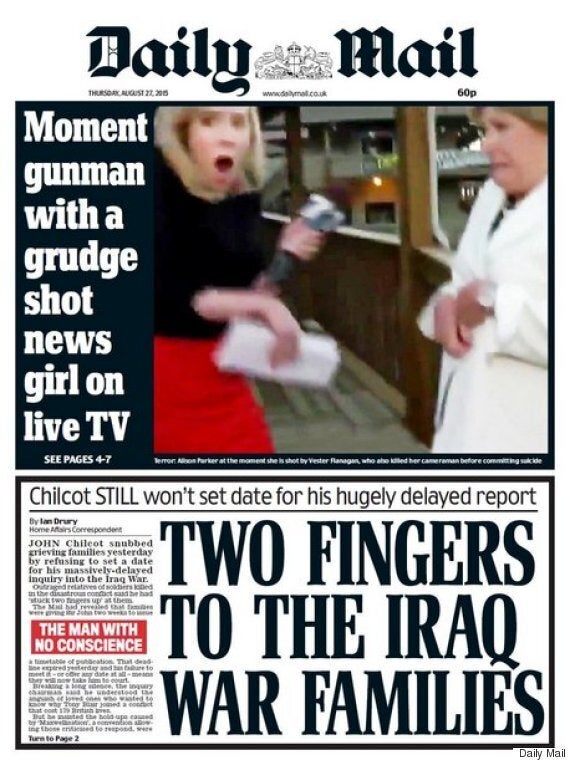 [WARNING - disturbing images]
The Daily Mirror and Time front pages went a step further, showing a picture of the shooter's gun pointed at Parker.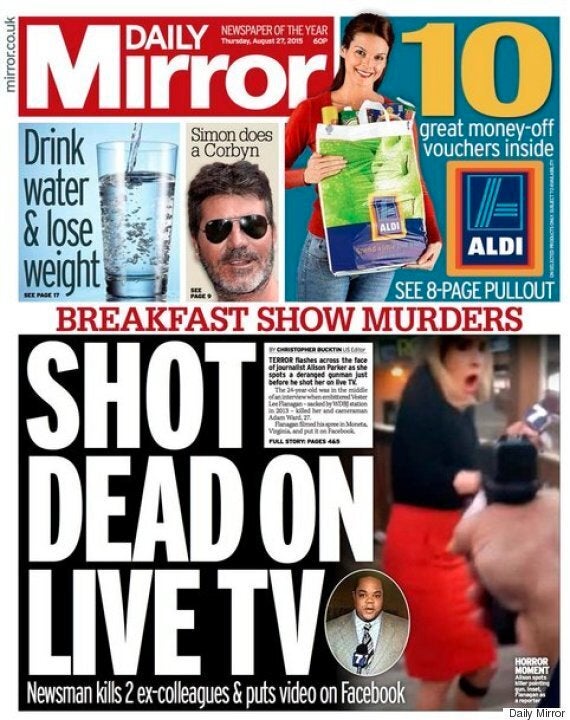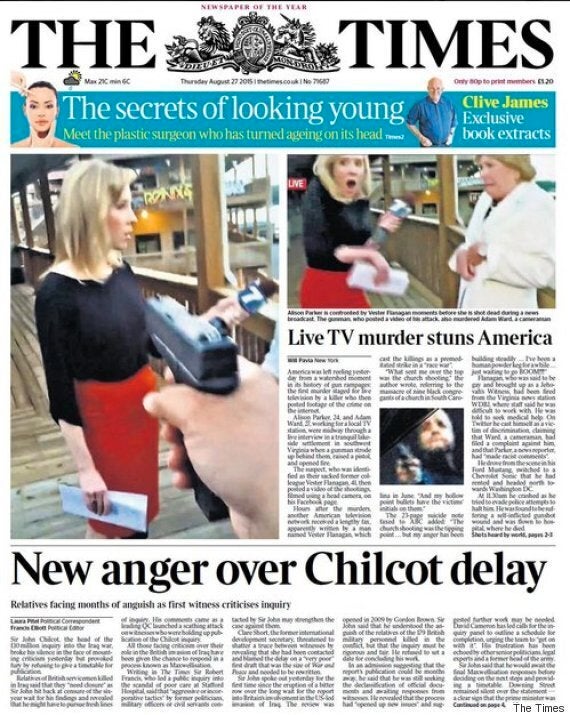 The Sun and The Daily Star used an image from the video showing an orange muzzle flash at the end of Williams' gun as he shot Parker, which many commenters online believed was photoshopped, as it was not visible when watching the video in real time.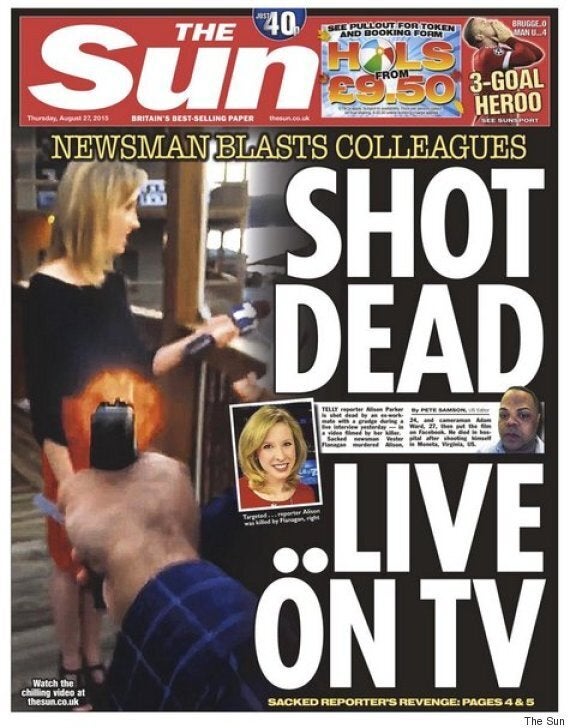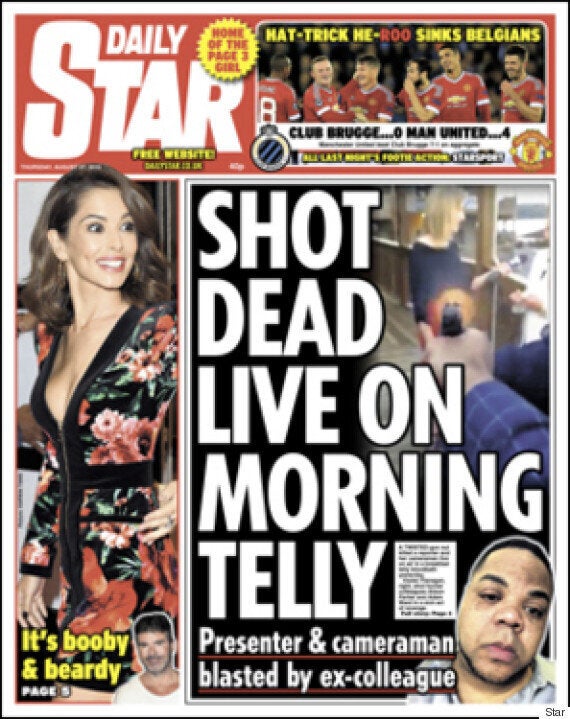 The Sun's muzzle flash photoshop job is another to add to its list of disgusting decisions.

— Mic Wright (@brokenbottleboy) August 27, 2015
A spokesman from The Sun confirmed to The Huffington Post UK that the picture was not photoshopped, saying: "It is completely unedited... it has not been touched by our graphic designers."
Neil Henderson, the BBC Home Duty Editor, tweeted that he wasn't often "openly critical" of papers but that he felt there had been "big errors of judgement" on some front pages.
Nick Sutton, the editor of BBC's World At One, who nightly tweets newspaper front pages under the #TomorrowsPapersToday hashtag but rarely makes judgements on them, said:
He also called the Telegraph's front page "shocking".
Meanwhile, papers like The Independent and The Financial Times made no reference to the killings on their front pages.