'X Factor' bosses have denied accusations that girlband Fourth Power were approached to audition, following their success on a Filipino talent show.
READ MORE:
The claims emerged after the group's first audition aired on the ITV talent show on Saturday (29 August), when footage of them on 'SuperstarK6' under the name MICA, came to light.
Story continues below their audition video...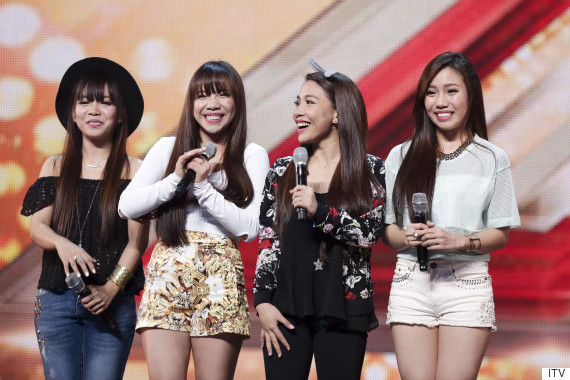 Fourth Power
Together, they made it through to the final 10 of the show, and even ­released records available to buy on Amazon under the names of The Gollayan Sisters and The Cercado.
It was reported that producers knew about their professional past and approached them to fly over from the Far East to audition.
However, an 'X Factor' spokesperson has now denied those claims, telling 'The Mirror': "'X Factor' producers did not approach Fourth Power to audition - they flew to the UK to audition of their own accord and went through exactly the same audition process as other acts.
"Their interview in the programme clearly said that they had been performing together since 2001 and had competed in various places.
"There are no rules preventing anyone who has appeared on other shows from applying for 'The X Factor'."
The group - made up of four sisters, Almira, Celena, Mylene and Irene - proved a hit with judges Simon Cowell, Cheryl Fernandez-Versini, Nick Grimshaw and Rita Ora with their rendition of Jessie J, Ariana Grande and Nicki Minaj's hit 'Bang Bang', and their audition has already clocked up over three million views on YouTube.
MORE 'X FACTOR':
A source previously claimed that producers had met the girls in London to discuss appearing on the show, and checked out their professional record before invited back to try out for the judges.
"Producers were well aware who the girls were before they arrived in front of the judges – so it was no surprise that they were ­fantastic on the show," an insider told The Sunday People.
"Executives looked at everything they had done before and discussed them at length before making the decision to invite them back and make them a big part of the launch show. Obviously they were exactly what had been expected.
"But the judges had not been told what was coming, to ensure their ­reaction was as strong and completely natural as it could be."
LIKE US ON FACEBOOK | FOLLOW US ON TWITTER