David Cameron is poised to announce Britain will accept thousands more refugees from Syria, reports suggest after the Prime Minister revealed he was "deeply moved" by pictures of a drowned refugee boy and facing huge pressure to respond.
The Guardian has reported details of a specific plan to take displaced people from UN refugee agency camps on the border of Syria, but officials are thrashing out a plan over where they will be placed and how it is funded.
But the move is unlikely to pave the way for tens of thousands of new arrivals akin to Germany and is likely to take the form of an expansion of an existing scheme.
The Prime Minister fell short of spelling out these plans when pressed by media on a regional UK tour today.
But there appeared to be a shift in tone to reflect the public mood of widespread despair over the death of three-year-old Aylan Kurdi, found dead on a beach in Turkey after trying to escape Syria.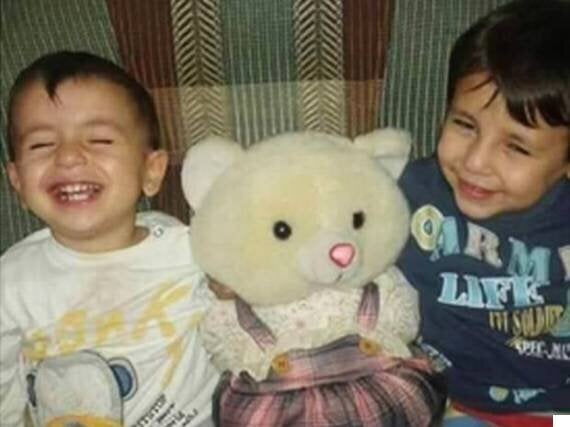 Aylan Kurdi (left) and his brother Galip (right), who perished
Pressure to start to take the numbers already being taken elsewhere in Europe came from the Scottish first minister, Nicola Sturgeon, who accused him of adopting a "walk on by on the other side" approach after he said on Wednesday that the UK would not take any extra refugees.
Boris Johnson, the mayor of London, Ruth Davidson, the Conservative leader in Scotland, Lady Warsi, the former party chairman, have all spoken out, as have several backbench MPs.
Acting Labour leader Harriet Harman urged Cameron to convene an emergency meeting of Cobra cabinet committee to coordinate the government response and Yvette Cooper, the shadow home secretary, said it was "utterly shameful ... that our prime minister is just turning his back".
Since the start of the crisis, the UK has granted asylum to around 5,000 Syrians, significantly higher than 216 migrants critics have highlighted, which arrived through a specific relocation programme that resettles Syrians placed in camps.
But the Prime Minister said today: "Anyone who saw those pictures overnight could not help but be moved and, as a father, I felt deeply moved by the sight of that young boy on a beach in Turkey.
"Britain is a moral nation and we will fulfil our moral responsibilities.
"We are taking thousands of people, and we will take thousands of people."
But he is also conscious of being seen to open the borders and encourage more people fleeing the Middle East to make the treacherous journey to the UK.
"We need a comprehensive solution, a new government in Libya, we need to deal with the problems in Syria," he added.
"I would say the people responsible for these terrible scenes we see, the people most responsible, are President Assad in Syria and the butchers of Isil [Islamic State] and the criminal gangs that are running this terrible trade in people.
"And we have to be as tough on them at the same time."
Related