Comedian Stewart Lee has lambasted right-wing newspapers for their treatment of Jeremy Corbyn in an acerbic parody article that delighted fans on social media.
Lee trended on Twitter after accusing the papers of "absurdly" misrepresenting Corbyn's views on Osama bin Laden's death in his weekly Observer column.
His piece was headlined 'Jeremy Corbyn and I are the new Christs' - a title which turned out to be a self-referential joke about the frustration of being quoted out of context.
Footage surfaced last month of the Labour leadership frontrunner's 2011 interview with a Tehran-backed broadcaster, in which he argued that it was a "tragedy" bin Laden was killed by US forces that year, because he should have faced trial instead.
In his comment piece in The Observer, Lee mocks the Daily Mail, Daily Express and Daily Telegraph's pieces about Corbyn's words, which he feels were taken dramatically out of context to suggest Corbyn supported al-Qaeda.
Stewart Lee
Tory MPs and Liberal Democrat leader Tim Farron also seized on Corbyn's interview, portraying him unfairly, Corbyn's supporters claim, by focusing more on his use of the work "tragedy" than his opinion that the terrorist leader should have been tried.
In his wry piece about the incident, left-wing Lee says he has read in the Daily Mail that Corbyn - who supports legalising gay marriage in Northern Ireland - "wants to dredge the decomposing corpse of Osama bin Laden from the seabed and then marry it" and to "live with the dead body of Bin Laden in Islington, as if it were his gay-zombie husband."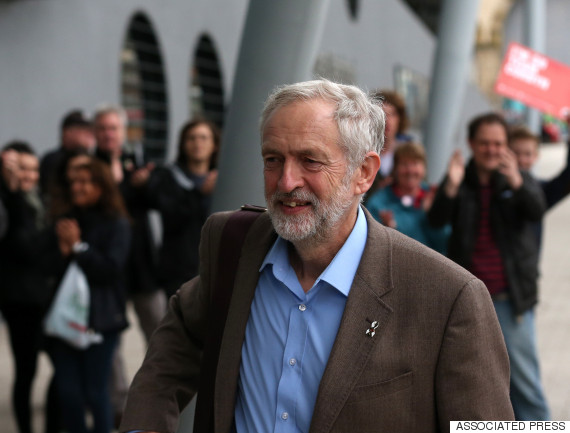 Jeremy Corbyn
Lee claims to have read several other outlandish newspaper stories about Corbyn, before also spotting Tim Farron flying past his window on a hand glider "with a picture of Jeremy Corbyn kissing Bin Laden printed on its outstretched wings."
In his confusion, Lee jokes, he turned to the internet to try to establish the truth about Corbyn's remarks.
He discovers with mock amazement that: "It appeared the veteran leftwinger had used those words, but as part of a forward moving collection of sentences, which contextualised them in the way that sentences in a supporting argument do, in order to lament the lack of due process in Bin Laden's killing, which Corbyn believed, rightly or wrongly, had ongoing global implications".
SEE ALSO:
Lee has some sympathy with Corbyn, he says, after part of one of his comedy shows about TV motoring journalists was ironically taken out of context by the Daily Mail - despite his direct plea on his DVD for the paper not to do this.
Lee then refers to Jesus, saying that "long long ago" there was another man whose "wise words were often shorn of context by stupid fools".
But in his self-referential conclusion, Lee notes that although he has compared himself and Corbyn to Jesus, he hopes that The Observer's editors will not pull this controversial snippet of his article out of context and use it as the headline for his piece. Which, of course, they have done.
His piece was received with delight on Twitter, where readers praised it as "brilliant" and "faultless".
http://t.co/Bb05gYiZ5z Must read. Stewart Lee is definitely a genius.

— Michele Hanson (@michelerhanson) September 6, 2015
Stewart Lee's column is just amazing today. I LOVE it! http://t.co/lXDHUpvMVq

— Sophie (@Sopherina) September 6, 2015
Magnificent. Every word. http://t.co/BOMmah97lK

— Chinny Honk (@ChinnyHonk) September 6, 2015
Love Stewart Lee's mind http://t.co/tbcq6HPd1I

— Pat Kane (@thoughtland) September 6, 2015
Stewart Lee is really boss.

September 6, 2015
"@guardian: Jeremy Corbyn and I are the new Christs http://t.co/mOicOeduTI" This is v funny indeed and mostly because it is absolutely true.

— Jonny Campbell (@CampbellJonny1) September 6, 2015
Oh how I love Stewart Lee:

September 6, 2015
READ THE FULL STEWART LEE OBSERVER COLUMN HERE