As The Queen becomes our longest-reigning monarch today, historian David Starkey has sparked debate by repeating his belief that the monarch had "said nothing that anyone will remember".
Speaking on BBC Radio 4's Today programme, Starkey said The Queen has "made it an absolute rule to say nothing about anything" throughout her record-breaking 63-year reign by remaining resolutely apolitical.
Elizabeth today thanked people for their "touching messages of kindness" from Scotland, where she travelled by steam train along the new Scottish Borders Railway.
But Starkey suggested The Queen could be called 'Elizabeth the changeless' or 'Elizabeth the silent' because of her determination to avoid making her views public.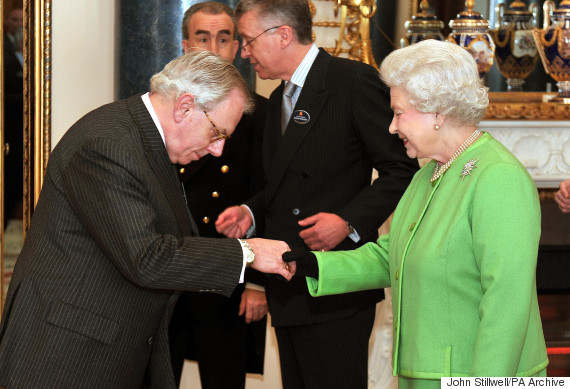 David Starkey meeting The Queen
"In private she's sharp, she's funny, occasionally malicious, a good mimic," Starkey said, but a "large padlock is placed upon the royal lips" when it comes to her behaviour on official duty.
His comments lead to criticism on Twitter, where some listeners who are not fans of Starkey suggested that the outspoke historian should perhaps be a bit more silent himself:
Heard David Starkey discuss the Queen, now longest reigning monarch, on #BBC and her lack of public utterances. What a pretentious wind bag.

— James MacDaid (@JMacDaid) September 9, 2015
David Starkey said Queen Elizabeth should have pronounced more in public - she has a "padlock on her mouth". Would that applied to Starkey!

— Toby Wood (@TobyWoody) September 8, 2015
Bbc news David Starkey telling us about the Queen. That's all she needs..

— david bush (@Davidbush) September 8, 2015
@mrmarksteel Maybe she does David Starkey?

— ALLAM OUT (@HullCityChants) September 9, 2015
In August, Starkey was called a "venomous old queen" by critics after writing that The Queen has "done and said nothing that anyone will remember" in a Radio Times piece.
He stressed that this could be seen as a compliment, because Elizabeth's neutrality has ensured she can't be seen as a hate figure.
But The Queen's attempts to conceal her true feelings on the state of the nation are not always successful - usually thanks to leaks or the occasional Prime Minister who forgets he's on camera.
SEE ALSO:
Last year she was supposedly "horrified" about the possibility of Scotland leaving the United Kingdom in the Scottish referendum, according to sources who spoke to The Times, but a Buckingham Palace spokesperson swiftly insisted she was "strictly neutral".
And though he managed to keep the union together, David Cameron was probably in the royal bad books after he was unwittingly caught on camera to revealing all about the monarch's feelings on the referendum result.