Charlotte Proudman, 27, outed Alexander Carter-Silk, 57 and a senior partner at City solicitors firm Brown Rudnick, for praising her "stunning" good looks after they connected on the professional networking site on Monday.
He made his remarks to the Cambridge University PhD student in a private post with the subject line "RE: PICTURE".
"I appreciate that this is probably horrendously politically incorrect but that is a stunning picture!!!!," he wrote.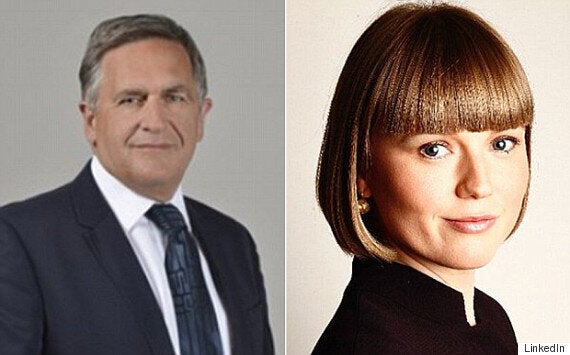 Carter-Silk, 57 and Proudman, 27, pictured on LinkedIn
"You definitely win the prize for the best Linked in picture I have even seen.
"Always interest [sic] to understand [sic] people's skills and how we might work together."
But while Proudman decried the message for 'silencing her professional attributes', media personality Hopkins took to Twitter on Thursday to unreservedly lambast the complaint.
The ex-Apprentice star used a scathing social media post to tell Proudman to "get over yourself" and instructed her to visit the 'Everyday Sexism' website to "have a futile moan to other women with VAGENDAS".
Proudman, who describes herself on Twitter as a 'fearless feminist', had originally replied to Carter-Silk, telling him she was not using the site to be judged on her physical appearance or be subjected to "unacceptable misogynistic behaviour".
"I find your message offensive. I am on linked-in for business purposes not to be approached about my physical appearance or to be objectified by sexist men," she rebutted.
"The eroticisation of women's physical appearance is a way of exercising power over women. It silences women's professional attributes, as their physical appearance becomes the subject.
The young lawyer added: "Unacceptable and misogynistic behaviour. Think twice before sending another woman (half your age) such a sexist message."
After Proudman posted the exchange on Twitter she was inundated with supportive messages from other women citing similar experiences.
One posted: "I changed my LinkedIn profile photo to an uglier one so I'd get fewer creepy men adding/messaging me."
Another wrote: "Met with a guy through LinkedIn on the pretext of start up support, asked if I used it as a dating site & if I had a boyfriend."
Carter-Silk reportedly told legal website RollOnFriday: "Most people post pretty unprofessional pictures on LinkedIn, my comment was aimed at the professional quality of the presentation on linkedIn which was unfortunately misinterpreted".
"Ms Proudman is clearly highly respected and I was pleased to receive her request to linkup and very happy to instruct her on matters which [are] relevant to her expertise that remains the position".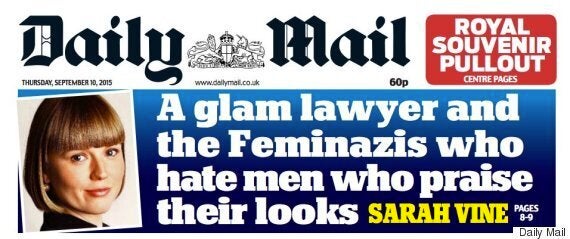 Thursday's Mail front page called Proudman 'glam' and described her supporters as 'feminazis'
"As if her hysterical and laughably pompous reaction weren't bad enough, she then decided to post their exchange on Twitter, thereby escalating the entire debacle to a state of war," Vine commented.
"Instantly, the armies of Feminazis, permanently stationed at their computers ready to pounce at the slightest hint of a politically incorrect utterance, mobilised.
"Righteous indignation and sisterly solidarity streamed forth from their keyboards."