Belinda Brown, who is also an Honorary Research Fellow at UCL, told BBC Radio 4's Woman's Hour on Friday that Ms Proudman had an "enticing" photo, and was simply angry 57-year-old Alexander Carter-Silk had pointed out her "strategy" to use her looks to her advantage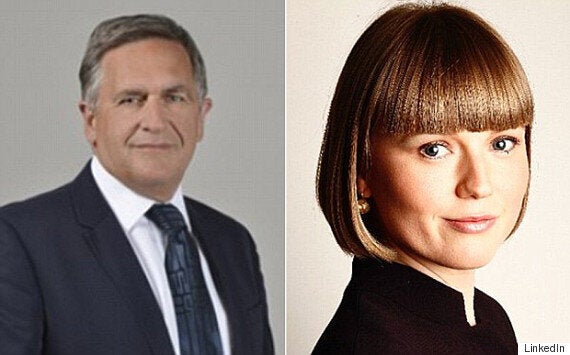 Carter-Silk, 57 and Proudman, 27, pictured on LinkedIn
The BBC segment also aired a clip from Ms Proudman, who defended her decision to publish the comments she received on the professional networking site.
Ms Brown said: "She put a photo of herself looking as enticing as she possibly can on her [LinkedIn] account, why has she done this?"
Responding to questioning over the use of the word "enticing", Ms Brown continued: "Well, she has put a photo on her LinkedIn account of herself looking as attractive as she possibly can."
She added: "I think that what she actually objects to is the fact that he has pointed out that she has used an attractive photograph.
"In a sense this is drawing attention to her own strategy so if you really want no comments, if you really want your appearance to have absolutely no influence on what happens, don't put your photo on your LinkedIn account."
Prior to Ms Brown's comments, Ms Proudman defended her reasons to share the message, telling the show that it was important to "call out" sexism that happens every day and that she had been "overwhelmed" with the numbers of messages she's received from women sharing the experience they have had.
She added: "For me this is about the power dynamics... people have considered it career suicide and I think this shows the difficulties that women have in calling out that sexism because of the vitriol and backlash that was receive as a result and it prevents women from taking a stand and making a change."
She said that her revealing the comments has been interpreted as "[biting] the hand that feeds you", which is used as a "silencing mechanism".
Yet Ms Brown said that feminists were the real problem - for calling out men's behaviour.
She said: "I think it is really unfortunate that feminism is teaching women to perceive absolutely harmless comments as equivalent to harassment [or] rape.
"To make these associations between what is really just an innocent harmless remark... is teaching women to interpret this in the worst possible way."
She added "men must start to be anxious about women... they can't just be themselves".
She continued: "I think that actually the consequence of this is that feminists are in a sense creating the very monster that they claim existed by talking about men like this they are making men feel angry with women, they are creating alienation with women."
Ms Brown's comments caused a stir on Twitter.
Louise Pennington, feminist writer and activist, also spoke to the BBC show, echoing Ms Proudman's comments that the issue has "struck a chord" with women.
Ms Pennington alluded to the "horrific comments" the young lawyer had received online this week, emphasising the risk - particularly professionally - that Ms Proudman took in releasing the messages.
While the young lawyer has received a large number of messages of support, she has also been the subject of a lot of anger.
Below, the Huffington Post UK has provided a sample of what comments are being thrown at Ms Proudman on Twitter. We have used our discretion not to post some of the most offensive messages.