British Muslim leaders say pilgrims heading to the hajj must be given safety training following the horrifying crush at the holy city of Mecca that killed more than 700 people.
The deadliest disaster in 25 years to hit the sacred pilgrimage left at least 717 people dead and 863 injured, according to Saudi Arabian officials.
It is estimated that around 25,000 British nationals head overseas from the UK to Saudi Arabia for the hajj, according to Abta, the travel association.
It is not known if any British people are among the dead but Foreign Secretary Philip Hammond said the Foreign and Commonwealth Office (FCO) is bolstering the size of its team on the ground as it seeks to "urgently gather information about British nationals who may require assistance". At least 717 pilgrims are said to have died during a stampede at the Hajj pilgrimage
He said: "I was saddened to hear of the enormous loss of life in Mecca. My thoughts are with families and victims at this difficult time. Such a significant tragedy will affect Muslims across the world who take part in the hajj pilgrimage."
FCO staff are "in close contact" with the Saudi authorities and tour operators, and are checking hospitals and other locations.
Zulfi Karim of the Bradford Council for Mosques estimated between 5,000 to 7,000 people from the city were at the event.
He said a woman in her 50s from the Manningham area of Bradford had died on the pilgrimage but had not been caught up in the stampede. It is thought she died from a heart attack.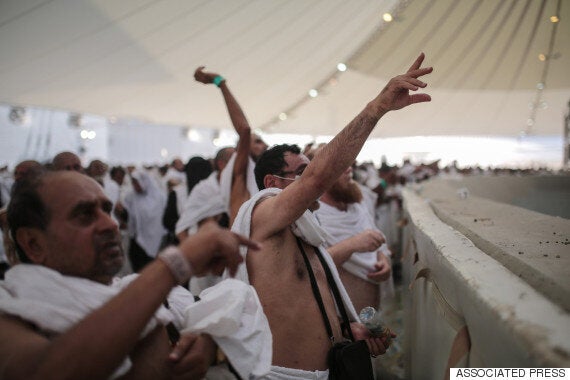 Pilgrims take part in the 'stoning of the devil' ceremony
David Cameron tweeted: "My thoughts and prayers are with the families of those killed at the hajj pilgrimage."
Habib Malik, director of the Scottish Hajj and Umra Trust, who is in Mecca for hajj, called on governments to put in place rigorous safety training as part of a pilgrim's visa application.
Speaking to John Pienaar on BBC Radio 5 Live's Question Time Extra Time, he said: "I think Britain has got an amazing position right now and they can lead on this at the state level, and initiate or get the organisation going. And have some training courses. Make it obligatory for people.
"Train the people who are coming because it's not possible just to rely on one government to manage all that without even support from external. So I think every country should be playing a role. And should be training their citizens when they come here."
Ibrahim Mogra, assistant secretary general of the Muslim Council of Britain, told the programme he thought training was an "excellent idea".
Each year pilgrims pay hundreds of thousands of pounds to go on the trip which all believers who can afford it are required to perform once, with people spending between £4,000-£5,000 for a typical pilgrimage.
Thursday's crush happened in a morning surge of pilgrims at the intersection of streets 204 and 223 in Mina, a large valley about three miles east of Mecca.
Pilgrims were making their way towards a large structure overlooking three columns where a symbolic stoning of the devil is carried out.
Amateur video and pictures on social media showed images of dead bodies on the ground dressed in the simple white garments worn during the hajj. Other images show people sitting in wheelchairs and being treated.
The tragedy happened as Muslims around the world celebrated the key festival of Eid al-Adha, which is known as the Feast of the Sacrifice as it recalls Abraham's willingness to sacrifice his son in obedience to Allah.
Thursday's horror is the latest in a string of tragedies to beset the holy pilgrimage.
It comes just two weeks after a giant construction crane came crashing down on the Grand Mosque in the Saudi city of Mecca, the focal point of the hajj.
A stampede in a tunnel killed more than 1,400 pilgrims in 1990. Other fatal incidents have included the death of 244 pilgrims who were crushed in Mina in 2004 while more than 360 pilgrims were killed in a 2006 stampede also at Mina.
Saudi authorities deployed about 100,000 security forces this year to oversee crowd management and ensure pilgrims' safety.
The FCO urged worried relatives in the UK to contact the FCO switchboard on 020 7008 1500. Those in Saudi Arabia are asked to contact the British Embassy on: + 966 11 4819 100; or to go online @FCOtravel; or to contact the FCO via Twitter.
Popular in the Community