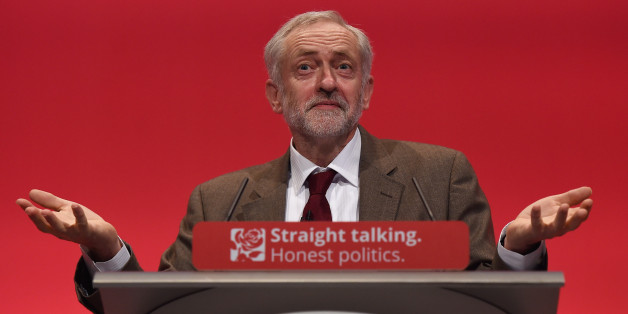 Ben Pruchnie via Getty Images
Jeremy Corbyn has told the British public they "don't have to take what they are given" as he pledged to create a "kinder, more inclusive" politics.
In his keynote address to the Labour party conference, the new Labour leader spelled out how his "political earthquake" could translate into a "better society" as he outlined his opposition to cuts and bombing ISIS, and stamped his authority on ditching Britain's nuclear weapons.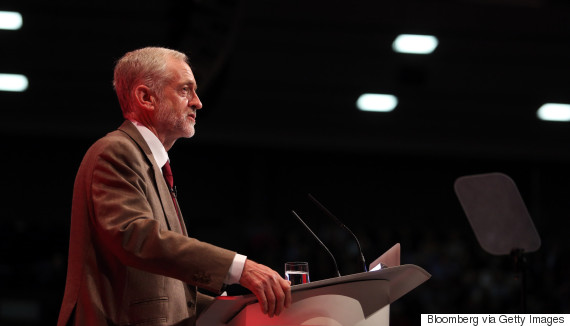 Jeremy Corbyn delivers his speech at the party's annual conference in Brighton
Mr Corbyn, who said he would be "unapologetic" about opposing austerity, attempted to ditch the "Old" and "New Labour" tags by re-casting the party as as the "Modern Left Movement".
And he took head on the Tory charge his views make him a threat to national security, claiming: "How dare these people talk about security for families and people in Britain?"
READ ALSO:

Jeremy Corbyn's Speech In Full

Andy Burnham, John McDonnell, Margaret Beckett And Many More React To Corbyn's Speech
He began by joking about a series of newspaper headlines directed at him, including his apparent fears over asteroids wiping out the planet and riding a "Chairman Mao bicycle", and hit out at the "commentariat".
To cheers, he said: "The media commentariat don't get it. They've been keen to report disagreements as splits: agreement and compromise as concessions and capitulation. No. This is grown up politics."
Underlining his faith in a "kinder, more inclusive" society, he told a packed auditorium: "Young people and older people are fizzing with ideas. Let's give them the space for that fizz to explode into the joy we want of a better society."
And he called on all activists "whether Labour or not" to "cut out the personal attacks" and the "cyberbullying": "Especially the misogynistic abuse online. And let's get on with bringing values back into politics."
The Islington North MP said the response to the refugee crisis "isn't enough", and that he has a mandate to oppose the renewal of the UK's Trident nuclear weapons system, while signalling opposition to a Syria bombing.
The speech was well-received but light on policies. The only new announcement was that he would extend paternity leave and sick pay to the self-employed if he swept to power, but he also underlined previously announced plans for 100,000 new council and housing association homes a year.
KEY QUOTES:

"Labour is the voice that says to the many, at home and abroad: 'You don't have to take what you're given.'"

"(His 'huge mandate' is a vote for) politics that's kinder, more inclusive. Bottom up, not top down."

"The Tories talk about economic and family security being at risk from us the Labour party, or perhaps even more particularly, from me. I say this to them. How dare these people talk about security for families and people in Britain?"
He pleaded with David Cameron to intervene over the execution of Saudi Arabia teenager Ali Mohammed al-Nimr, and called on the Prime Minister to abandon a prison contract with the emirate.
Mr Corbyn called on Mr Cameron to "intervene now" to stop the Saudi regime crucifying the protester.
"We have to be very clear about what we stand for in human rights," he said. "The refusal to stand up is the kind of thing that damages Britain's standing in the world."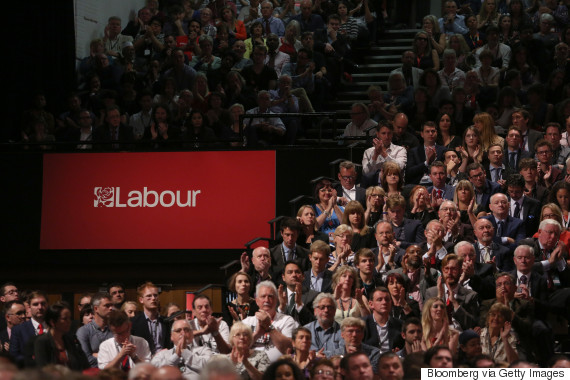 Delegates react as Jeremy Corbyn delivers his speech
On the refugee crisis, he said: "These refugees are victims of war. Many the victims of brutal conflict in Syria. It is a huge crisis. The worst humanitarian crisis in Europe since WWII.
"The scale of response from our government, from Europe, and wealthier parts of international community simply isn't enough. A crisis of human beings just like you, just me."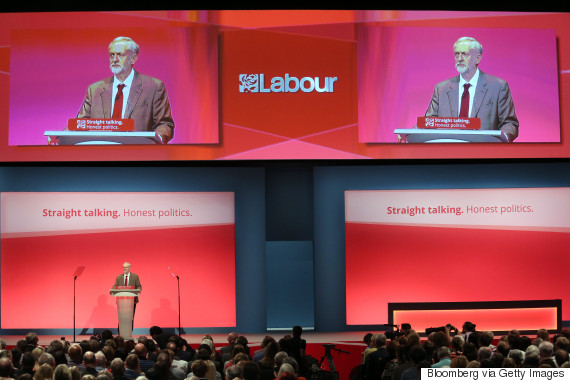 On the main stage at Brighton
He said his priority as leader would be to "fight the Tory government" and winning London mayoral and local elections next year, but insisted he would not be dictatorial in his approach, making clear: "I will listen to everybody."
But he said he believed he has a mandate from his leadership victory to oppose the renewal of the Trident nuclear weapons system, which was set to be a divisive issue at conference before a debate on the issue was dropped. "I've made my own position on one issue clear. And I believe I have a mandate from my election on it."
On Syria he said: "We all want the atrocities to stop and the Syrian people free to determine their own destiny. But the answer to this complex and tragic conflict can't simply be found in a few more bombs."
SEE ALSO FROM THE HUFFINGTON POST UK AT LABOUR PARTY CONFERENCE