UPDATE: Police Step In As Journalists Abused Outside Tory Conference
The Conservative Party's annual conference started on Sunday in Manchester and it's clear the #PigGate scandal is still threatening to over-shadow any actual politics.
Pig masks, posters and banners were a familiar site at the #No2Austerity march in the city's centre.
And we're off. Manchester Train station just now #con15 #piggate pic.twitter.com/quppaGoe2D

— Stephen Hull (@stephenbhull) October 4, 2015
Pig no. 12 is a traumatised victim of David Camerong. Squealing " #No2Austerity " pic.twitter.com/UP9NdSKXZC

— Polly Perkins (@PollyPerkinz) October 4, 2015
Seeing lots of pig costumes at #No2Austerity #TakeBackMCR what a surprise

— Max (@maxten64) October 4, 2015
They of course relate to a story in a book written by Lord Ashcroft in which it is alleged David Cameron inserted his genitals into the mouth of a dead pig.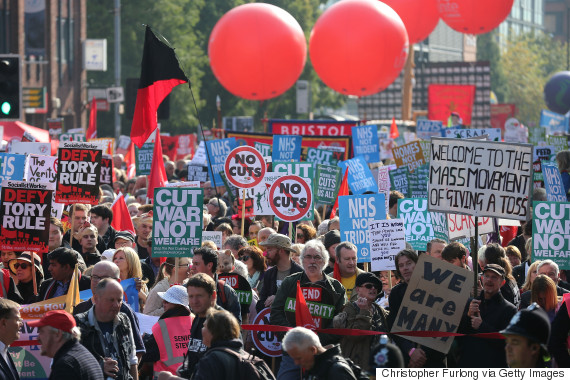 The march - organised by the TUC - is expecting to see up to 80,000 people.
1st pig of the day at #No2Austerity but for sure not the last! pic.twitter.com/7yjTsmaELt

— Polly Perkins (@PollyPerkinz) October 4, 2015
Pig no. 11 at #No2Austerity is a real looker! pic.twitter.com/0lg6tSfCJe

— Polly Perkins (@PollyPerkinz) October 4, 2015
Pig 13 has attitude! #No2Austerity numbers swelling like a Tory wallet under Camerong's gerrymandering regime. pic.twitter.com/4m2Q9pJF5A

— Polly Perkins (@PollyPerkinz) October 4, 2015
Pig 14 at #No2Austerity is rocking the casbah! Brilliant soundtrack provided by @tuc #theclash pic.twitter.com/KPn7YTnSWc

— Polly Perkins (@PollyPerkinz) October 4, 2015