David Cameron has launched his most withering attack on "Britain-hating" Jeremy Corbyn as he outlined the "big battles" for creating a "Greater Britain".
Promising what he called a "Great British take-off" that "leaves no-one behind", the Prime Minister put confronting extremism and inequality at the heart of his first conference speech since the general election triumph.
Ending discrimination, tackling "generation rent" and overhauling schools, prisons and the children's care system underlined his renewed zeal for social reform - at times parking his tanks on Labour's lawn.
He promised to close hate-preaching schools and halt "passive tolerance" of extremist behaviour, and received a standing ovation from Manchester delegates for his verbal assault on the new Labour leader for his reported comments that the death of Osama bin Laden was a "tragedy".
"We cannot let that man inflict his security-threatening, terrorist-sympathising, Britain-hating ideology on the country we love," he said.
But the Labour leader's spokesman claimed the "personal attacks" are a "sure sign that he is rattled by the re-energisation of the Labour Party".
Against suggestions Mr Corbyn was mis-quoted, the PM's spokesman said he was "not going to get into a ping-pong battle" over the claim.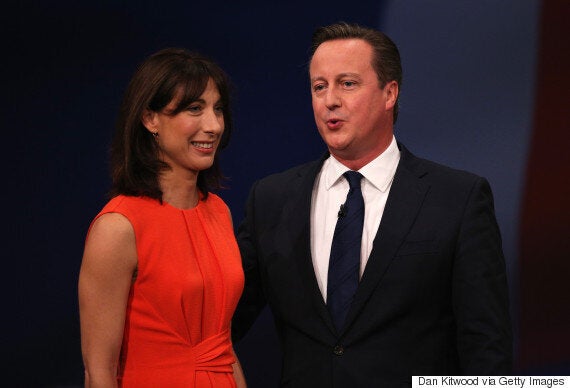 David Cameron stands onstage with wife Samantha following his keynote speech
The address echoed many of the themes around inequality he first visited in 2005 when elected Conservative Party leader.
Setting out his broader vision, he said: "I believe that we can make this era – these 2010s – a defining decade for our country the turnaround decade.
"We can be that Greater Britain. Because we know this: nothing is written."
He went on to speak of a country "raising its sights, its people reaching new heights a Great British take-off – that leaves no-one behind".
While the referendum on Britain's membership of the EU will dominate his second term, he only set out one red-line on his negotiations with EU leaders - promising the UK would resist "ever closer union" – ahead of the 2017 vote.
His other "big battles, big arguments" were domestic focussed as pointed to not having the "luxury of unlimited time" since pledging to stand down by 2020.
In a strong attack on extremism in the UK, Mr Cameron called for less "Britain bashing" as he hit out at the "passive tolerance" of female genital mutilation and forced marriages.
The Prime Minister said he was "sick to his stomach" when he heard of young people traveling overseas to join ISIL.
He issued a warning to any school or faith institution teaching intolerance "we will shut you down" as he called for greater integration between different communities.
Addressing the conference, he said more needed to be done to "tear up the narrative that says Muslims are persecuted and the West deserves what it gets." He went on: "People don't become terrorists from a standing start."
Attacking "passive intolerance", Mr Cameron said: "For too long, we've been so frightened of causing offence that we haven't looked hard enough at what is going on in our communities."
The PM said he wanted the Conservatives to be the party that gives people an "equal shot" and "ends discrimination".
He slammed people with white-sounding names being nearly twice as likely to get call backs for jobs than people with ethnic-sounding names.
"One young black girl had to change her name to Elizabeth before she got any calls to interviews," he said. "That, in 21st century Britain, is disgraceful."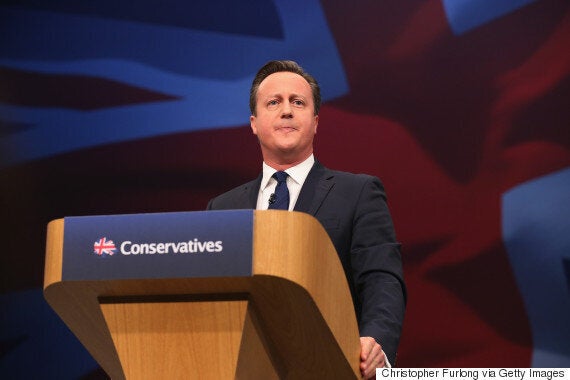 David Cameron on Jeremy Corbyn: "You only really need to know one thing: he thinks the death of Osama bin Laden was a 'tragedy'."
He also spoke of re-building prisons that are "relics from the time of Dickens", pledged to free schools from local authority control and claimed it "shames our country" that children in care are being set up for "the dole, the streets, an early grave".
"Children in care are today almost guaranteed to live in poverty. 84 per cent leave school without five good GCSEs. 70 per cent of prostitutes were once in care," he said.
And he argued the Conservatives are best-placed to solve Britain's problems. In a direct attack on the "self-righteous" Labour Party, he labelled the Opposition "deficit-deniers" who "go around saying we're hurting the poor". "You're not for working people, but hurting people," he said.
Mr Cameron called for a "national crusade" to tackle the "wakeup call" of adults unable to afford to move out of their parent's home.
Addressing the housing crisis in Britain, the Prime Minister said affordable homes built by developers must be available for people to buy, not just to rent.
Figures released by Shelter last year showed that nearly 2million working young adults aged between 20 and 34 years old in England still lived with their parents.
Mr Cameron today claimed he wanted to turn "Generation Rent to Generation Buy".
Addressing the conference, he said: "I can announce a dramatic shift in housing policy in our country.
"Those old rules which said to developers: you can build on this site, but only if you build affordable homes for rent, we're replacing them with new rules: You can build here, and those affordable homes can be available to buy."
Jonathan Ashworth, Labour's Shadow Minister, said: "The Tories are failing working people. For all the talk of making life better for people, the truth is David Cameron is doing the opposite.
"You can't claim to be in the common ground of British politics when you're cutting the tax credits working families rely on, leaving three million of them on average £1,300 a year worse off.
"You can't claim to care about the housing crisis when you've overseen the lowest level of housebuilding in peacetime since the 1920s.
"And you can't claim you care about the NHS when you've pushed up waiting lists, made it harder to see a GP and plunged hospitals in to financial crisis.
"David Cameron can talk all he likes about the common ground but the truth is working people are worse off under the Tories."