The deputy mayor of a Sydney suburb is being roundly ridiculed the world over, after an awkward interview announcing his political ambitions left a newscaster in tears of laughter.
Just two weeks ago, Salim Mehajer was re-elected as deputy mayor of Auburn to the west of Sydney by his fellow councillors, despite having caused controversy after closing a city street to hold a lavish wedding celebration.
Last week, Mehajer denied an allegation he made threats against Bruce Herat, the father of Joel Herat, who survived last year's siege at the Sydney Lindt Cafe, which saw 3 people killed including the gunman.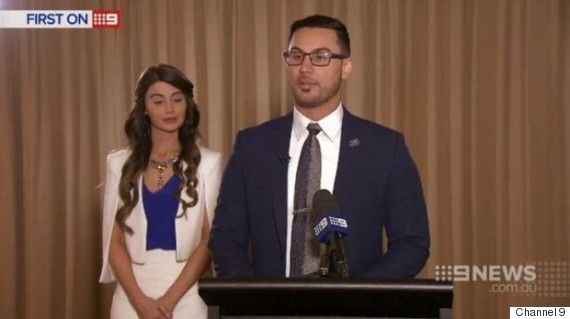 Mehajer beside his wife during the awkward interview
In an effort to put the controversies behind him, Mehajer agreed to an interview with Australia's Channel 9 news to clarify his ambitions, and to answer the accusations.
But despite the reporter asking him to conduct a sit-down interview, Mehajer appears to have wanted to convey the seriousness of his political ambitions by taking to a stage with his wife.
"You want (your wife) to stand next to you at the podium?" asked an increasingly incredulous Channel 9 reporter.
"Yeah why not, probably step back though," Mehajer replied.
During his address from the podium, Mehajer said: "I want to start off by being through state, federal and I want to make my way up to the very top spot.
"That would be (my) dream come true."
Later, he said he wanted to be a "superstar" prime minister.
And he's been mercilessly ribbed ever since.
Salim Mehajer: Australia's answer to Kanye West.

http://t.co/SWk0MqJRup pic.twitter.com/vW9mzezoJI

— Jeeves Verma (@jeevesverma) October 6, 2015
Could Salim Mehajer be Australia's answer to Donald Trump?

October 8, 2015
Salim Mehajer... and we're told political success is on merit... http://t.co/v8kFPIcsAS

— Glenn Floods (@Wraithaz) October 6, 2015
Salim Mehajer's bizarre TV interview http://t.co/nZ9303QwmV @smh Give a clown a stage & the next thing you know, it's a full-blown circus.

— Ming The Merciless (@MGliksmanMDPhD) October 6, 2015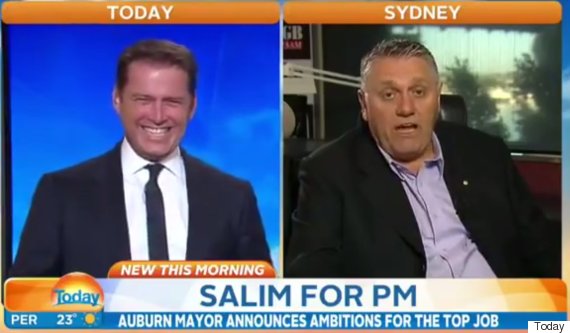 Today programme host Karl Stefanovic mocks Mehajer with guest Ray Hadley
Journalists Karl Stefanovic and Ray Hadley mocked Mehajer during a segment on the country's Today morning programme - commenting on everything from his bizarre interview style to his wife's appearance.
Watch their response to the interview below.
Mehajer was a multi-millionaire property developer before entering local politics, and his lavish lifestyle has prompted criticism - most recently after he was snapped captaining a speedboat off the Sydney Harbour.
SEE ALSO:

Natalie Bennett May Have Given The Worst Political Interview Ever

Kay Burley Asked 'What's Wrong With You?' After Asking Labour MP Dawn Butler The Same Question Multiple Times