Former English Defence League leader Tommy Robinson spoke at a Pegida launch in the Netherlands on Sunday calling on crowds to "all stand together" to fight Islamification.
Robinson addressed crowds at an event in Utrecht along with Pegida leaders, including founder Lutz Bachmann.
He said: "What we need is everyone united under one banner."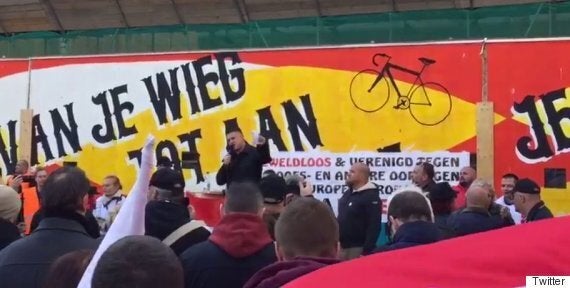 Former English Defence League leader Tommy Robinson speaking at a Pegida launch in the Netherlands
Along with Pegida officials, Robinson collectively said: "We stand together to save our culture. All of us stand together to save our country and to save our future."
Robinson went on to say Pegida was already in contact with groups in the Czech Republic, Slovakia, Hungary, Russia, Poland, France and Sweden, and added: "A date is coming."
The 33-year-old has previously told The HuffPost that he is looking to become "more active" in politics again.
Of His involvement with Pegida he said he was going to Utrecht to see if he could work with the group.
Pegida - Patriotic Europeans Against the Islamisation of the Occident - is a German anti-Islam political group that formed in Dresden in October 2014. It holds regular demonstrations calling for more restrictive immigration rules, particularly for Muslims.
Robinson, whose real name is Stephen Yaxley-Lennon, has had several run-ins with the law in recent months. He was reincarcerated in HMP Peterborough on July 14 for ten days - during which time he was involved in a fight - and then arrested over the altercation a month later. It is understood the recall was for breaching conditions relating to his release after being jailed in January 2014 for conspiring with others to obtain a mortgage by misrepresentation from Abbey and Halifax.