Robinson was said to have been arrested by Bedfordshire police in front of his family on Wednesday night after returning from vacation, leaving his wife to get home alone with "three crying children, large amounts of suitcases".
Police confirmed the arrest, but are yet to provide a statement.
Hel Gower, a friend of Robinson's, wrote on Facebook that it was not known why the 32-year-old was arrested. Robinson did not answer his phone on Thursday and has not been active on Twitter. On Wednesday Robinson tweeted into the the evening, with his final tweet concerning Hamas.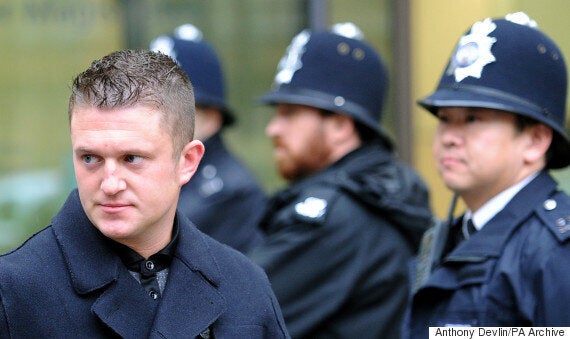 Tommy Robinson, seen above leaving court in October 2013, was recalled to prison after returning to the UK on Wednesday night following a family holiday
In his Facebook post, Gower said:"I do not know what trumped up charge they have arrested Tommy on now, but they could have done it this morning not the minute he got off the plane with 3 tired children, bloody disgraceful.
"They obviously have no intention of leaving Tommy alone and are using all means available to try to thwart any plans he may have for his future.
"All I can say in my humble opinion is that the 'powers that be' must be very scared of him and what he can divulge."
Other supporters also blasted the arrest.
Marty Norfolk said: "This is beyond harassment! What an evil way of doing it in front of his family."
It is understood that recall was for breaching conditions relating to his release after being jailed in January 2014 for conspiring with others to obtain a mortgage by misrepresentation from Abbey and Halifax.
Days after his release Robinson told the Huffington Post UK that he was the "biggest trophy for any Muslim in the system wanting to make a name for themselves" and said prison authorities had put his life in danger by putting him on a wing full of muslims. He went on to detail how a bounty was put on his head and how he got into a fight to prevent a cup of boiling water with sugar in it, "which rips off your face", being thrown at him.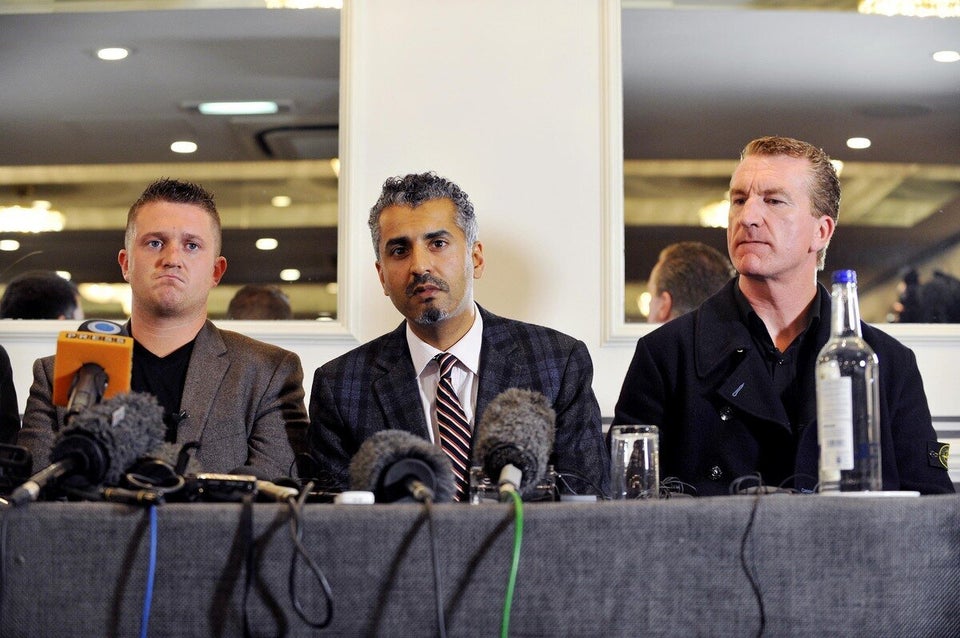 Former EDL leader Tommy Robinson
Sodexo, who look after HMP Peterborough, said they were unable to comment on Robinson's time behind bars, saying: "We do not comment on individual prisoners. The safety and security of prisoners, staff and visitors at HMP Peterborough is our highest priority. On arrival all prisoners are screened in reception and then housed in the induction wing until they are assessed and moved to the appropriate accommodation block."
However, sources confirmed that the fight Robinson was involved in took place in the induction wing shortly after his arrival and that he was then moved to a segregation and care unit for his own safety.
A few days before Robinson's release it was reported that he was facing the prospect of spending a further two and a half years in jail, as it was thought he was unable to pay a £125,000 proceeds of crime order. However, since then his supporters have started a fund to try and repay his mother who is said to have re-mortgaged her home to pay the remaining £18,000 he owed.
A call for donations read: "If that had not been settled Tommy could have spent a further two and a half years in jail. We Tom's supporters and friends believe that the least we can do is attempt to reimburse his mother some of the money she paid."
A letter Robinson posted to twitter stating his release date in July, from offender manager Helen Bean, warned him to be cautious about his behaviour.
It reads: "As we discussed during supervision many times, I wanted to take this opportunity to remind you of your own personal safety, the safety of your family and also personal accountability of what you say and do."
But since his release Robinson's twitter account has contained several tweets expressing strong opinions about Muslims and crime.
Robinson later told the Huffington Post UK that he was free to "say what I want" and argued that he should not be censored when threats are regularly made against his life without "anything been done about it".
Related