After a letter threatened Liverpool will "go up in flames" and only "bullets will stop us", it seems Neo-Nazi group National Action needed far less persuading that their White Man March in Liverpool on Saturday wasn't wanted.
Pictures have emerged supposedly showing members of the group sheltering in the lost property depot at Lime Street Station after coming under attack by a "barrage of projectiles". These appeared to be coffee cups and rubbish.
Warning: Contains offensive language
A comment under the picture posted on the Anti-Fascist Network Facebook page explained: "It means they are running scared already. After all their talk of setting the city alight, they have opted for hiding in the lost property.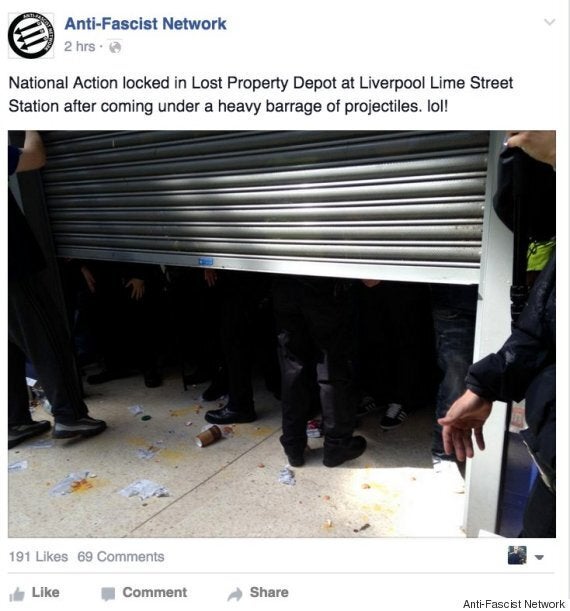 A picture from the Anti-Fascist Network supposedly shows members of National Action taking shelter in a lost property depot at Lime Street Station in Liverpool
"National Action are an absolute joke, even their fellow nazis laugh at them."
Fears of violent-clashes had intensified ahead of the march, which was, according to the Liverpool Echo, called off around 20 minutes before it was due to begin, after the group supposedly sent a letter to Mayor Joe Anderson - they have vehemently denied doing so - threatening the city would "go up in flames" if their event was cancelled and they would spark a race-riot. It also contained a personal threat to Mr Anderson.
Further concerns were raised on Friday when pictures of a cache of knives were found on the Instagram account of National Action supporter Terrence Miles, of south London, who bragged about carrying a "not entirely legal" pocketknife, and his increasing abilities with a "short-sword". Last October another member of the group, Garron Helm, was sentenced to four weeks jail after being found guilty of sending anti-Semitic tweets to Labour MP Luciana Berger.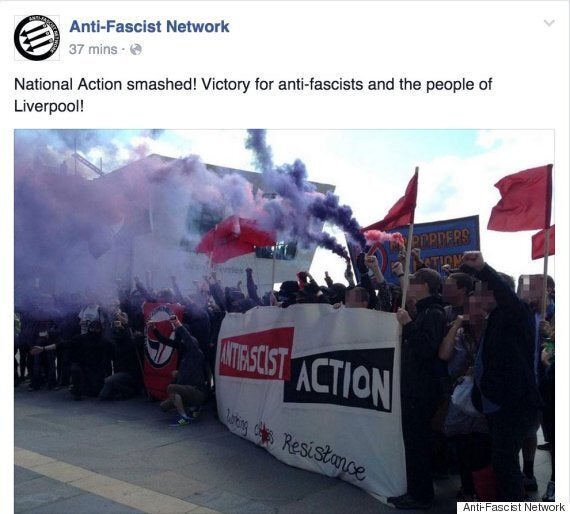 The Anti-Fascist Network claimed "victory" after National Action cancelled its White Man March
The Anti-Fascist Network, staged a counter protest, having earlier made repeated calls-to-arms, and pictures of their rally showed a significant turn out. By contrast, National Action, had anticipated that 150 would take part in their march, including members travelling from Russia, Germany and France.
The Anti-Fascist Network have since posted a series of pictures on their Facebook page announcing their "victory" and mocking National Action. A caption on one photo reads: "National Action smashed! Victory for anti-fascists and the people of Liverpool!"
National Action is yet to make any statements about why it cancelled the march on their website, or through their social media accounts. It is also yet to respond to a request for comment.
In July another group of Neo-Nazis were massively outnumbered by counter-demonstrators as they staged a protest in central London against the Shomrim, a Jewish neighbourhood watch group.
The letter, supposedly from National Action, which was sent to Mr Anderson claimed the group would start a race-riot if their protest was stopped by using three or four people to spark violence in three or four "ethnically enriched areas".
"A few (n-word) beaten up, a few cars set on fire, a few shops smashed and your own non-whites will erupt like a volcano, all we have to do is provoke and run."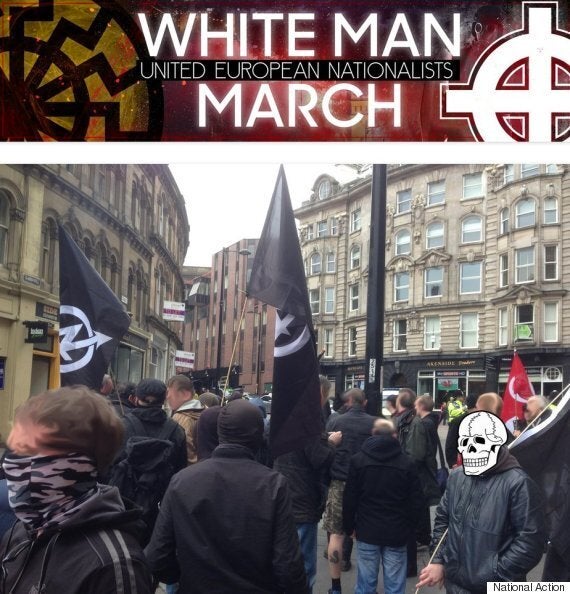 Neo-Nazi group National Action is yet to comment on why their march was cancelled
The letter went on to threaten the Mayor personally: "We look forward to a national action packed weekend of ethically enhanced chaos and mayhem, we may even pay you a visit if things are played against us, it's in your hands."
It ended with the words "only bullets will stop us", written in capital letters.
In a statement National Action later said has the letter was sent from an "agent provocateur", rather than one of its members.
"Any individual claiming to represent National Action who makes such incriminating and ridiculous threats is an obvious fraud with the intent to disrupt our activities by inciting the authorities against our supporters."
The group later said it was "appalled that anyone would believe in the authenticity" of the document.
Mr Anderson reportedly called for a law change to allow him to cancel the march. At present Home Secretary Theresa May is the only person with the powers to veto lawful democratic protests on Britain's streets. A petition set-up to stop the march gained over 5,000 signatures.
A rally by National Action in Liverpool last year provoked an angry backlash from members of the public and police were forced to intervene.
National Action reportedly handed out leaflets which said: "Cleanse Britain of parasites. The white man is on the march - white power."