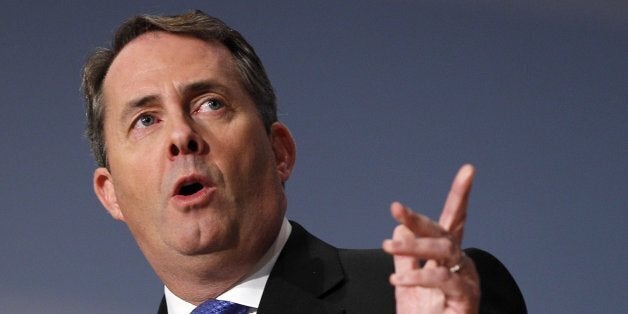 Cabinet ministers should be free to campaign for Britain to quit the EU, former Defence Secretary Liam Fox has warned David Cameron.
Amid reports that at least six of the senior ministers want to be allowed to campaign for 'Brexit' in the run up to the EU referendum, Dr Fox suggested that they could even resign if the Prime Minister tried to 'gag' them with collective responsibility.
His remarks came as it emerged that former Foreign Secretary William Hague has also cautioned that Mr Cameron that 'the slightest crack' in his EU renegotiation plan could 'ruin the whole thing'.
The referendum on the UK's membership of the European Union will take place some time before 2017, once Mr Cameron believes he has negotiated a fresh deal with Brussels.
Ahead of a Commons statement from Mr Cameron updating MPs on last week's European summit, Dr Fox was asked by BBC 1's Daily Politics if he felt Cabinet ministers should be free to campaign.
"Yes. Because ultimately the legitimacy of the result will depend on whether the voters think they have heard all the arguments openly and fairly," he said.
"And I think any attempt by any side to restrict people's voice in that debate will limit how people feel the legitimacy of the referendum has gone. In any case, people will find a way to make their voices heard. I think the idea you can gag people during a process like the referendum...is unrealistic.
"David Cameron, as any Prime Minister can do, can enforce collective Cabinet responsibility. But only on those willing to accept it as individuals."
There was speculation this weekend that Mr Cameron is plotting a ministerial reshuffle to 'purge' any hardline Eurosceptics, including possibly Commons leader Chris Grayling, ahead of the referendum campaign.
Downing Street insists that no decision has been made on whether 'collective responsibility' should be suspended once the PM has returned from Brussels with his changes in the way the UK works with the EU.
But the Daily Telegraph reports that ministers have privately demanded they be given leeway, just as Labour allowed ministers to campaign on either side in the 1975 referendum.
One minister said it would be 'insane' to restrict ministers' freedom to speak out, while another added "it would be dynamite if he tried to force cabinet ministers to toe the line".
Mr Cameron bowed to pressure last week to spell out his demands for more of a British say over EU affairs, vowing to set out his key proposals in November.
But it has emerged that the day before the Prime Minister's announcement, his former Foreign Secretary said that it would be wrong to be specific about any 'wish list'.
HSBC Holdings Plc said in a report that during its client conference last Wednesday Mr Hague "noted it would be foolish to publish a wish list for EU reform since it would immediately become a list of essential requirements and an inability to achieve them all could then be seen as failure".
Mr Hague said it would be better for any deal to be "rather like an egg in that it would need to be finished when it was delivered: the slightest crack would ruin the whole thing".
"I think that many of those who were never in government or in Parliament during the Maastricht debate don't quite understand the passions that will emerge. We will have to continue to govern this country after the European referendum."
Popular in the Community