But before the Stock Exchange undergoes its multi-million pound redevelopment, it will serve as a winter shelter for rough sleepers.
The extraordinary gesture comes after homeless rights activists Manchester Angels took up residence in the building, claiming squatters rights.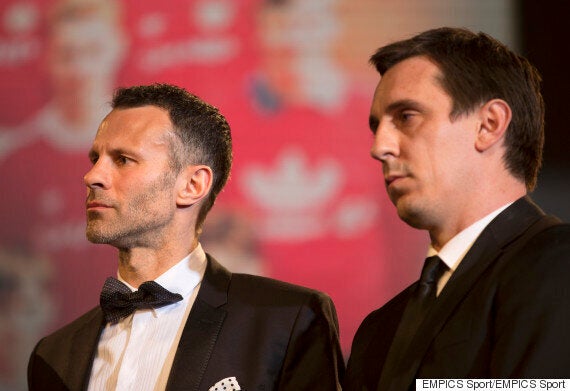 Ryan Giggs (left) and Gary Neville (right) on stage during the PFA Player of the Year Awards 2013 at the Grosvenor House Hotel, London
The group, which has been legally forced from other properties in the city, had been expecting to be kicked out again – until an intervention from Sky Sports pundit Neville.
Wesley Hall, the leader of Manchester Angels, announced the news on a Facebook post.
"Just got off the phone to Gary Neville… He's letting us stay here for a few months over the winter period and he's gonna help us with intervention.
"I'm shaking here. #TheGraftPaysOff."
Speaking to the Manchester Evening News, he added: "What a great guy Gary Neville is. We've been in negotiations with him and things are looking good. He said the main building work isn't taking place until February, so we'll be OK to stay until then.
"I'm just in shock. He's such an amazing guy. He told me he's always tried to help out homeless people in Manchester, but wanted to do more.
"He said he was walking down Market Street one day and had the keys to the Stock Exchange. He said he was tempted to just open the doors and let homeless people in to get a roof over their heads."
Neville and Giggs bought the Grade II-listed building on Norfolk Street for £1.5m. The proposed luxury hotel will include a gym and spa and a private members rooftop terrace.
Michael, who had been living on the streets for seven months, told the newspaper Neville was his favourite Manchester United player. He said: "I'm so sorry we had to do this. But this is the situation we're in, and we're all homeless. So Mr Neville, the nice man that you really are, let us stay, let us live… don't let us down, let us live…"
The building in its current guise for winter has been informally renamed The Sock Exchange and is promoting #OperationSafeWinter on social media.
Neville and Giggs are among a group of footballers who also own Hotel Football, an upscale football-themed hotel overlooking Old Trafford.
Popular in the Community