For women in their forties, fifties and beyond, the fashion industry is finally starting to grow up - we're living in an age where we're over age shaming.
One woman helping older models make waves is Rebecca Valentine, who opened the doors to Grey Model Agency in March this year.
The only UK modelling agency dedicated to age 35+ models, Grey are aiming to change the public's perception of age by putting the 'invisible' population where they belong: at the forefront of style, knowledge and experience.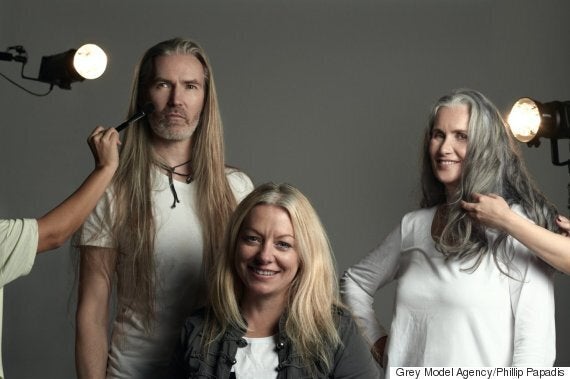 Grey founder Rebecca Valentine with agency models Jon Campling and Nicola Griffin
Launched with a casting event in London, Valentine says Grey has had a "huge amount" of women asking to be on their books and has already landed major campaigns for models.
In an exclusive interview with HuffPost UK Style, former photographic agent Valentine revealed she originally thought bookings would come from health and insurance companies, but instead the fashion industry came knocking.
Speaking about being a part of London Fashion Week, Valentine said "it's been so encouraging to our models because they're being seen as beautiful and fashionable, rather than dowdy."
Perhaps Grey's biggest success story so far is 82-year-old Frances Dunscombe, who had never modelled before joining the agency but has since gained international fame by walking at London Fashion Week, shooting in Prada A/W 15 for a Hunger Magazine editorial and starring in a documentary about her journey as a model set to air on ITV next year.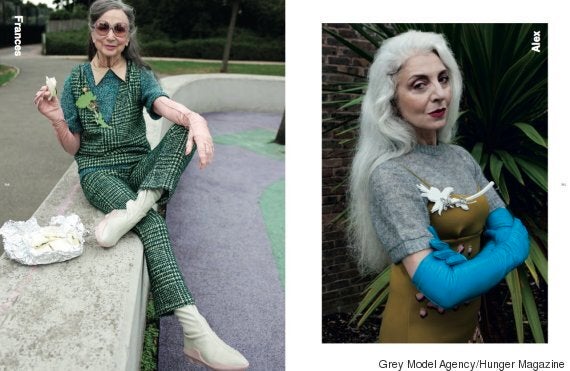 Grey models Frances and Alex star in an editorial for Hunger Magazine
Another new addition to Grey's books, professional model Nicola Griffin (pictured in the top photo), has also seen her career go from strength to strength in recent months.
"Historically, we have only ever had young girls modelling and women in their 40s 50s and 60s have never had a look in. My own mother, for example, would never have been in a magazine showing off her figure or her clothes," Griffin told us.
"Now, in my fifties, it is such an inspiration to see women of all ages looking good and being able to be who they are. It's about older women looking good, promoting clothes and selling products too.
"I'm starting to get really busy and I'm very pleased that it is taking off. I love wearing the clothes and wearing makeup. It is certainly more exciting now than when I was in my twenties. To be a part of this world is incredibly special."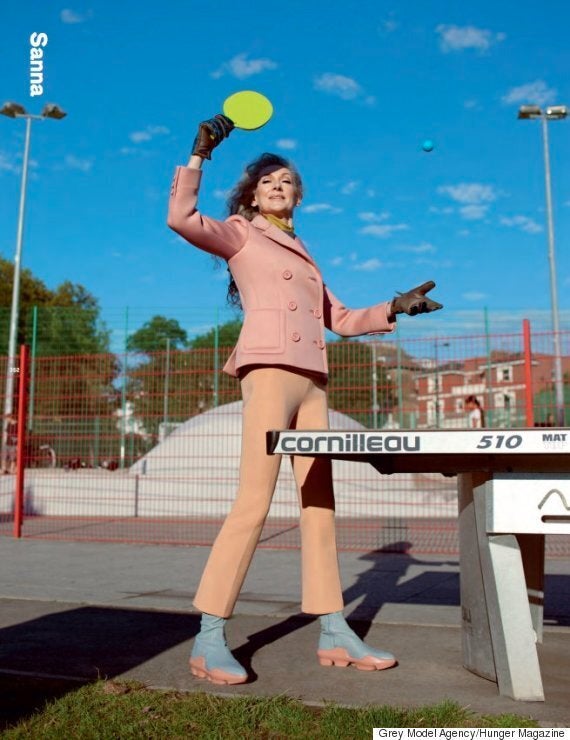 Grey model Sanna for Hunger Magazine
But while the fashion and beauty world embraced Grey's models, the commercial and advertising industries are yet to catch up to speed.
"I think they're scared to try something new," Valentine said. "They're just going along the safe route - the comfortable granny look. But the market is demanding the change.
"The older demographic are wise to advertising techniques. They're getting bored and insulted that they're being pitched to using women the age of their daughters and grand daughters."
If the older market want change, it would be wise of the industry to listen - a new study by beauty website Escentual.com revealed that women over the age of 50 have become the biggest buyers of beauty products in Britain.
Another study by L'Oreal found women feel more confident about their looks in their sixties than they do in their early twenties.
Citing NARS, L'Oreal and Boots as brands making a "big effort", Valentine says she feels the beauty industry are starting to be kinder to older women.
"They're changing terminology - 'age perfect' and 'pro-ageing', rather than 'anti-ageing' - and introducing women who are showing signs of age with lines and grey hair.
"There's still the hangover from having used very young girls with heavily photoshopped, perfect complexions, but I think it's the beginning of a landslide."
Along with using models who are the age the demographic advertisers are trying to target, Valentine also hopes to see more diversity within older models.
"It's either caricature humour or stereotypes," she said. "You don't have to have grey hair and glasses, you don't have to look like a retired businessman or a grandmother - there is as much diversity between 40 and 80 as there is between one and 40.
"We need more interesting people being used to represent this age group. There are very few depictions of very cool, hip people in this age group, and believe me there are a lot of options."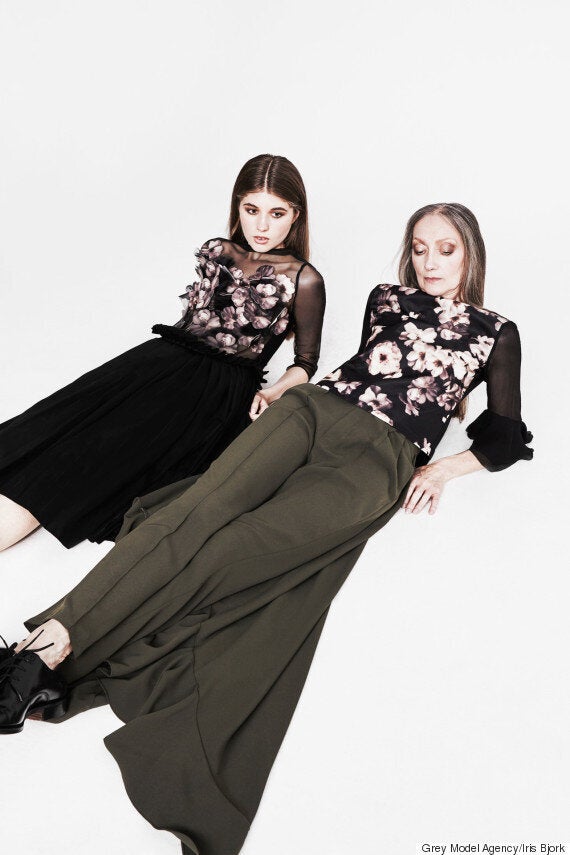 Grey model Sanna Kelly (right) for Youjia Jin SS16
But while Grey may have a lot of options on their books, Valentine says the challenge is getting brands and model bookers to to take a chance on them.
"We're fighting every day with this preconception of what beauty is. Everybody agrees that there needs to be a change, but actually putting it into practice is a different thing.
"We need people on the front line to actually come and use us, rather than saying 'what a great idea' then doing what they've always done."
Grey's push for change has also struck a chord internationally and the agency are currently seeking investors to help expand their presence in America and south east Asia, where they've been met with much interest.
"There's nothing like Grey anywhere else in the world, which is bizarre," Valentine told us, hoping their success so far will lead to an age revolution across the globe.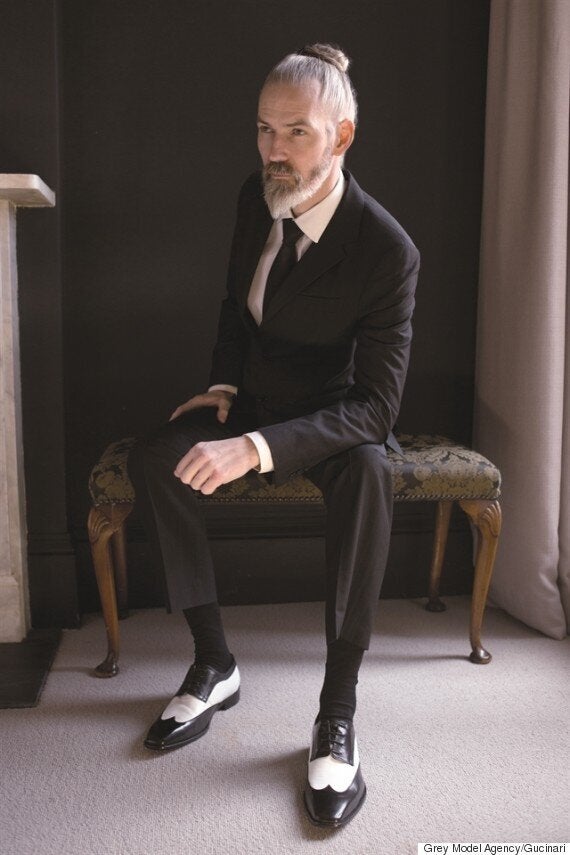 Grey model Jon Campling for Gucinari Shoes
The one thing still puzzling Valentine is the reaction towards Grey's male models.
"All the focus has been on our female models. Our men have strong looks too but there's been little comment on, and little demand for them," she revealed.
While there has been a recent media focus on women being sidelined more than men as they age, Valentine says that has not been her experience.
"The advertising industry want silver foxes or carbon copies of George Clooney and that's it, full stop.
"But the public want more - they need to sit up and take notice."
Grey Model Agency founder Rebecca Valentine will be speaking on the 'They've Got Money, They've Got Time... Haven't They? So Why Aren't We Better at Marketing to Those Over 50?' panel at Centaur's Festival of Marketing in November.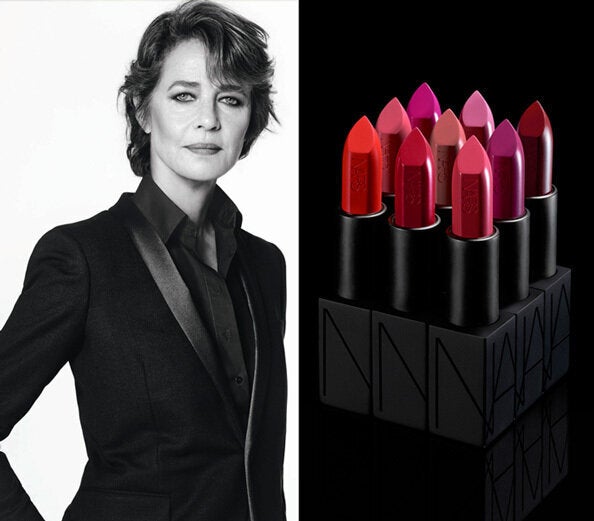 Fashion Campaigns Fronted By Older Women