A minister has told medics they are "missing the point" after they accused Health Secretary Jeremy Hunt of misrepresenting figures on the number of people dying in hospitals at weekends
Dr Fiona Godlee, editor of the British Medical Journal (BMJ), blasted Hunt over his repeated claims that there are 11,000 "excess" deaths among hospital patients. She said there was no way to conclude an exact number of deaths could be avoided.
But Health Minister Ben Gummer said "any debate about precisely how many of the thousands of deaths are avoidable misses the point", adding: "Significant independent clinical evidence shows increased mortality in our hospitals at weekends linked to reduced clinical cover. The BMJ authors themselves acknowledge that."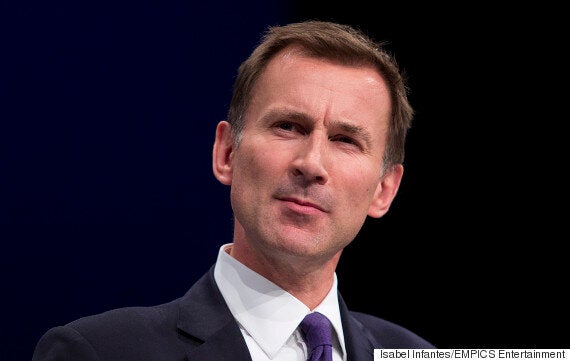 Jeremy Hunt was accused of misrepresenting data on weekend deaths in hospitals
He added: "What all doctors want is to provide the best care for their patients, and the public rightly expect the highest standards whichever day of the week they are admitted to hospital — the Government is committed to supporting that."
Hunt has used the statistic - which came from a study published in the journal last month, - when setting out his plans for his "seven-day NHS".
The study, co-written by NHS England Medical Director Professor Sir Bruce Keogh, showed that around 11,000 more people die every year within 30 days of admission to hospital on Friday, Saturday, Sunday or Monday compared with other days of the week.
Even when taking into account the fact patients admitted on weekends tend to be sicker, people were still 10% more likely to die if admitted on a Sunday compared with a Wednesday, the Press Association reported.
Researchers behind the study said a lack of consultant cover and "reduced" services could be contributing to higher death rates.
But they said it would be "rash and misleading" to conclude that an exact number of deaths could have been avoided.
In her letter, Godlee said Hunt's continued use of the 11,000 deaths figure despite this caveat "clearly implies that you believe these excess deaths are avoidable".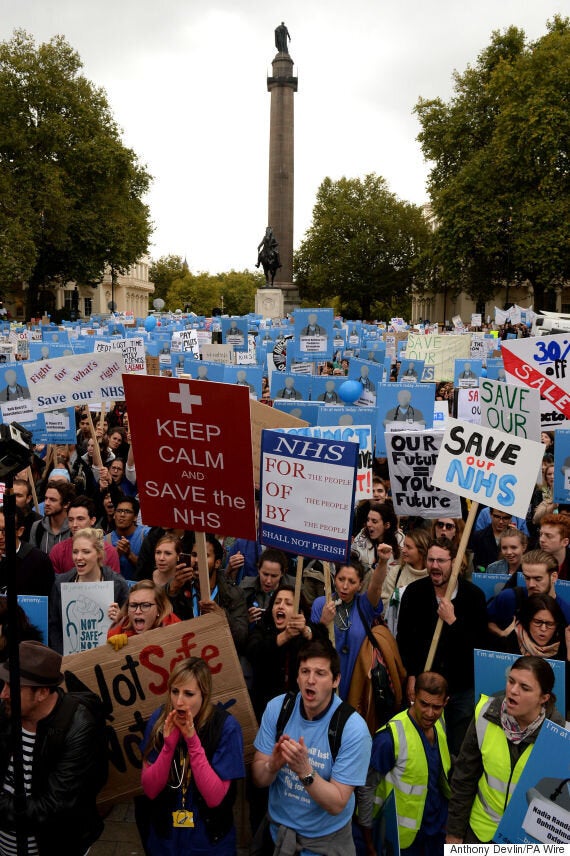 Junior doctors protest against Hunt's proposed contract changes
She said: "I am writing to register my concern about the way in which you have publicly misrepresented an academic article published in The BMJ.
"Despite the authors' very clear statements to this effect in the paper and elsewhere, you have repeatedly told MPs and the public via media interviews that these deaths are due to poor staffing at weekends, with a particular emphasis on medical staffing.
"This clearly implies that you believe these deaths to be avoidable. I ask you to publicly clarify the statements you have made in relation to this article to show that you fully understand the issues involved."
Hunt is already extremely unpopular among medics for his plans.
Earlier this year, doctors, nurses and other NHS workers posted selfies of themselves in the workplace alongside the hashtag #ImInWorkJeremy to show the health secretary that, to them, Britain's healthcare system was already a 24-hour, seven days a week job.
He has also fallen foul of junior doctors, becoming embroiled in a row over new contracts, which he plans to impose from next summer.
The contract will reclassify doctors' normal working week to include Saturdays and up to 10pm every night of the week except Sunday.
They say this amounts to pay cuts of up to 30%.
Hunt has indicated to the British Medical Association (BMA) that he will consider extending the current proposals so that more working hours on a Saturday could be paid at a higher rate.
BMA members are to be balloted on industrial action next month, which could include strike action.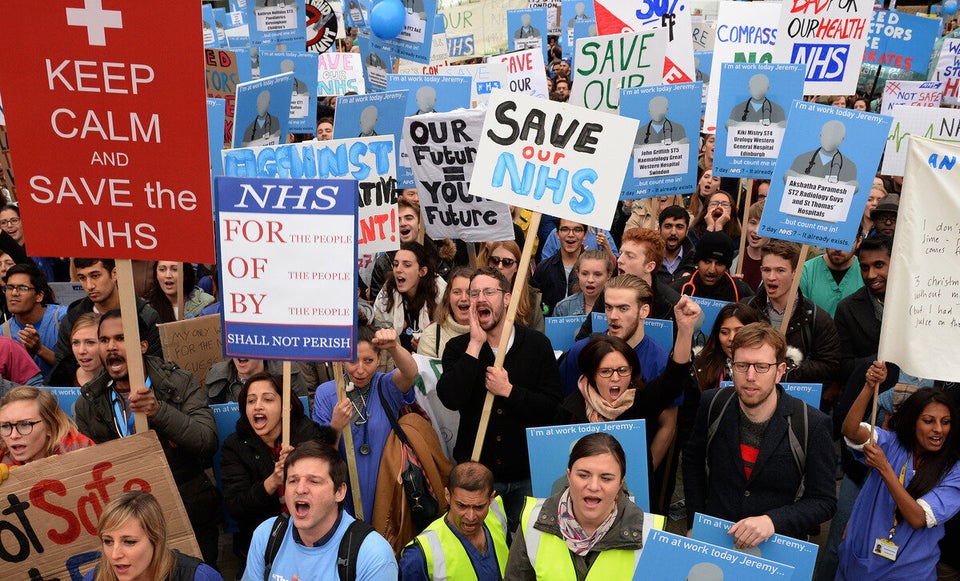 Junior Doctors' Protest
Popular in the Community