A speech in which former Australian prime minister Tony Abbott urged the UK to adopt his country's hardline border policies or suffer a "catastrophic error" has been widely lambasted as something so ironic "you couldn't script it".
Delivering the second Margaret Thatcher Lecture at London's Guildhall, Abbott said Europe needed to "stand up for ourselves" and close its borders to migrants "for the universal decencies of mankind, lest the world rapidly become a much worse place", advice that was said to have made Tory ministers present wince.
In his first speech since being ousted as leader last month, Abbott said the "Australian experience" proved the only way to "dissuade people seeking to come from afar is not to let them in". Under Abbott, Australia's policy was to turn away boats carrying migrants and refugees before they reached the country's shores.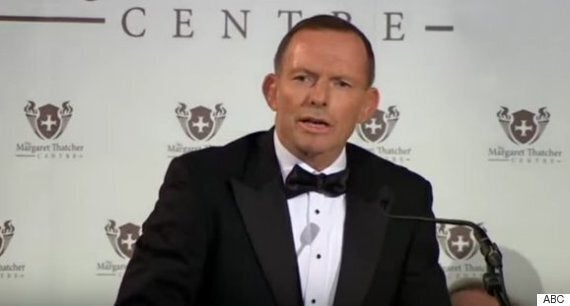 Former Australian prime minister Tony Abbott has urged Britain to follow his country's lead on border control
The former trainee priest was criticised for arguing against the Christian tenet of love thy neighbour when it comes to asylum seekers, saying: "Implicitly or explicitly, the imperative to love your neighbour as you love yourself is at the heart of every Western polity … but right now this wholesome instinct is leading much of Europe into catastrophic error."
Abbott said that once refugees arrive in Europe and in Australia they have crossed a number of borders and "however desperate, almost by definition, they are economic migrants".
He said: "While prime minister, I was loath to give public advice to other countries whose situations are different, but because people smuggling is a global problem, and because Australia is the only country that has successfully defeated it, twice under conservative governments, our experience should be studied."
Abbott was ousted as prime minister by his own party in September after just two years in the job, making him on of the country's least successful leaders. He was beaten by 54 votes to 44 by Liberal Party rival Malcolm Turnbull, giving Australia five prime ministers in the past eight years.
Abbott said Australia's border policies required "some force" and consequently came with "massive" logistics and at great expense.
He warned: "It will gnaw at our consciences — yet it is the only way to prevent a tide of humanity surging through Europe and quite possibly changing it forever.
"We are rediscovering the hard way that justice tempered by mercy is an exacting ideal, as too much mercy for some necessarily undermines justice for all."
He added: "No country or continent can open its borders to all comers without fundamentally weakening itself. This is the risk that the countries of Europe now run through misguided altruism."
The speech has been widely dismissed by Australian's and Britons alike. However, he did find support from Ukip's Nigel Farage who called it "heroic" and from English Defence League founder Tommy Robinson.
Abbott urged Europe to emulate Margaret Thatcher's style because the former British prime minister shaped the world rather than passively responding to events, he said.
"Her focus, were she still with us, would be the things of most consequence, managing the nation-changing, culture-shifting population transfers now impacting on Europe; winning the fight in Syria and Iraq which is helping to drive them; and asserting Western civilisation against the challenge of militant Islam."
Abbott also had advice on how to tackle home-grown terrorism, urging European governments to be vigilant.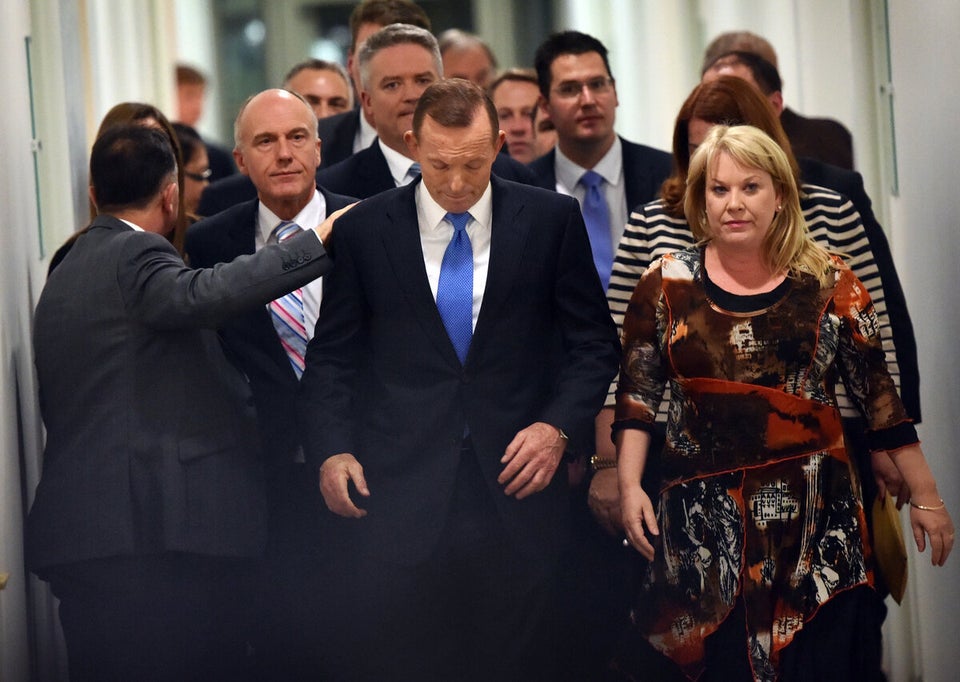 Malcolm Turnbull Wins Leadership Vote Over PM Abbott
He said: "Of course you can't arrest your way to social harmony but home grown terrorism does need a strong response.
"Of course the overwhelming majority of Muslims don't support terrorism but many still think that death should be the punishment for apostasy."
Abbott claimed that his invitation to speak was evidence that there was "at least a hint of Thatcherism about my government in Australia". He has long named Thatcher as a leader to emulate, along with Ronald Reagan and John Howard. Abbott was a student at Oxford University when Thatcher was in office.
Suggesting that some in the audience might be disappointed that he was ousted from power so soon, Abbott named the events and policies he admired under Thatcher, who "refused to accept the postwar consensus that Britain's great days were gone".
He said: "On the Falklands, she did not see an Argentine grievance to be negotiated, but a monstrous violation of British sovereignty," he said.
"On council houses, she did not see a government service, but a neglected asset that would be better looked after by owner-occupiers taking pride in their own homes.
"She didn't see unions protecting workers so much as bullying their employers into bankruptcy. She didn't see state-owned enterprises as national champions so much as an endless burden on taxpayers.
"There was a moral dimension and an intellectual clarity that made her a hero to liberal conservatives everywhere rather than simply another successful politician."
Abbott also used his speech to boast about his government's successes, which he listed as stopping the boats, budget repair, the removal of the carbon tax, the royal commission into trade union corruption, free trade agreements and "calling out" Vladimir Putin on the downing of MH17 as his key achievements.
Related