Police on Friday arrested a 34-year-old man following eight sex attacks in Clapham, London which they believe are linked.
The attacks, all on women in their 20s and 30s, occurred between October 9 and October 28 - many within a few hours of each other. The victims all described the offender as being of Mediterranean or middle-eastern appearance with dark hair.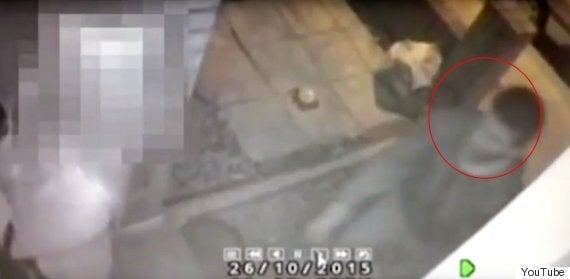 CCTV footage was released from one of the attacks on Wednesday
Superintendent Rob Applegarth said: "We are aware of eight assaults which we are linking at this early stage. We have increased police patrols in Clapham and Brixton Hill and urge women to think of their personal safety."
Applegarth urged anyone with information on the assaults to contact police.
Footage released on Wednesday showed a woman in her 20's being sexually assaulted on her doorstep, as she struggled to open the front door of her Clapham home.
An outside camera recorded the scene as the man crept up behind her, before aggressively pushing her to the floor.
The victim can be seen attempting to fight back, before screaming in fear. After the cry for help, her attacker can be seen running away.
After the attack, the victim spoke anonymously to MailOnline, saying: "I just walked home, got the keys in the door, and all of sudden, he was there. I wasn't aware he was there - until he put his hands on me.
"I was so afraid. That's all I could think of. That's all that was going through my head."
The series of attacks began on October 9. A 23-year-old woman was grabbed and sexually assaulted on Clitheroe Road, Clapham, at 11.30pm. Just hours later, at 1.15am on October 10, a 30-year-old woman was grabbed and assaulted on Deauville Court, close to Elms Crescent.
The third attack occurred on October 22 when a man followed a 32-year-old woman along Trent Road before placing his hand up her dress.
Four days later, on October 26, a 35-year-old woman was grabbed from behind at 7.05pm on Arodene Road. Less than an hour later CCTV footage captured a 26-year-old woman being assaulting on her doorstop, just off Kings Avenue. Later that night, at 9.36pm, a 28-year-old woman was walking along Sandmere Road when a man exposed himself to her.
Attack seven and eight happened on October 28. One involved a 28-year-old being grabbed by a man while she walked along Southwell Road at 7.20pm - the other happened three hours later. During that incident a 31-year-old woman was pushed by a suspect into a block of flats along Sudbourne Road, before being sexually assaulted.
Popular in the Community