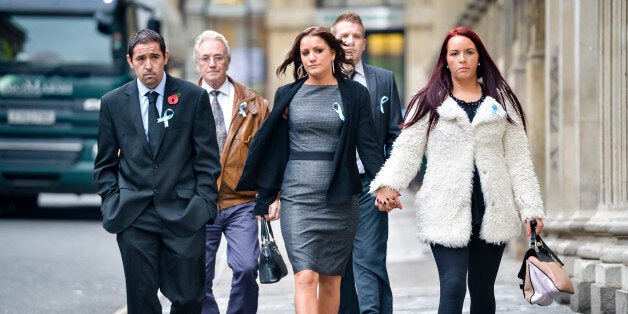 The couple accused of murdering Becky Watts "laughed" as they watched a parody Frozen video about hiding a body - while the teenager's remains lay in their bathroom, a court heard.
Nathan Matthews, 28, is accused of killing the 16-year-old in a sexually motivated kidnap plot with his girlfriend Shauna Hoare, 21, on February 19.
Bristol Crown Court heard the pair, who allegedly share an interest in petite teenage girls, suffocated 5ft 1ins Becky in a violent struggle at her home in Crown Hill, Bristol.
They are said to have dragged Becky's body downstairs, into the boot of their Vauxhall Zafira and driven it home to Cotton Mill Lane, Bristol.
Over the next three days, Matthews and Hoare are accused of dismembering Becky in their bath with a circular saw - packing her body parts in suitcases and a plastic box.
These were discovered in a shed in Barton Court - 80 metres from the couple's terraced home - by police on March 3.
Matthews admits killing Becky after a kidnap plan to "scare and shock" her went wrong, dismembering her body and moving it to the shed.
Hoare, who denies any involvement before or after Becky's death, told a jury the couple watched a spoof video based on Disney's Frozen on February 20.
The clip, watched on her mobile phone, is a parody of the song Do You Want To Build A Snowman, entitled Do You Want To Hide A Body.
During her second day in the witness box, Hoare told the jury: "Nathan wasn't in the best of moods and I was on my phone looking at films.
"The film Frozen came up and that's what popped in into my head."
Prosecuting, William Mousley QC asked Hoare: "It is a clip based on the Frozen song called Do You Want To Hide A Body, referring to a body being in more than one piece?"
Hoare replied: "Yes. I believed I played it to him for a couple of seconds to cheer him up, it was probably less than 30 seconds. He kind of laughed."
Mr Mousley asked: "Did you find it funny?"
Mr Mousley said: "So it is just an unhappy coincidence Becky was lying probably to some extent already cut up in the bathroom a few feet away?"
She agreed that both she and Matthews had been in a good mood after watching the clip and it had "cheered him up".
The court heard Matthews and Hoare were together "most of the time" over the weekend of February 21 to 22, during which Becky's body was dismembered.
Hoare claimed Matthews told her the toilet was blocked, so she could not go inside and had to use a Lego bucket instead.
She said he spent "about an hour" in the bathroom that weekend, using a circular saw for "about 20 minutes".
Mr Mousley asked: "You were completely ignorant of everything that he was doing?"
On February 23, the couple visited the home of Hoare's mother, who she had not spoken to for four years, in Southmead.
Mr Mousley suggested their visit was to prevent police from accessing their home, where Becky's body was.
Hoare said: "It was because of the situation going on. Everybody was very concerned, everybody was worried.
"The family were coming together, putting up posters and I thought if anything ever happened to me I wanted that situation.
"I wanted people to care."
She told the court she did not mention the reason for the couple's visit as "it was Nathan's issues, Nathan's problems, Nathan's personal life".
That night, Matthews arranged for two men, Karl Demetrius and James Ireland, to drive the couple home.
Later, Matthews, Demetrius and Ireland removed Becky's body parts from the house and moved them to the shed.
Hoare insisted she had not heard any movement, nor men's voices, in the property as she was "asleep".
The jury heard Hoare lied during police interview when officers uncovered messages between her and Matthews about kidnapping teenage girls.
"Most people don't understand the concept of mine and Nathan's relationship," Hoare said.
"They never have understood it. Thing that seem normal to us don't seem normal to others."
The messages, shared between November and December last year, involved kidnapping schoolgirls and a "pretty petite" teenager.
Hoare continued: "I knew it looked bad. The rest of it didn't.
"It may seem unlikely to people but it is completely plausible but this makes it look very, very sinister and suspicious."
She told the court Matthews was open about his lust for teenage girls, which she would respond to "sarcastically".
"I didn't like him telling me he found anyone attractive," she said.
"He believed if he didn't tell me about things it would be like keeping a secret.
"He would say to me that he wouldn't lie to me and he had never lied to me, he wouldn't keep secrets."
When asked about her murder charge, Hoare replied: "I all along thought it was obvious and ridiculous that they even tried to."
She told the court Matthews had been acting normally in the days after Becky's disappearance.
"I believed so, his family believed so, the police believed so," she added.
Matthews, of Hazelbury Drive, Warmley, South Gloucestershire, denies murder and conspiracy to kidnap.
He admits killing Becky, perverting the course of justice, preventing the burial of a corpse and possessing a prohibited weapon.
Hoare, of Cotton Mill Lane, Bristol, denies murder, conspiracy to kidnap, perverting the course of justice, preventing burial of a corpse and possessing a prohibited weapon.
The residents of the Barton Court property, Karl Demetrius, 30, and his partner Jaydene Parsons, 23, admit assisting an offender.
Donovan Demetrius - Karl's twin brother - of Marsh Lane, Bristol, and James Ireland, 23, of Richmond Villas, Avonmouth, deny the charge.
The trial was adjourned until Tuesday.