Commuters have been warned of delays tonight with some 18,000 protesters and thousands of police expected to descend on central London for the Million Mask March, which authorities have warned could get "nasty".
Those taking part in the bonfire night protest are set to meet in Trafalgar Square at 6pm and police have warned commuters could face disruption getting home.
Transport for London is yet to issue advice to commuters but have tweeted warning that the protest is taking place and that it will update travellers as issues arise. However, it seems likely that stations around Trafalgar Square - Piccadilly Circus, Leicester Square, Charing Cross and Covent Garden - will be busier than usual from 4pm, and after 9pm, when the march finishes. Stations around Parliament Square (Westminster and St James's Park) - where the march will end - are also likely to be busier than usual when it concludes.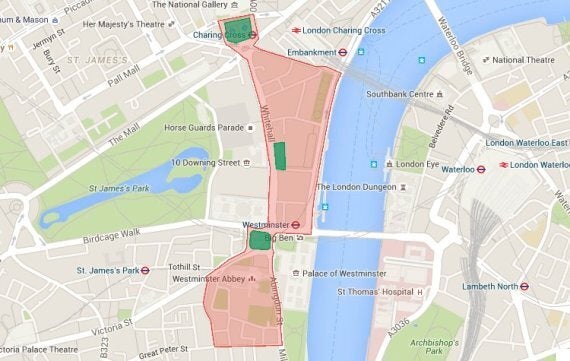 The marching route takes in Trafalgar Square, the Victoria Embankment to Millbank, Parliament Square and Whitehall
Static assembly will only be allowed between 6 and 9pm in Trafalgar Square, in the area in the centre of Parliament Square (known as Parliament Square Gardens); and in the area within the barriers on the East Footway of Whitehall, opposite Downing Street (known as Richmond Terrace).
Police said if a march does take place it must stay within the area bounded by Trafalgar Square; Northumberland Avenue; Victoria Embankment; Bridge Street; St Margaret Street; Abingdon Street; Millbank (up to junction with Great Peter Street); Great Peter Street (up to junction with Great Smith Street); Broad Sanctuary; Parliament Square; Parliament Street; and Whitehall.
Additionally an area within Westminster has been dedicated a dispersal zone, from 5pm to 2am Friday, police advised.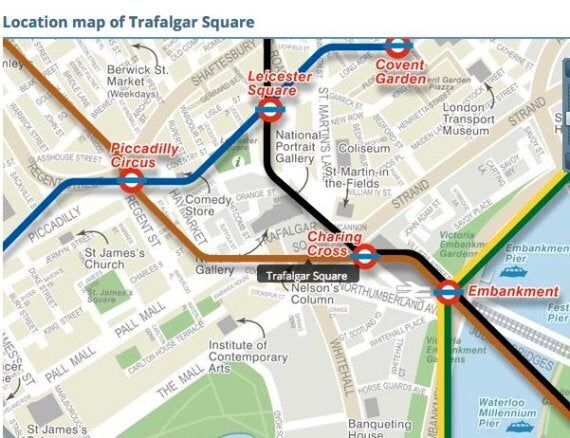 Tube stations around Trafalgar Square are expected to be busy before the march begins at 6pm and after it finishes at 9pm
A police sergeant told the Evening Standard that the march, where protesters wear the famed 'V for Vendetta' mask associated with their movements' figurehead, Guy Fawkes, was likely to be chaotic: "We're expecting trouble and for it to be nasty."
Chief Superintendent Pippa Mills, of the Metropolitan Police, said: "We will always facilitate peaceful protest and have a strong history of doing so. However, over the last few years this event has seen high levels of anti-social behaviour, crime and disorder.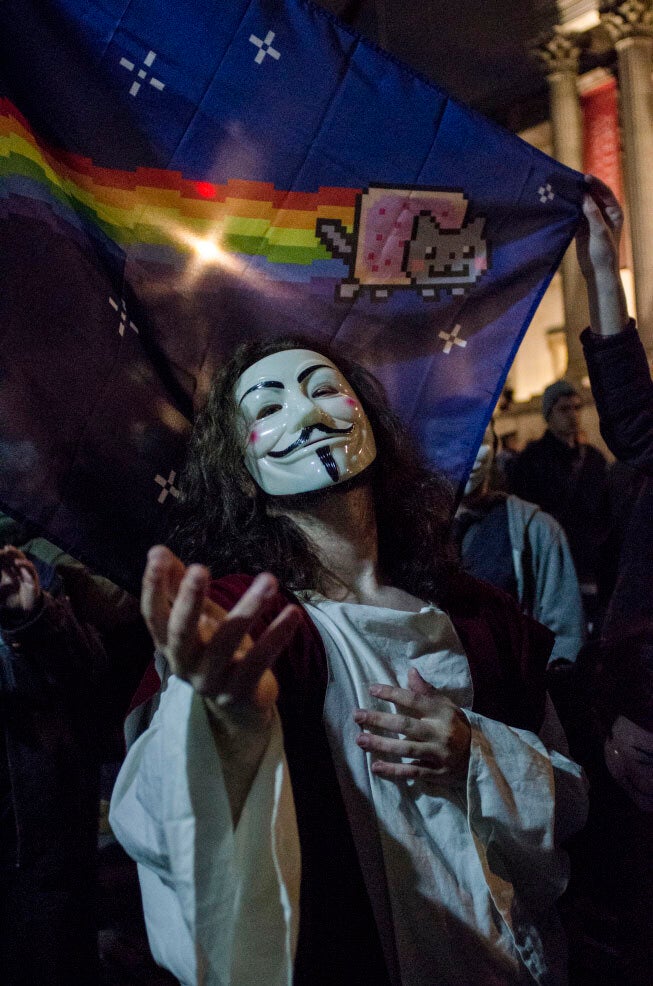 Million Mask March 2014
"This year we have strong reason to believe that peaceful protest is the last thing on the minds of many of the people who will come along."
She added: "It is unacceptable that a small minority should believe they have the right to break the law, harass people, damage buildings and attack police officers.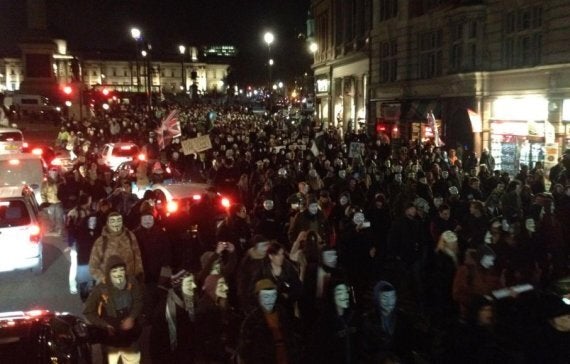 Around 18,000 people are expected to take part in the Million Mask March in London tonight
"My message to those people planning on attending on Thursday night is if you want to take part in peaceful protest that is your right and we want to work with you. If you want to break the law then we will police you. Where offences are committed we will investigate them and make arrests."
Chief Superintendent Pippa Mills claimed that in 2014 "hundreds of people on their way home from work, or out enjoying an evening in the capital, were surrounded by people causing them huge concern".