The first Islamic-led commemoration of Britain's war dead could help unite Muslims to reclaim the public perception of their religion from "extremists" who seek to hijack it, the first imam to the British military has said.
Asim Hafiz, who became imam to the British armed forces and Islamic adviser to the chief of the defence staff , said "far-right and ideological extremists" attempted to "manipulate" Islam and services such as the one he will lead could help Muslims unite to show they are "part and parcel of Britain".
In an interview with The Huffington Post UK, he said that raising awareness of the contribution Muslims made in Britain's wars could encourage more of them to join the military, at a time when they are seriously under-represented within its ranks.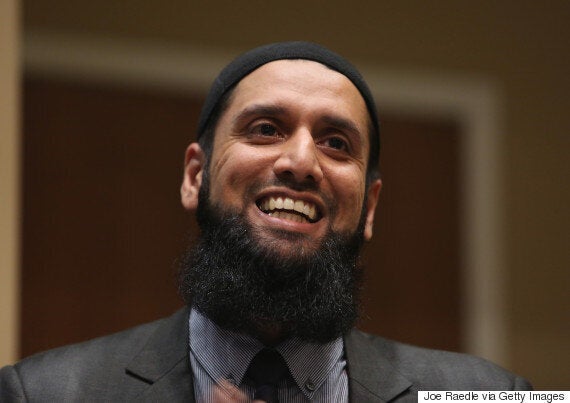 Asim Hafiz said raising awareness of Muslim's contribution to Britain's wars could push out 'extremists' who seek to 'manipulate' the religion for their own purposes
"[It will] help raise awareness for the mutual contribution people of all communities and Muslims have made to Britain, at a time when there are voices out there that are trying to divide our community," he said.
"These kind of things will hopefully unite us, bring us together on common ground... There are voices out there, whether it's far-right extremists and ideological extremists who want use faith as a means to promote their political agenda.
"They hijack our values and what we represent for their own purposes. I think occasions like this give us an opportunity to push those voices to the outskirts."
There are already Hindu and Sikh-led commemoration services but Hafiz will lead the first Islamic-led ceremony on Thursday in Woking, Surrey - home to Britain's first purpose-built mosque - at a site set aside in 1915 for burying Indian Muslim soldiers killed in the First World War.
Prince Edward and defence minister Lord Howe are due to attend. Hafiz said it would have a "strong Islamic dimension" but also "co-operative approach" that would honour all of Britain's war dead, not just Muslims. A Christian priest will also take part.
Hafiz cited a recent survey that showed only a fifth of Britons were aware Muslims served in the British Army during the First World War - including 400,000 from then-undivided India - and just 2% of Britons are aware of the full scale of their contribution.
When asked if greater awareness of the Muslim contribution to Britain's wars would help boost recruitment, Hafiz said: "I definitely think so. There's an assumption that a career in the armed forces for a Muslim is something that's rare and unique.
"If we're able to show that Muslims have contributed to Britain's defence in the past over the centuries and decades, we'll help raise awareness that there's no contradiction between being a Muslim, being British and being a soldier."
Hafiz has been quoted in the press this week this week praising the Poppy Appeal and saying it is "does not belong to any group, it belongs to all of us, and should be celebrated by everyone."
He told HuffPost UK the events and press around commemorating of the First World War's centenary had helped change perceptions among Muslims of the poppy and commemoration.
"The media attention has really helped us to raise awareness among the Muslim community of what commemoration actually means and what the poppy means," he said.
"The understanding of what the poppy means not just within the Muslim community but generally within British society has improved. More and more people are confident and comfortable to wear the poppy and relate to what it represents."
Hafiz speaking to HuffPost UK in November last year for our 'Beyond Belief' series, Hafiz defended the 'Poppy hijab" against claims it was Islamophobic for pressuring Muslims into marking Armistice Day.
He said: "The vast majority of Muslims just want to get on with their everyday life, that we're just as British everyone else. We need to shut out radicals and extremists on all sides of the divide, so that they are a minority and they are no longer heard."
"[The hijab is] a great thing that there are Muslims out there trying to get their voice heard and if poppies is something that represents this new-found identity, I think it should be celebrated."
Hafiz said he hoped Thursday's ceremony would become an annual event.
He added: "Muslims are part and parcel of British society and Muslims are proud to be part of Britain. Muslims have been here for centuries and they will continue to be part of the British landscape.
"That's what makes Britain stronger and I think that's what makes Britain special."