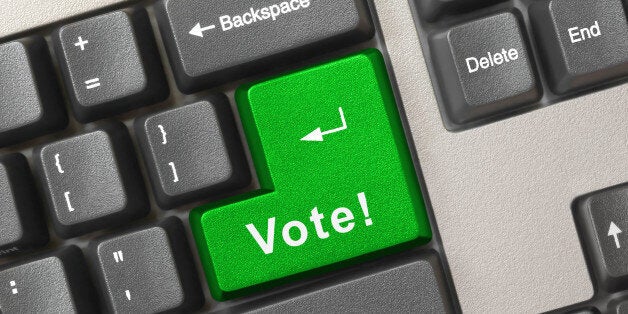 Students are being warned they risk being barred from voting and losing their political voice completely and as the government prepares to draw up new parliamentary boundaries.
MPs and the National Union of Students say thousands could disappear off the voting register on 1 December if they don't sign up to the new Individual Electoral Registration (IER) by 20 November.
In the past, it was possible for a family member or your university to register on your behalf, however now individuals have to take action themselves.
Although the government was advised to wait until the end of next year to implement the changes, it has pressed ahead, leaving many with fears up to one million people could disappear from the electoral register.
In a joint blog for The Huffington Post UK, shadow minister for young people Gloria De Piero and the NUS' LGBT officer Robbie Young said: "This early transition to IER threatens to disenfranchise and shut people out of our democracy. It has left far too many people off the electoral register who want to be on it.
"In fact, many people who think they are on the register may well have already been taken off it without realising."
They added: "We know what kinds of voters are more likely to be missing: they are private renters, the unemployed and lower-paid people. But perhaps the greatest divide is between the older and the younger generation. Some 95% of over-65s are on the electoral register, yet the proportion of 18 to 24-year-olds is just 70%.
"I am sure that if I was George Osborne... I would sleep easier at night knowing that I'd made it harder for students to vote."
Emotions are running high over the possibility of more tuition fee rises, crippling student debt, and the recent scrapping of maintenance grants for the poorest students. However those who do not register will lose any chance to effect the changes they have been campaigning for.
The NUS and numerous teaching unions are calling on students to ensure they re-register, saying many may not even realise they need to.
Megan Dunn, NUS president, said: "The student voice has been vital in national and local elections for decades, and the changes to voter registration and the boundary review process risks wiping this off the map.
"With so many important elections across the UK next year, we must make sure people know they have to re-register and when, or hundreds of thousands of students are at risk of being disenfranchised."
Martin Doel, CEO of the Association of Colleges added: "Young people have a significant electoral influence and with the government making crucial decisions that will affect their future it's important they have a voice. We will be working with colleges to encourage students to register to vote to ensure their voice is heard."
Popular in the Community