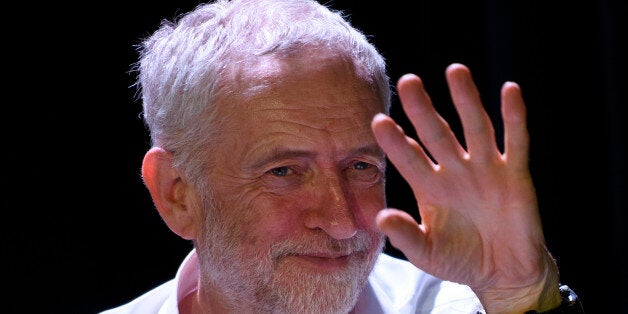 Jeremy Corbyn has postponed a keynote speech on UK foreign policy in the wake of the Paris attacks.
The Labour leader had been set to signal he would tear up Britain's 'special relationship' with the United States with radical pledge to create a more 'independent' foreign policy if he becomes Prime Minister.
In his first big policy speech since becoming Labour leader, Mr Corbyn was due Saturday to lambast 'the succession of disastrous wars' overseen by Tony Blair and Gordon Brown and claim they have increased threats to the UK's national security.
His office said that the speech had been postponed, although the regional Labour conference in Hertfordshire will still go ahead, with a minute's silence expected for those murdered in Paris.
Last night Mr Corbyn tweeted his response to the terrorist attacks.
Labour sources pointed out that Twitter users should beware of being fooled by provocative Tweets on the Paris shootings by fake accounts from people purporting to work for the leader or even be members of the party.
In his big speech on Saturday, Mr Corbyn had been set to map out the future of both Labour's organisation and domestic and foreign policy.
In an echo of the movie 'Love Actually' - where Hugh Grant plays a British prime minister who stands up to a US President - Mr Corbyn had been set to say the UK is the land of 'Mary Wollstonecraft, Shelley, Alan Turing and the Beatles…and Mo Farah'.
And in a signal that he intends to put his firm stamp on his party's overall direction, Mr Corbyn was to pledge to give rank-and-file members more control over policy, entrenching the new leftwing mood that swept him to power with a landslide in the leadership election, and vow to stay to fight the 2020 general election.
Attacking the Tories as 'unpatriotic' for handing control of Britain to a rich elite, he was set to also promise that Labour would take a public stake in the steel industry to protect jobs.
But in his speech to Labour's Eastern regional conference, he wanted to go much further on his new approach to the party's foreign policy.
He was due to call for "a different kind of foreign policy — based on a new and more independent relationship with the rest of the world".
HuffPost UK understands that this line is a direct reference to the United States and its military and political relationship with Britain in recent decades.
"For the past 14 years, Britain has been at the centre of a succession of disastrous wars that have brought devastation to large parts of the wider Middle East. They have increased, not diminished, the threats to our own national security in the process," Mr Corbyn will say.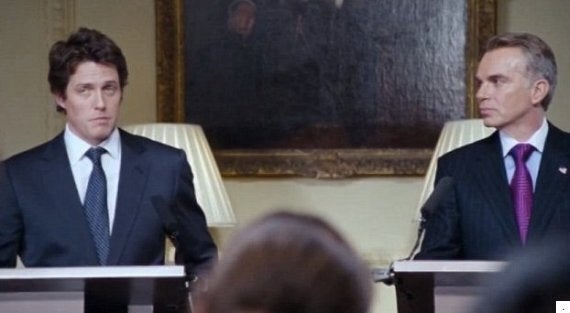 Hugh Grant stands up to the US President (Billy Bob Thornton) in 'Love Actually'
In 'Love Actually', Grant stands up to an American president who takes the UK for granted, and goes on to deliver a soliloquy about Britain being 'the country of Shakespeare, Churchill, the Beatles, Sean Connery, Harry Potter.."
Mr Corbyn, who has said he would not use nuclear weapons if he became premier, wanted to use his own speech to stress Britain's more radical history.
"We stand for this country's greatest traditions: the suffragettes and the trade unions, the Britain of Mary Wollstonecraft, Shelley, Alan Turing and the Beatles – and perhaps our greatest Olympian Mo Farah - the working people of this country who fought fascism, built the welfare state and turned this land into an industrial powerhouse," he was due to say.
The Labour leader, who has long campaigned against British involvement in US military campaigns in Iraq, Afghanistan and Libya, has in recent weeks also spoken out against human rights abuses by China, Saudi Arabia and India.
In pre-breifed remarks, he had been due to attack David Cameron for suggesting Labour lacks patriotism and instead focus on a combination of economic and foreign policy 'independence' from overseas influence.
"What's pro-British about a government that slashes support for serving soldiers and military veterans? How is it patriotic to take money from the poorest, from working families, and hand control of your country to a super-rich elite?"
"Labour will take no lectures in patriotism from the Conservatives, the political wing of the hedge-funds, the bankers and the 1 per cent elite. How dare Cameron's Conservatives pretend that they speak for Britain."
The Labour leader's speech had also contained his first real criticism of his predecessor Ed Miliband, pointing out that that in the 2015 general election the party "failed to win back the economic credibility lost in the financial crash of 2008 or convince potential supporters we offered a genuine alternative".
And despite hopes among some of his own MPs that he may quit before 2020, Mr Corbyn wanted to make clear he will fight to stay as leader and use his huge mandate in this year's leadership race
"If we focus everything on the interests, aspirations and needs of middle and lower income voters, if we demonstrate we've got a viable and credible alternative to the government's credit-fuelled, insecure, two-tier economy, I'm convinced we can build a coalition of electoral support that can beat the Tories in five years' time," his draft speech had said.
When the speech is rearranged, Mr Corbyn will also signal that he intends to give party members much more say over the party, rather than its MPs, and hail the 400,000 people mobilised to vote in the Labour leader race, many of them online.
"We want to see that democratic revolution extended into our own party, opening up our decision-making to the hundreds of thousands of new members and supporters that have joined us since May.
"It's a huge opportunity for Labour: to remake our party as a real social movement, organising and rooted in our communities. That's not about fighting sectarian battles or settling political scores.
"It's about opening up to the people we seek to represent and giving them a voice through our organisation and in our decision-making, and drawing individual and affiliated members into political action."
On the steel industry, Mr Corbyn was due to declare that "a job in Scunthorpe is as good as a job in the City of London" but attack the Tories for failing to intervene to protect jobs like those due to go in the north east and Scotland.
"Cameron's government is sitting on its hands while what's left of our manufacturing base is bled white by import dumping and its own inaction".
"We need Cameron and Osborne to act as decisively in 2015 as Gordon Brown did in 2008, when Labour part-nationalised RBS and Lloyds to prevent economic collapse.
"If the Italian government can take a public stake to maintain their steel industry, so can we. That's why Labour will be pressing Cameron to use the powers we have to intervene and, if necessary, take a strategic stake in steel - to save jobs and restructure the industry."
Related